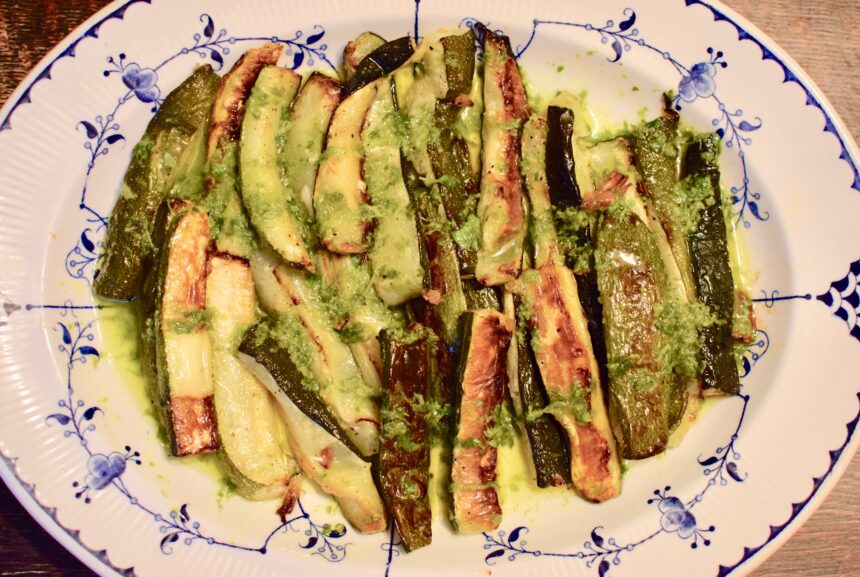 If you've ever grown zucchini (or courgettes as they're known here in the UK), you'll know that they seem to go mad at this time of year and you end up with more than you can handle.
We've had zucchini coming out of our ears for the past few weeks, and of all the dishes we've tried with them, this easy roasted zucchini recipe is by far the simplest with only 10 minutes prep and only one roasting tray needed. If Puttanesca peppers is my go-to recipe during a pepper glut, then this is my go-to for courgettes.
Easy doesn't mean flavourless however!
Anyone can roast zucchini in the oven with great results. However, this easy roasted zucchini recipe will also show you how to make a fresh dressing for these roasted zucchini chunks using the beautiful fresh flavours of lemon and basil. This contrasts the rich roasted garlicky notes coming from the oven. The result is one of the great flavour combos of late summer!
---
You can jump straight to the recipe using the button below and I'll show you how to make my easy roasted zucchini.
Or, if you would like to read more, this article will guide you through:
Why I have decided to roast courgettes like I do, and why I think it brings out the best from them
What to serve with this easy roasted zucchini
---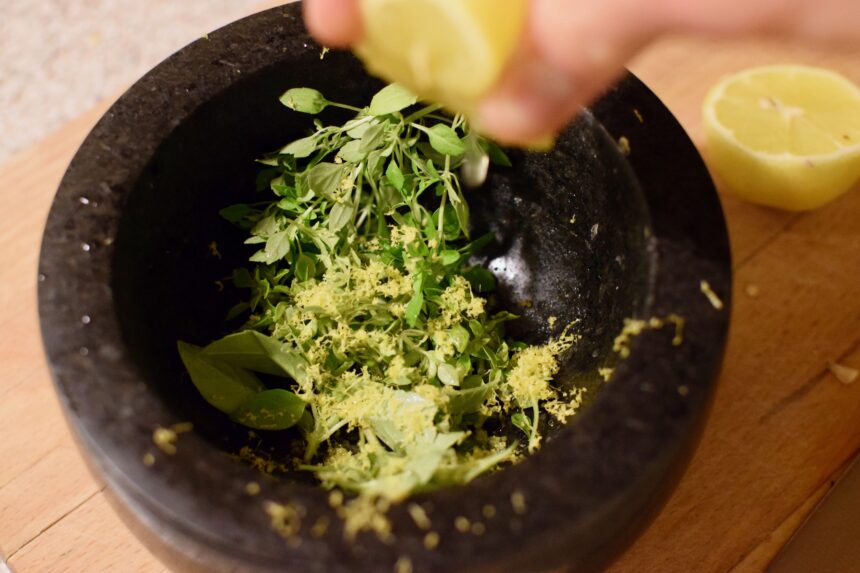 How to roast zucchini in the oven (why I do what I do)
Most roasted zucchini recipes tend to go for very thin slices, desperate to avoid the dreaded 'soggy' zucchini.
Not me however! I fid the thin crispy pieces of courgette disappointingly dry – which is a shame given the effort it has taken to grow the damn things.
I like my roasted zucchini to be juicy and generously dressed with beautiful oil, herbs and lemon. I think this makes the most out of the veg itself, and still allows you to get a bit of colour on the zucchini (as you can see in the pics), which is important for getting that roasted flavour.
Therefore I cut my zucchini a little larger, and only add all of the flavourings (aside from the garlic) once the roasted zucchini chunks have come out of the oven – a bit like a warm salad.
Why? Because the fresh flavours of lemon zest and basil are pretty delicate and really don't deserve to be blasted in the oven for 45 minutes. I promise you'll get much more out of them this way!
In contrast to a lot of roasted zucchini recipes, I like my slices to be large, juicy and dressed after cooking with fresh flavours.
What to serve with this easy roasted zucchini
One of the great things about this simple side dish is how versatile it is. There aren't many dishes that wouldn't benefit from being served with these easy roasted zucchini.
If you need some inspiration, here are a few ideas that work well:
Serve them alongside:
Or make these easy roasted zucchini a meal in their own right:
Toss through pasta with a touch of fresh chilli and plenty of parmesan (not forgetting of the reserved pasta water to loosen).
Another suggested serving for if you really can't get enough roasted veg.
Cooking notes
This easy roasted zucchini isn't the sort of recipe that rquires detailed instructions. You can be very flexible on the flavourings and quantities (for example I haven't added any chilli in this recipe, but you could do so with great results).
I only have 2 tips for you:
Don't overcrowd the roasting tray or you won't get much colour (as long as you have a single layer, you should be fine)
Don't cook the basil or lemon!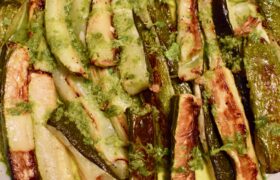 Print Recipe
Easy Roasted Zucchini
Garlicky roasted courgette chunks drizzled with a fresh lemon and basil dressing.
Ingredients
2

medium to large zucchini

3

cloves

of garlic

1

lemon

juiced and zested

A handful of fresh basil

5

tablespoons

extra virgin olive oil

plus a little extra for roasting

Salt and pepper
Instructions
Preheat the oven to 200℃/gas mark 6/180℃ fan

Lightly bash the garlic in your pestle and mortar (or roughly chop). Cut the zucchini into roughly 10cm batons. Add the batons to a roasting tray in a single layer and toss them with the garlic, a tablespoon of the oil and a tocuh of salt and pepper. Roast for 25-30 minutes (or until lightly browned).

Whilst the zucchini is roasting, make the dressing by adding the basil to a pestle and mortar with a pinch of salt. Grind to a paste and then muddle in the lemon zest, juice and remaining olive oil.

When the zucchini are cooked, transfer to a serving plate and drizzle over the dressing.