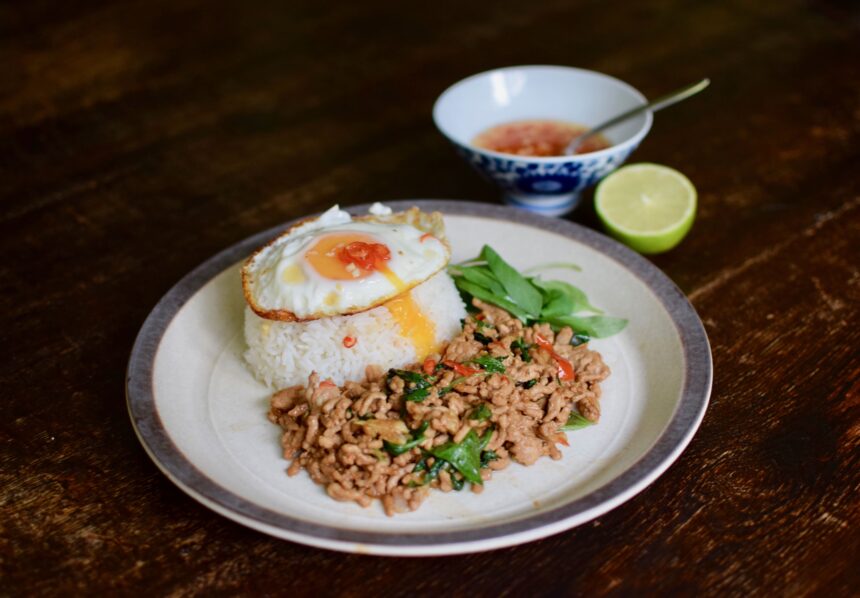 Thai basil minced pork, or 'pad kra pao moo saap' (ผัดกะเพราหมูสับ) , is one of the most famous of all Thai dishes – and for good reason.
Minced pork is fried with plenty of fresh garlic and chilli before being perfumed with a generous bunch of the key ingredient: Thai holy basil.
This iconic combination of flavours, lead by the distinctive anise-like basil, can be found served across Thailand and immediately takes my mind straight back to the first time I tried it as a young boy. Indeed, I have heard on multiple occasions that for Thais living abroad, this dish above all others is a reminder of the taste of home cooking.
Fortunate then that it's also incredibly simple to cook at home!
In Thailand, Thai basil minced pork is cooked over a screaming hot burner and wok. Sadly, I don't have these in the UK. Therefore this article will explain how to cook Thai basil minced pork:
Thai style – cooking pad kra pao moo saap using a super hot wok and burner
In a typical Western kitchen – how I recreate the authentic flavour of Thai basil minced pork without all the equipment (and why, even as a critic of 'Westernizing' dishes without reason, I find it to be more than acceptable with this dish).
Once you mastered this, you will have an authentic pad kra pao moo saap recipe that requires little prep and uses store cupboard or freezer ingredients (minus the basil perhaps). It's so easy I eat it most weeks! But then again, I do love Thai food…
---
Article contents:
---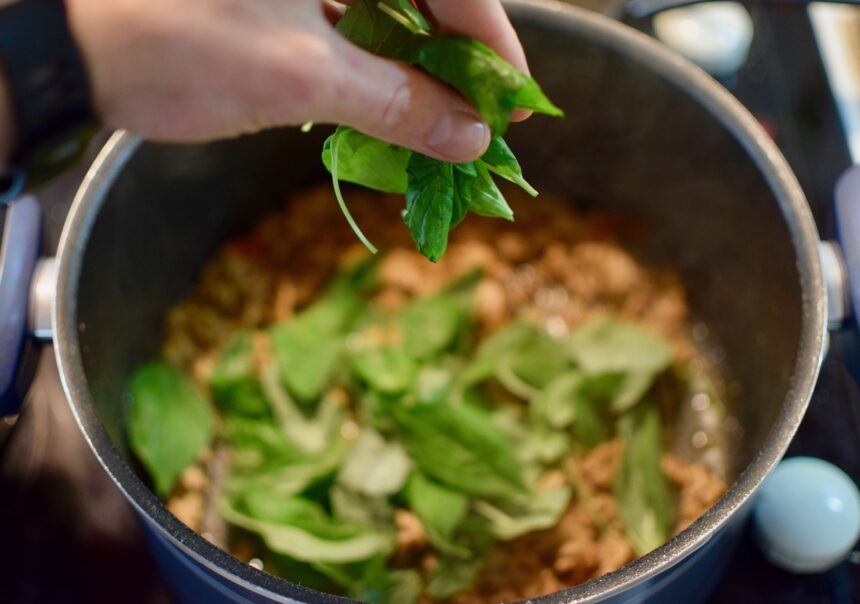 What is Thai basil minced pork and what is this recipe based on?
Pad kra pao moo saap is essentially minced pork stir-fried with garlic, chilli and Thai basil, brought together with simple sweet and salty sauce (usually some combination of sugar, soy, fish and oyster sauces).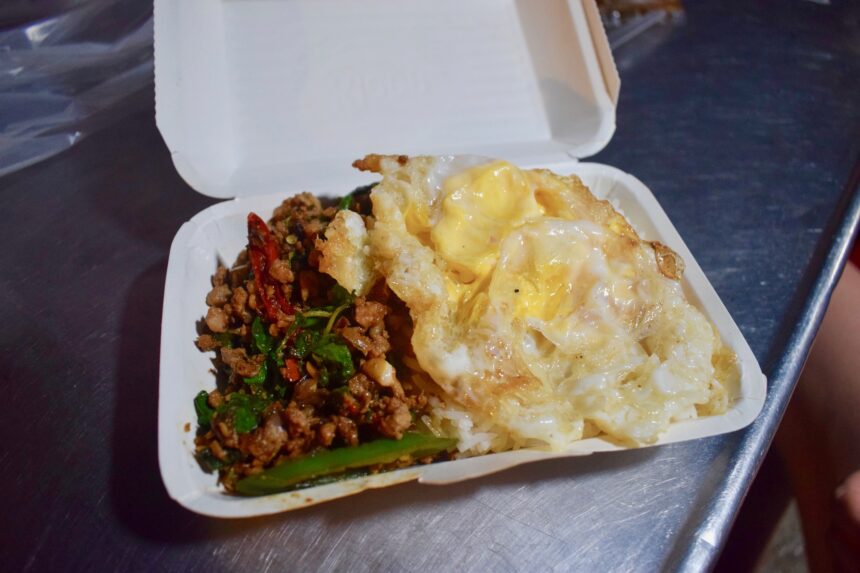 A typical serving of Thai basil minced pork I ate in Chiang Mai – notice the super crispy fried egg (kai dow). Typical cost (as of 2019) was 40-50 Thai Baht per serving (around $1.5 US) and sometimes an extra 10 for the egg.
It is the 'kra pao' part of the dish (i.e. the stir-fried Thai holy basil, garlic and chilli combo) that is the truly iconic element. This flavour combination can be found served across Thailand.
Pad Kra Prao – Terminology Breakdown
How to make sense of the various combinations of words* you might see in recipes and on menus (a rough translation from one non-Thai-speaking layman to another):
'Pad' – 'stir-fried'
'Kra pao' – 'Thai holy basil' / 'sweet basil' (not European basil)
'Pad kra pao' – the general name for any dish that stir-fries something with the iconic flavour combination: Thai holy basil, chilli, garlic and a sweet/savoury sauce that can consist of any combination of oyster sauce, soy sauce, fish sauce and sugar. Generally minced pork or chicken, but you can easily find other variants (see below).
'Moo' – 'pork'
'Moo saap' – 'minced pork'
'Gai' – 'chicken'
*Note – as will all Thai translations, these are the phonetic spellings of the actual Thai words, hence the spellings you will see online can vary considerably (e.g. pad ka paw, pad gra pao). If you're actually in Thailand, the more authentic restaurants/stalls will generally have only Thai writing.
Although this article focusses on Thai basil minced pork, pad kra pao not just limited to ground pork ('moo saap'). It can also be made with chicken ('pad kra pao gai'), crispy pork belly ('pad kra pao moo krob'), or even clams!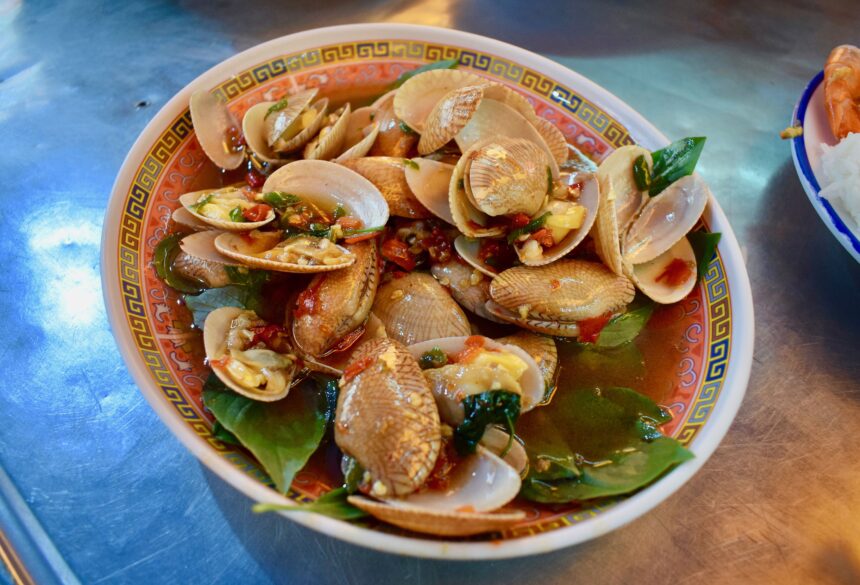 One of my standout memories of the 'kra pao' flavour combination was when we ate it with clams in Thailand. The stall, Tom Yum Goong Banglamphu in Bangkok, is unsurprisingly famous for its Tom Yum Goong (a sour, spicy soup they make with whole prawns). However, they also served this dish. Although the cooking method differs slightly (on account of clams needing to be boiled/steamed rather than stir-fried), the flavour combination is identical to this Thai basil minced pork recipe.
How pad kra prao moo saap is made in Thailand
I could try to describe it in great detail, but I think it's always best to see it for yourself!
From my experience, this video is fairly representative of what you would see if you ordered a pad kra pao moo saap from a street stall in Thailand.
Summary of steps (minus the fried egg):
Add a tablespoon of neutral oil to a wok and get it screaming hot over a burner
Add pounded chilli and garlic; fry for a few seconds
Add ground pork; fry for 30 seconds or so, breaking up with a spoon
Add most of the sauce ingredients (the choice here is seems to be fish sauce, soy sauce and probably some sugar)
Cough uncontrollably as the frying chilli hits the back of your throat
Once the pork is coloured, add oyster sauce, holy basil and a splash of water/broth. Stir.
20 seconds later, remove from the heat. Serve over white rice with a crispy Thai-style fried egg and prik nam pla.
Why it is very much possible to recreate this in a typical Western kitchen
I'm going to assume that because you're reading this article you are probably not Thai.
If you are like me, then you might not be in a situation where you have access to a thin wok and powerful gas burner – essential equipment for making authentic recreations of most stir-fried dishes.
Don't fear however! I believe that Thai basil minced pork is particularly amenable to being cooked in a standard Western kitchen.
Why? Unlike many stir-fried dishes you are not actually looking to quickly colour the ingredients. Ground pork tends to seep a lot of moisture, which makes it difficult to colour quickly, even in a super hot wok. Therefore, even in Thailand, they are not really looking for colour (just watch the video for yourself).
To me, this means that having a super hot wok is not critical for making a great pad kra pao moo saap.
How to cook Thai basil minced pork in a typical Western kitchen – pick the widest pan you have, put it on the maximum heat possible, and only cook once it has fully heated up (following the recipe at the end of this article).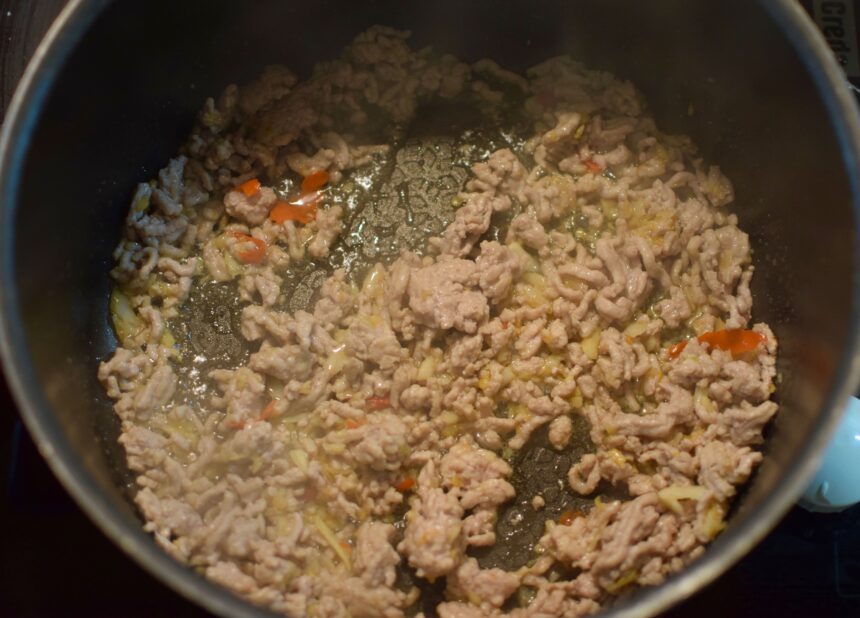 Unlike most stir-fried dishes, you can get away with cooking Thai basil minced pork in any wide, non-stick pan like the one pictured here. You need only cook the minced pork until it has just turned opaque (as in the above photo). This keeps the meat nice and juicy!
What to serve with Thai basil minced pork
Pad kra pao moo saap is actually quite strict when it comes to serving suggestions.
In Thailand it will always come with the same 3 things, and I agree with the general consensus that they are essential. I myself have never resisted the temptation of fixing up a bowl prik nam pla to serve alongside.
3 essentials to serve with your Thai basil minced pork:
White rice – fairly obvious
Prik nam pla – the ubiquitous table condiment in Thailand, at its simplest a combination of fish sauce and chillies (sometimes with additional lime juice and sugar – which I personally love). To make, simply mix fish sauce and lime juice in a roughly 2:1 ratio. Add sugar to taste, plus plenty of finely sliced birdseye chillies.
Fried egg (kai dow) – the crispy white and oozing yolk seem to be soulmates with the aromatic Thai basil minced pork. In Thailand you tend to add it for an extra 10 Baht or so (and so everyone does…). It comes 'Thai-style' – i.e. deep fried in a wok until the white is super crispy. I love it this way, but if you don't have a wok, a standard fried egg is also great.
A bowl of prik nam pla – the ubiquitous and addictive table condiment found all across Thailand.
Ingredient and Cooking Tips
Don't use European basil – It has a completely different flavour from Thai basils and should be considered a different ingredient. Holy basil is the most authentic, and is what is used in Thailand. However, in the UK standard Thai basil is more readily available and works just as well in my opinion (you can also grow it yourself over the summer).
Don't overcook the basil – it only needs to be wilted, and can lose its flavour if overcooked. Some recipes only add it once off the heat. However, I tend to add for the final 5-10 seconds of cooking, just to make sure it wilts and infuses its flavour.
Notes on meat and substitutions – if using minced pork, then go for a high fat version: I think it stays juicier and has more flavour. I have also made pad kra pao successfully with poultry mince, although it can be a bit drier than pork due to the lower fat content. Diced chicken breast is also widely used in Thailand, although in this case it would actually be better to have a screaming hot wok and a burner, since it is possible to colour the lean breast meat.
Can I make my pad kra pao vegetarian? – personally I would not attempt to make a pad kra pao with vegetarian/vegan mince as the flavour and texture doesn't work. I think a better (and more authentic bet)would be to try and 'kra pao' a vegetable such as roasted aubergine (which I have also seen and eaten in Thailand).
Don't overcook the meat – unlike a lot of Western dishes, you're not looking to drive off all the water from the mince so that you can colour it (you'll never get there in the short time it takes to cook pad kra pao moo saap). Instead, embrace the meat's natural juiciness by frying until it is just cooked, and no longer.
Sauce Ingredients – the exact combination of ingredients in the sauce will vary from recipe to recipe, and from stall to stall in Thailand. Oyster sauce is very common, along with sugar for sweetness. Nam pla (fish sauce) and/or soy sauce is then added for saltiness. I go for soy rather than fish, simply because I always douse my portion in fish sauce-based prik nam pla anyway!
Do serve with prik nam pla and a fried egg – pretty much mandatory in my opinion 'what to serve with pad kra pao moo saap'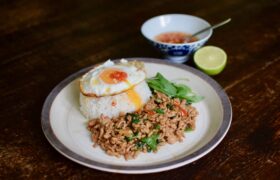 Print Recipe
Authentic Thai Basil Minced Pork Recipe (Pad Kra Pao Moo Saap)
Minced pork stir-fried with fresh garlic and chilli in a sweet and salty sauce, perfumed with Thai holy basil.
Ingredients
10

cloves of

garlic

2

fresh birdseye chillies

250

g

minced pork

for alternative meats, see Ingredient Tips

40

g

Holy basil or Thai basil
Sauce:
1

tbsp

oyster sauce

1

tsp

light soy sauce

1

tsp

dark soy sauce

1

tsp

sugar
Instructions
Ingredient Preparation
Wash and pick the leaves from all of the basil.

Lightly bash the garlic and chilli in a pestle and mortar into a very chunky paste (see below).
Stir-frying
Add a tablespoon of neutral cooking oil to a non-stick pan and place on a maximum heat* (if you have a wok and powerful gas burner, see the below note on preferred cooking equipment).

When the pan is as hot as possible, add the garlic/chilli paste and fry for 30 seconds until fragrant.

Crumble in the minced pork and fry until it has just turned opaque, breaking it up with a spoon as you go.

Add the sauce ingredients and fry for 30 seconds more. Taste and adjust to your liking (you want a pleasant balance of saltiness and sweetness).

Add the basil and stir for a final 10 seconds. Immediately take off the heat (you don't want to overcook the basil once it is wilted as it will lose its punch).

Serve straight away with plain white rice, prik nam pla** and a fried egg.
Notes
*These instructions assume that you do not have a super-thin wok and screaming hot burner, as would be used in Thailand. If you do, then the steps are the same but cooking times will be much shorter (see the article for more details on the difference between the two methods).
** To make prik nam pla (thoroughly recommended) mix fish sauce and lime juice in a roughly 2:1 ratio. Add sugar to taste. Then add plenty of finely sliced birdseye chillies (and a touch of minced garlic, if liked).