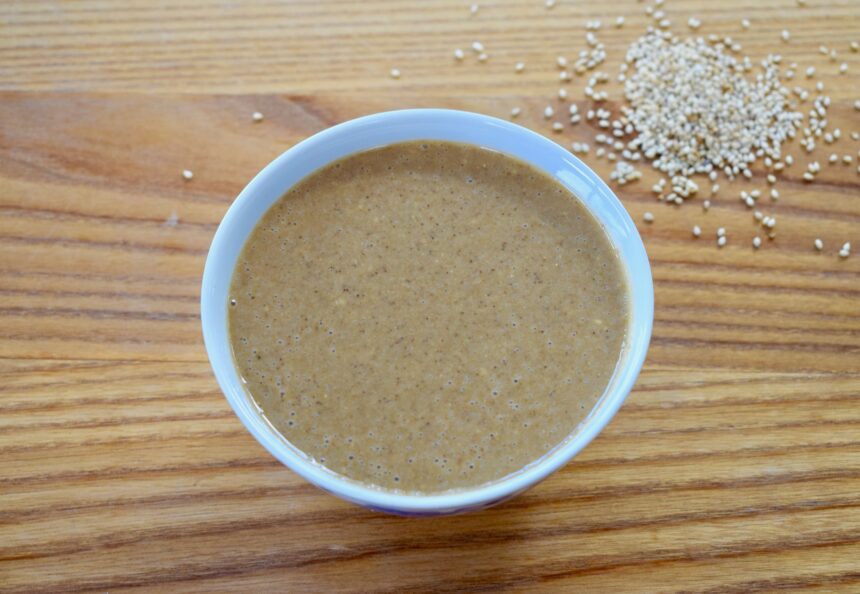 Chinese sesame paste, or zhi ma jiang (芝麻酱) is a rich, nutty and aromatic paste made from heavily roasted and ground white sesame seeds.
It is used as an ingredient predominantly in Chinese and Taiwanese cuisine, including in iconic dishes such as Taiwanese cold noodles (liang mian, 涼麵) and Sichuan dan dan noodles (dan dan mian, 担担面).
Why do I think it is worth you making this Chinese sesame paste recipe at home?
It's flavour can't be replicated – peanut butter and tahini don't come close to the unique flavour of zhi ma jiang (especially when homemade). This makes all the difference when you are trying to make authentic recreations of some incredible Chinese/Taiwanese dishes.
It's difficult to buy – if you don't live near a great Asian grocery store, following this Chinese sesame paste recipe is probably easier than trying to buy a good jar of zhi ma jiang.
It's easy! – Making zhi ma jiang only takes 15 minutes, can be done in a large batches, and keeps in a refrigerated jar for at least 1 month. The result is store-cupboard dinners with real attitude!
For example, you could whip up an authentic Taiwanese cold noodles dish in literally 10 minutes, start to finish!
The Chinese sesame paste recipe I am sharing today was inspired by an incredible bowl of Taiwanese cold noodles I ate in Taitung, South-East Taiwan. I found there was no way to recreate the flavour of the dish without making my own zhi ma jiang.
---
You can jump straight to the Chinese sesame paste recipe using the button below.
Or, if you would like to know more, this article will guide you through:
---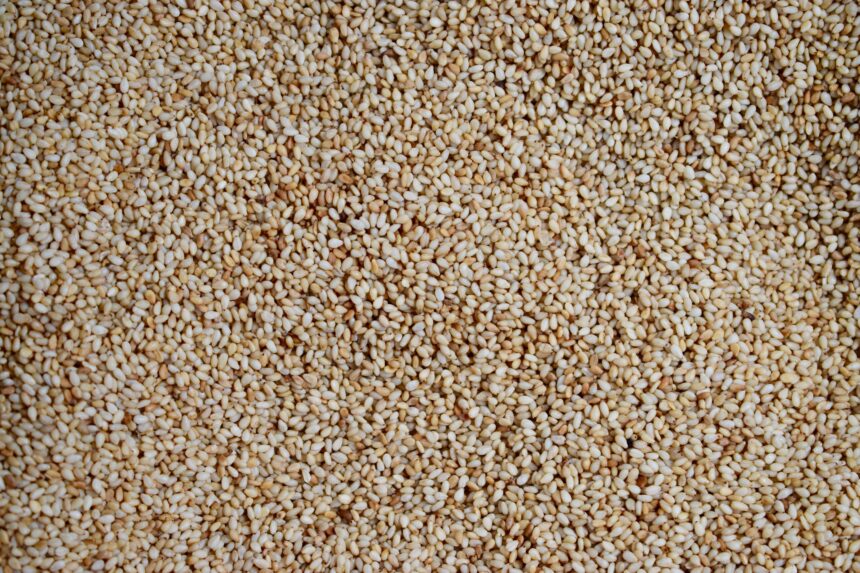 What is chinese sesame paste?
Chinese sesame paste (or 芝麻酱 / zhi ma jiang in Mandarin), is a rich, nutty and aromatic paste made from heavily roasted and ground white sesame seeds blended with oil. Some versions are made with pure sesame, others are blended with up to 50% peanut.
In a nutshell, Chinese sesame paste tastes:
Nutty and aromatic – in a similar way to sesame oil
Thick and rich – it coats the mouth in a good way (a bit like a good quality peanut butter)
Slightly bitter – there is a slight bitterness that you don't get from other substitutes
Despite the name, 'Chinese sesame paste' is also widely used in Taiwanese cooking* (in fact Taiwan is where I was first introduced myself). The recipes in both countries are identical, and both are referred to simply as 'sesame paste'. However, 'Chinese sesame paste' seems to be the name adopted internationally, and it is therefore what I will be using in this article.
*and a very similar paste called nerigoma, also made from toasted white sesame seeds, is used in Japanese cooking.
Being another paste made from ground sesame seeds, tahini is commonly compared to zhi ma jiang (with the latter occasionally being referred to as 'Chinese tahini'). However, I would not recommend substituting the two as there are fundamental differences in the way the sesame seeds are treated, leading to significant differences in taste.
In Chinese sesame paste recipes, the seeds are:
Unhulled (the seeds in tahini are hulled)
Heavily toasted – leading to the toasty, aromatic flavour you would recognise from sesame oil (vs the bitter, 'fresher' flavour from the raw seeds in tahini).
Often blended with peanut (up to 50%)
Recipes using chinese sesame paste
Zhi ma jiang can be used as the central ingredient of a dish (e.g. Taiwanese cold noodles). However more commonly it is used as a supporting ingredient, given that it is essentially an easy way to add an immediate dose of rich nuttiness to a dish that is calling out for it.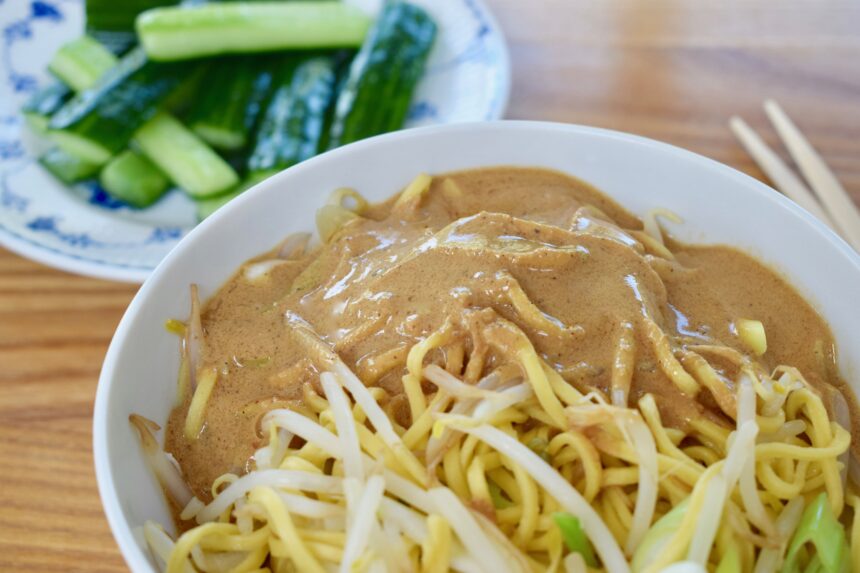 The classic dish of liang mian (涼麵, 'cold Taiwanese noodles) can be found in every town and city across Taiwan. It is also incredibly easy to make at home once you have a decent jar of Chinese sesame paste, and can be made from scratch in 10 minutes.
Here are some ways to use this Chinese sesame paste recipe:
Taiwanese cold noodles (liang mian, 涼麵) – the classic Taiwanese dish that originally introduced me to zhi ma jiang, where the paste truly is the star of the dish. The Chinese sesame paste is mixed with a few flavour boosters and seasoning (garlic, soy sauce, black vinegar) to make a rich sauce. This is then slathered over freshly cooked noodles and beansprouts – perfection! Its popularity is reflected by the fact that it can be found all over Taiwan.
Dan dan noodles (dan dan mian, 担担面) – the world-famous Sichuan dish. Although the main attraction is arguably the spicy red sauce that has been spiked with the numbing sichuan peppercorn, a dose of Chinese sesame paste is also added to give the dish depth of flavour (and also a beautiful mottled creamy look).
Poke bowl – this is not 'authentic' in any way, shape or form, but it does go very well! Often I top a homemade poke bowl with a sweet/sour/umami miso dressing. A spoonful of zhi ma jiang adds a very welcome dose of toasty richness to counteract the dressing. This makes a general point, that this Chinese sesame paste recipe makes a great ingredient for salad dressings in general.
Goma-ae (Japanese spinach with sesame dressing) – so technically it would be proper to use the Japanese sesame paste 'nerigoma' for this. However if you have made this Chinese sesame paste recipe yourself it is essentially the same (heavily toasted sesame seeds; ground; blended with oil). Mix in a couple of Japanese flavourings (mirin, sake and/or miso), toss into wilted spinach and you have yourself a great side dish.
What inspired this Chinese sesame paste recipe?
This Chinese sesame paste recipe came about after a month-long trip to Taiwan. I fell in love with the sesame noodles that were served across the country, and in particular a magnificent bowl I ate at a small restaurant in Taitung (pictured below).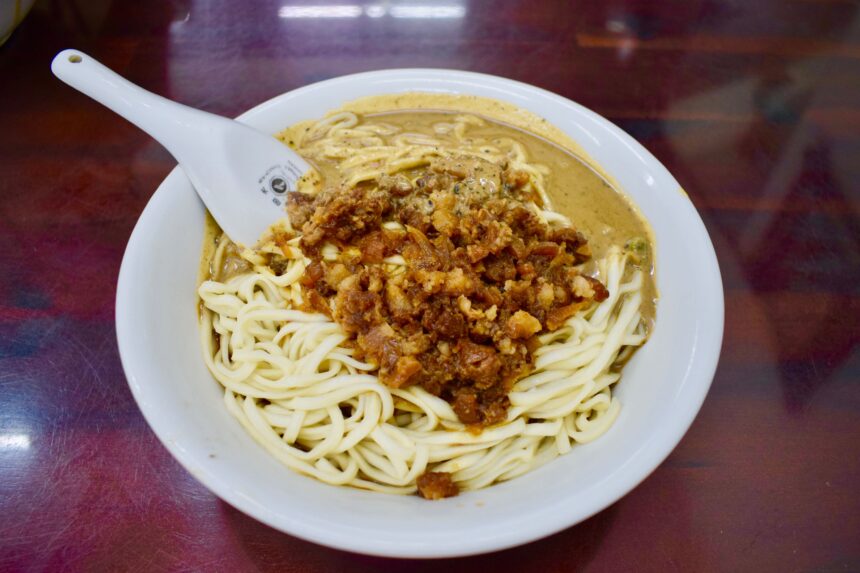 There were so many good bits about the bowl, including the pure sesame flavour coming from the sauce. I really liked it, and felt it was noticeably different from other bowls I had eaten in Taiwan, which had a distinct peanut flavour to them.
With no pure sesame pastes available to buy where I live, there was no choice but to make my own Chinese sesame paste recipe!
Cooking notes – how to make Chinese sesame paste
How to toast the sesame seeds
You can either toast the sesame seeds in a hot oven or in a non-stick pan. I prefer the latter because it is quicker and you have more control over the toasting when the seeds are directly in front of you.
This is very useful since you have to be quite careful when toasting sesame seeds as can burn very quickly once they get up to temperature. Therefore it is best to stand over the seeds, regularly tossing or stirring them (and taking the pan off the heat if they are getting away from you).
The level of toasting is down to personal taste. The further you take the seeds, the darker and toastier your Chinese sesame paste will be. I like mine to be reasonably dark.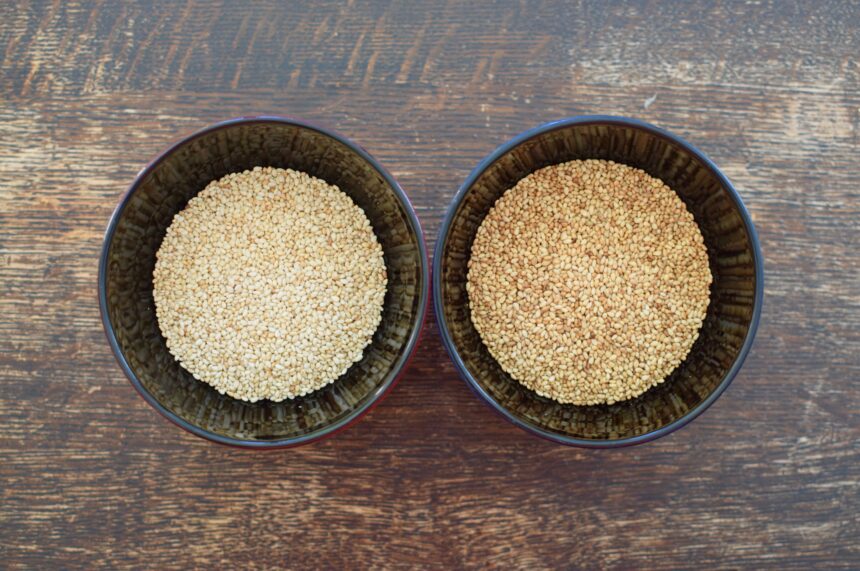 I like my seeds to be toasted until fairly dark when making zhi ma jiang. Even though the seeds I used had already been lightly roasted, you can see the colour difference on those that had been further toasted (bowl on the right).
Do I need to wash the seeds?
Some Chinese sesame paste recipes call for the seeds to be washed before use. Having tried washing myself, I feel there is little to be gained from adding this extra step. If anything, it also makes the toasting stage more difficult.
How to grind the sesame seeds
Traditional Chinese sesame paste recipes will grind the sesame seeds by hand in a pestle and mortar.
However, I personally feel that the amount of time you get back by using a food processor in this instance is worth sacrificing the traditional method, as it makes the recipe far more accessible. Therefore I recommend using a food processor in my Chinese sesame paste recipe.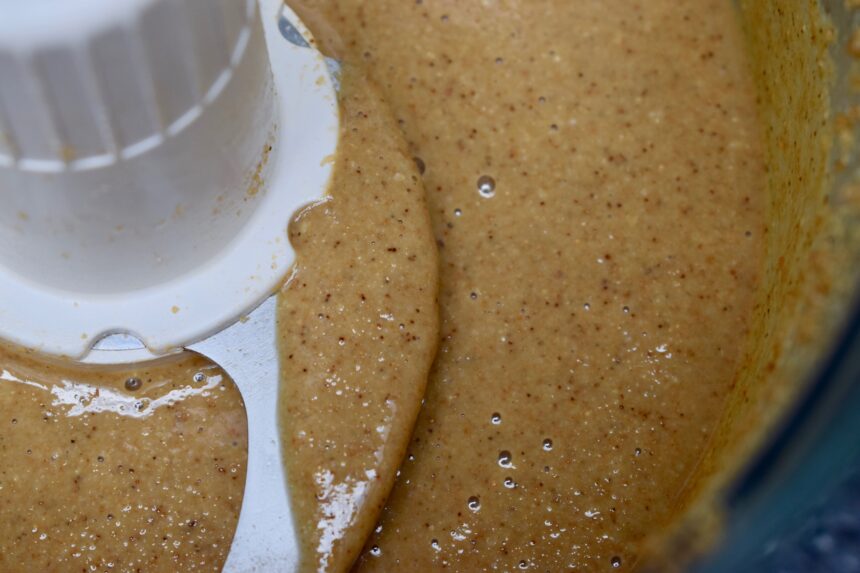 Ingredient notes
Should I add peanut?
Some Chinese sesame paste recipes call for peanut to be added. Indeed many shop-bought versions contain up to 50% peanut, and certainly many of the bowls of Taiwanese cold noodles I remember eating in Taiwan definitely contained some peanut.
I have chosen not to add peanut to my zhi ma jiang by default. This is because my favourite bowl of liang mian was made with a paste made from pure sesame.
However this is personal preference, and a peanuts can be added at the blending stage if desired. You could also simply mix in a good quality peanut butter when cooking your chosen dish if you wanted to keep both options open.
Which sesame seeds should I buy (and where can I buy them)?
The vast majority of your Chinese sesame paste is going to be made from the seeds, so best to get the right ones!
There are only a couple of things you need to check when buying: the seeds must be white and they must be hulled (not 'unhulled' or 'whole' – those are used for Tahini).
Otherwise there's not much to it, beyond saying that it is of course far cheaper (and more practical) to buy a 500g-1kg bag online, as opposed to the smaller, more expensive jars you can buy locally.
Don't worry if your seeds come already partially roasted, it just means you don't need to toast them quite as much when you make the paste.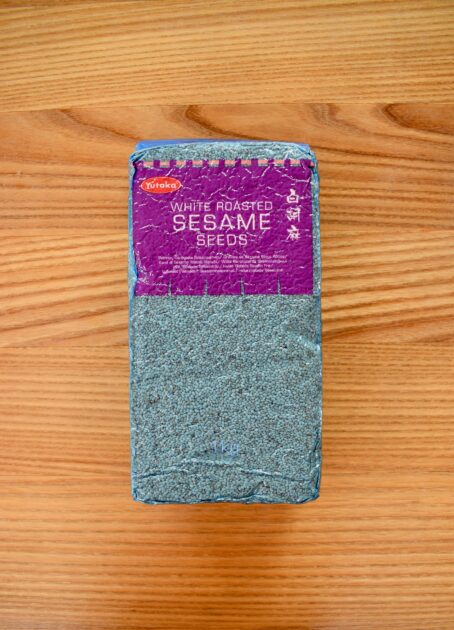 The 1kg packet of sesame seeds I bought online for my Chinese sesame paste recipe. It doesn't matter that the seeds are already lightly roasted, as long as they are white and hulled.
Oils to use
The other ingredient in your Chinese sesame paste is oil, which gives the paste a pourable consistency and helps the seeds blend into a smooth paste.
The three oils I have seen used in zhi ma jiang are olive oil, neutral vegetable oil and sesame oil.
Don't go for olive oil, it has its own strong flavour which doesn't improve the paste, and is certainly not what is used in China/Taiwan. A neutral vegetable oil is best (e.g. groundnut oil, sunflower oil etc.). I also like to add a small amount of sesame oil just to amp up the sesame flavour even further – however it is strong stuff, so using all sesame oil would be overpowering in my opinion.
Print Recipe
Easy Chinese Sesame Paste Recipe (Zhi Ma Jiang, 芝麻酱)
A rich, nutty and aromatic paste made from toasted sesame seeds blended with oil.
Servings:
1
large jar (about 360ml)
Ingredients
250

g

hulled white sesame seeds

150

ml

neutral oil

e.g. groundnut, vegetable, sunflower

30

ml

sesame oil

½

tsp

flaky salt
Instructions
Start by roasting your sesame seeds. Place a non-stick pan on a medium-high heat and, when hot, add all the sesame seeds. Toast the seeds, moving them about regularly with a spoon. You should hear a bit of sizzling and popping after a few minutes – keep a close eye and keep moving them with a spoon at this point, as they can burn quite quickly if ignored. Once the seeds have darkened slightly and smell toasty (it took me about 5 minutes to reach this point), take them off the heat to cool for a minute or two.

Once the seeds have cooled slightly, tip them into a food processor and blend on the highest setting until you can see that most of the seeds have broken up. Then with the motor still running, slowly drizzle in the neutral oil. It should incorporate and begin to form a smooth, oily paste.

Once all of the neutral oil has been added, boost the sesame flavour and season by adding in the sesame oil and salt.

Give one final blend to incorporate and then taste for seasoning and consistency. The paste should be slightly salty and strongly aromatic from the sesame. The consistency is personal preference. My favourite bowl of Taiwanese cold noodles had a slightly rustic texture, but if you want it smoother, just run the motor for a bit longer.

Pour the final paste into a clean jar (preferably sterilized) and keep refrigerated. Under these conditions, the paste should last for at least a month (most likely longer – but always check before using!).