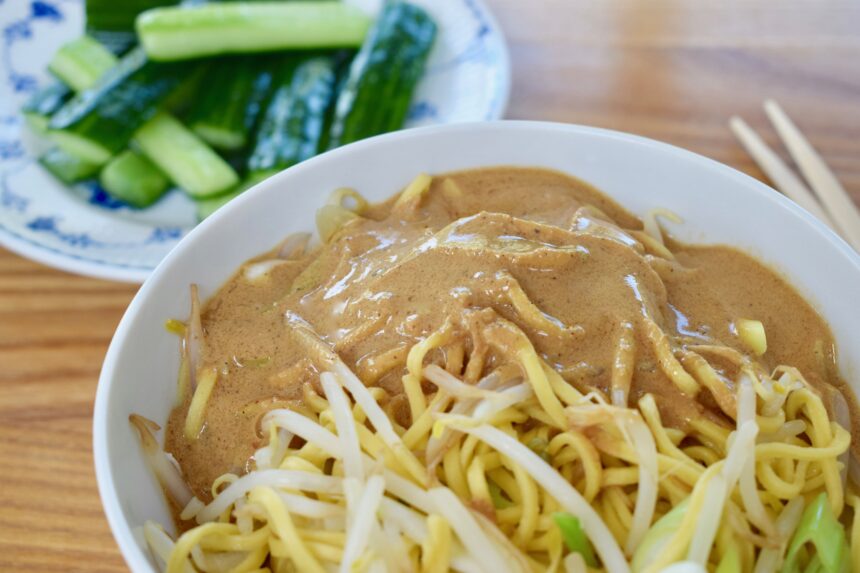 Taiwanese cold noodles, or liang mian (涼麵) is a simple but delicious meal that is served all across Taiwan. Don't confuse simple for unsatisfying however; this hearty bowl of noodles comes smothered with an incredibly thick, glossy and aromatic sauce made from Chinese sesame paste (think peanut butter, but with deep toasted notes of roasted sesame).
Today I'm going to show you how you can recreate an easy version at home that can be eaten either hot or cold (despite the name), and is based on my favourite bowl of Taiwnaese sesame noodles that I ate during my time in Taiwan.
This Taiwanese cold noodle recipe:
Can be made entirely from store-cupboard ingredients (you can switch the beansprouts and spring onions for any veg you have going)
Is finished in 10 minutes
Is naturally vegan
Faithfully recreates the best bits about the dish I ate in Taiwan
For those who want to make theirs as close to the real deal as possible, I will also show you how to source your own Chinese sesame paste.
---
If you are familiar with Taiwanese cold noodles, or just want to get to cooking, then you can jump straight to the recipe using the button below.
`Or, if you would like to read more, this article will guide you through:
What are Taiwanese cold noodles?
The differences between Taiwanese cold noodles (liang mian) and Taiwanese sesame noodles (ma jiang mian) – and why I consider them together here.
The bowl of ma jiang mian that I ate in Taitung, South-East Taiwan, on which this recipe is based
Detailed cooking and ingredient notes (e.g. how to source your own Chinese sesame paste, and why I think it is worth a go)
What to serve with Taiwanese cold noodles
---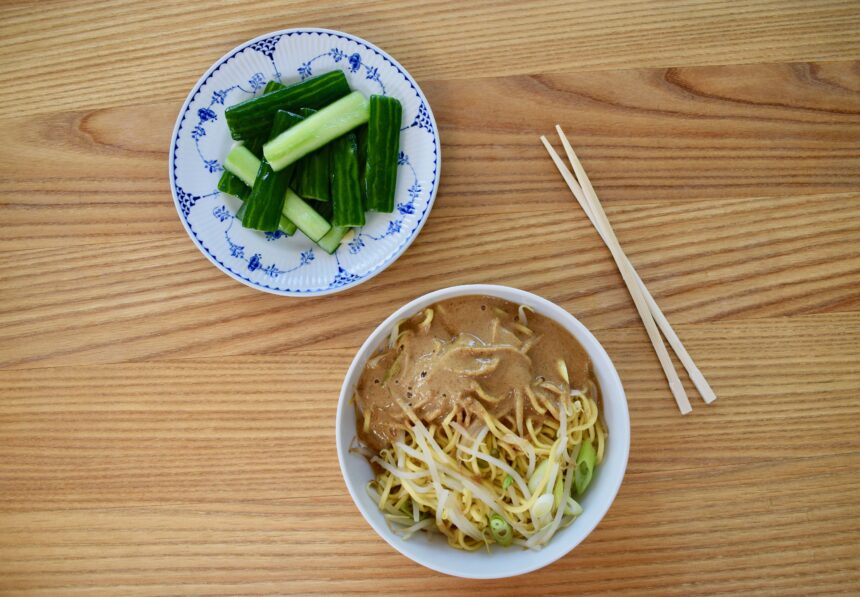 What are Taiwanese Cold Noodles?
In a nutshell, Taiwanese cold noodles are made from three parts:
Noodles – can be either buckwheat or egg
Vegetables – anything from beansprouts, spring onion, julienned carrot, julienned cucumber
Sesame sauce – Chinese sesame (and/or peanut) paste seasoned with other ingredients commonly including: black vinegar, garlic, sugar, soy sauce, ginger
These tend to be piled into a bowl in that order and then served straight away, leaving the diner to mix the 3 elements themselves (as in the photo below):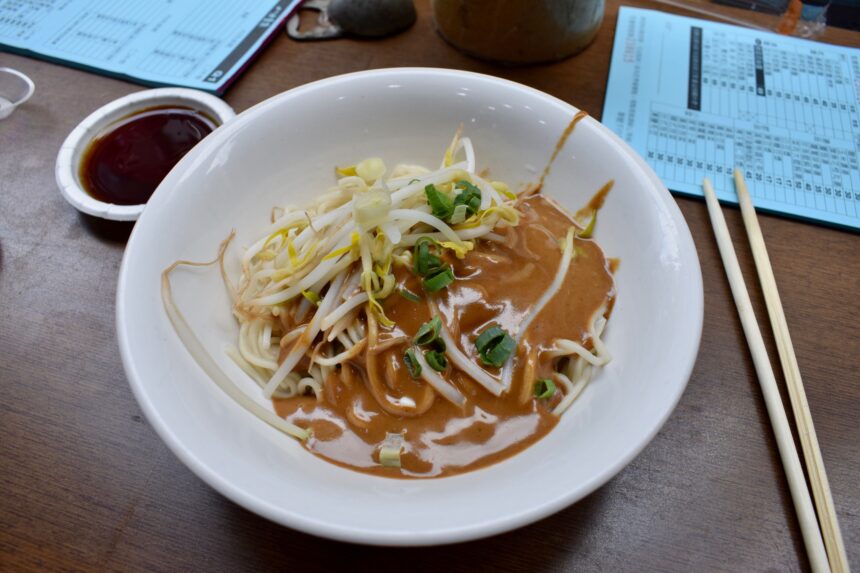 A typical bowl of Taiwanese sesame noodles (i.e. the warm version of the dish). This is a 'middle of the road' version, no frills, nothing special but still very good. This specific bowl can be found across the country, served by the nationwide chain 'Ba Fang Yun Ji Dumpling'.
Should sesame noodles be served hot or cold?
It's a little complicated, but the bottom line is that this dish is delicious either hot or cold, and so I believe you should choose whichever you prefer. I have written this recipe to be served warm (for reasons I will go into), but you can just as easily serve it cold – I have left a note in the recipe for this.
If you are interested in the detail, here is my understanding that applies to the Taiwanese versions of these dishes.
The 'hot and cold versions' of this dish are technically two separate dishes:
1 – Cold (Taiwanese cold noodles) = ma jiang liang mian = 麻醬涼麵 (translates to 'sesame paste cold noodles')
2 – Warm (Taiwnanese sesame noodles) = ma jiang mian = 麻醬麵 (translates to 'sesame paste noodles')
My position in this article is that I consider the two to be essentially the same, bar the temperature at which they are served.
This is because the sauce, for me the key flavour component of the dish, is identical in both. You can test this theory by searching for recipes of both dishes. Granted the vegetable component can vary slightly between the two (it is more common to find julienned cucumber and carrot in the cold version vs beansprouts and spring onion in the hot), but for me this is not a huge distinction.
Having tried both liang mian and ma jiang mian during my travels in Taiwan, I have opted for the warm version here because:
It is easier to get that silky, glossy noodle-coating texture when the sauce is warm
My favourite version I ate across the whole of Taiwan was warm (see review)
Warm food tends to be more suitable temperature for food here in the UK (you might think differently if you were served a steaming hot bowl of noodles in the middle of one of Taiwan's brutally hot summers!)
Taiwanese vs Chinese liang mian
To make Taiwanese cold noodles even more complicated, there are also Chinese versions of this dish that you may see recipes for. These recipes add additional ingredients such as sichuan peppercorn and chilli oil.
This recipe is for Taiwanese cold noodles, which is cleaner and really heroes the rich and nutty sesame flavour that comes from the key ingredient – Chinese sesame paste.
Where is this Recreation Recipe recipe from?
This recipe is based on my favourite bowl of warm Taiwanese sesame noodles from the month I spent in Taiwan.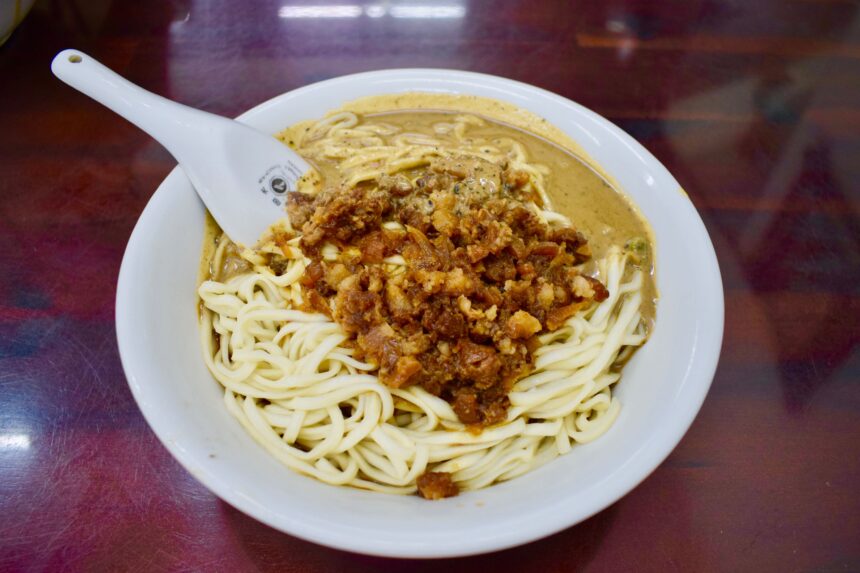 This is the best bowl I ate during my time in Taiwan. Taiwanese sesame noodles/Taiwanese cold noodles was one of our favourite dishes during the month we spent there. We ended up eating over and over again, and so for this bowl to rise above the others as the best is some achievement!
These were the 4 things that made the bowl special for me:
1 – The sauce was predominantly sesame, not peanut – some bowls can taste a bit like peanut butter. This one was most likely pure sesame paste, and intensely aromatic because of it.
2 – The sauce was thick and glossy – although sesame-based, the sauce still had that delicious cloying-thickness that you expect from peanut butter. With just the right amount of cooking water added, each noodle had a shiny, glossy coating.
3 – It was seasoned to perfection – there was no need to tweak the dish with vinegar, soy sauce or chilli.
4 – The size – generous was an understatement – most definitely a meal in its own right!
The Taiwanese cold noodle recipe I am sharing today attempts to encapsulate the 4 points above.
One obvious omission in my recipe that you may notice from the original is the pork topping, which was identical to the minced pork you find on the Taiwanese dish lou rou fan. I have left this out for a few reasons.
Firstly, from my experience minced pork is not a common topping for Taiwanese cold noodles or sesame noodles. I only ever saw it at this specific restaurant in Taitung.
Secondly, although the pork looked great and was delicious eaten on its own, I found that you didn't notice or need it once it had been mixed with the noodles and sauce.
Finally, excluding the pork makes this Taiwanese cold noodle recipe a true 10-minute dish (to recreate that pork would require a lot of slow-cooking!), and also, happily, makes it vegan.
Ingredient notes
Chinese Sesame Paste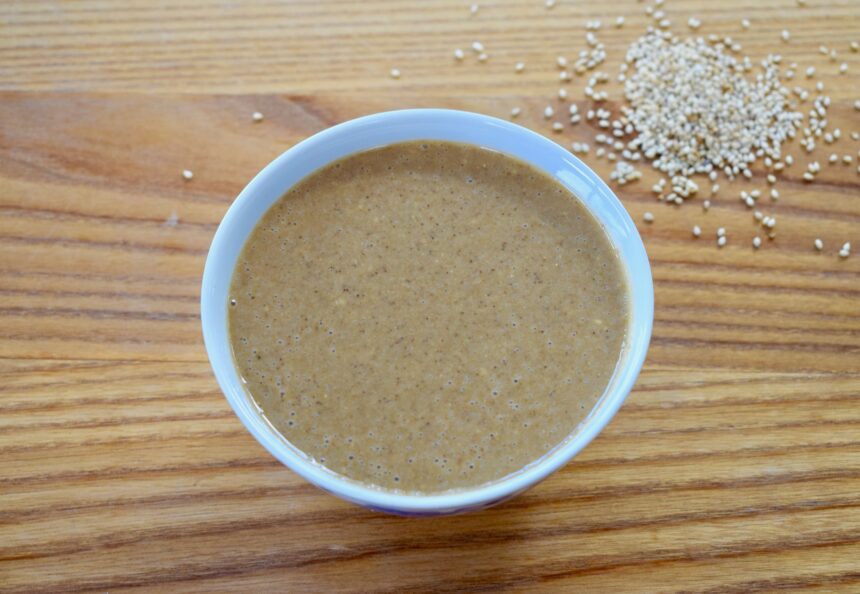 Chinese sesame paste (芝麻酱 – 'zhi ma jiang') is a thick, smooth paste made from heavily roasted and ground white sesame seeds. Its texture is similar to a good peanut butter, but its flavour is that of toasty, strong sesame. There is also a slight bitterness from the sesame seeds that you don't get with peanut butter.
As you might imagine, Chinese/Taiwanese sesame paste is the key ingredient for Taiwanese cold noodles, and if you want to get the dish bang-on authentic, then there is no choice but to use it.
I prefer to make my own Chinese sesame paste. This is because it gives me full control over the ingredients (I prefer mine without peanut, whereas most commercial pastes can be up to 50% peanut). It is also very easy – 20 minutes prep and you have a jar in the fridge that can be used to add a lot of richness to a range of dishes.
However, if you can live with the peanut and would still prefer buy a jar, you can find Chinese sesame paste relatively easily in the UK. Any good Chinese grocery store will stock it and you can also buy it online (although it tends to be slightly pricier). 'Wangzhihe' brand is fairly common, and I have used it with success.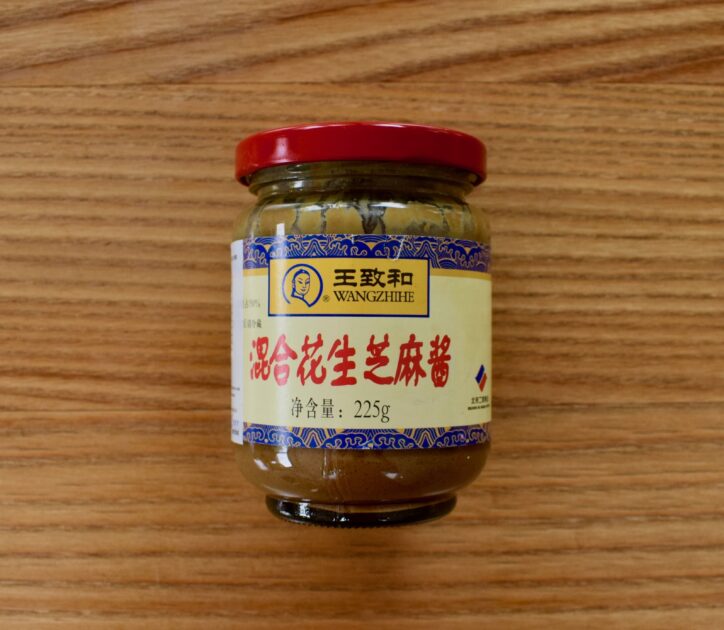 Can I just use peanut butter instead?
This is the only ingredient I would recommend using in place of Chinese sesame paste when making Taiwanese cold noodles.
A good peanut butter (100% ground peanuts) has that same deliciously thick mouthfeel as the sesame paste. Granted it lacks that rich toasty flavour and mild bitterness of the sesame paste, but this can be somewhat remedied with a bit of extra sesame oil – I would double the amount of sesame oil if using peanut butter. It also makes the Taiwanese cold noodle recipe much more accessible so I'm all for it!
Can I use tahini?
You might think tahini works given that it is also made from ground sesame seeds, however I would not recommend it.
The seeds in tahini have not been roasted (which you can tell from the lighter colour). This makes the flavour of tahini nuttier, more bitter and less recognisably 'sesame' than Chinese sesame paste.
If you're struggling for the real stuff, go for peanut butter!
What to serve with Taiwanese Cold Noodles
This Taiwanese cold noodle recipe makes a meal in its own right (especially using the generous quantities I have specified). You therefore don't need to serve it with anything.
However, I find that the crunchy freshness of my Taiwanese cucumber salad recipe goes extremely well with the richness of the Taiwanese sesame noodles (particularly if you serve them hot).
I also think it can never harm Taiwanese cold noodles by serving them with chilli of some sort (as many restaurants in Taiwan do). You can use chopped fresh chilli, but I think a chilli oil goes best. Lee Kum Kee's chiu chow chilli oil is both readily available and my favourite.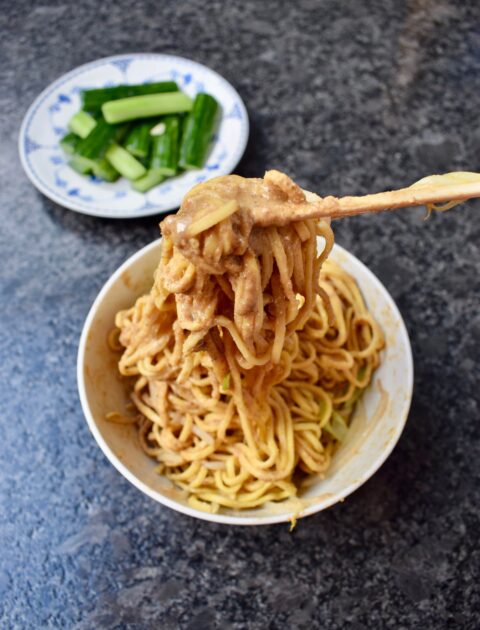 Print Recipe
10-minute authentic Taiwanese cold noodles recipe
A hearty bowl of noodles with a thick and glossy sauce made from toasted sesame paste. Can be eaten either hot or cold (see note at the bottom).
Ingredients
Sesame sauce
4

tbsp

Chinese sesame paste

or peanut butter – see 'Ingredient notes'

2

tbsp

sesame oil,

double if using peanut butter

6

cloves

of garlic

crushed

6

tsp

light soy sauce

1

tsp

Chinese/Taiwanese black vinegar

rice vinegar or even wine vinegar is fine if you can't find this

2

tsp

fine sugar

½

tsp

fine salt

1

tsp

ground white pepper

or a very generous grind of black pepper
Other ingredients
280

g

egg or buckwheat noodles

(4 nests)

160

g

beansprouts

(2 handfuls)

4

spring onions

thinly sliced
Instructions
Make the sauce by mixing all sauce ingredients in a bowl. Taste and adjust the seasoning if necessary – there should be a powerful sesame flavour and it should be reasonably salty (perhaps slightly over, because it will dilute when you mix with the noodles). Sourness and sweetness (from the vinegar and sugar respectively) should be in the background, but not prominent.

Add noodles to lightly salted water and cook according to packet instructions.

Add beansprouts to the bubbling pot 90 seconds before the noodles are finished cooking

Drain the noodles/beansprouts, reserving the cooking water

Add around 150-200ml of the cooking water to the sauce and mix – this will loosen the sauce and lighten its colour, meaning it will give the noodles a glossy coating when mixed.

To serve, place the noodles/beansprouts in a bowl and scatter over the spring onions. Top with the loosened sauce and allow the diner to mix for themselves.
Notes
This dish can be served either hot or cold (see 'What are Taiwanese cold noodles' if you want to hear the technicalities). I personally prefer them hot, in which case assemble the bowls as soon as the noodles have finished cooking. If you prefer them cold, just wait until the noodles have cooled. You could use the time to julienne some cucumber and carrot, which add a nice crunch to the cold version.