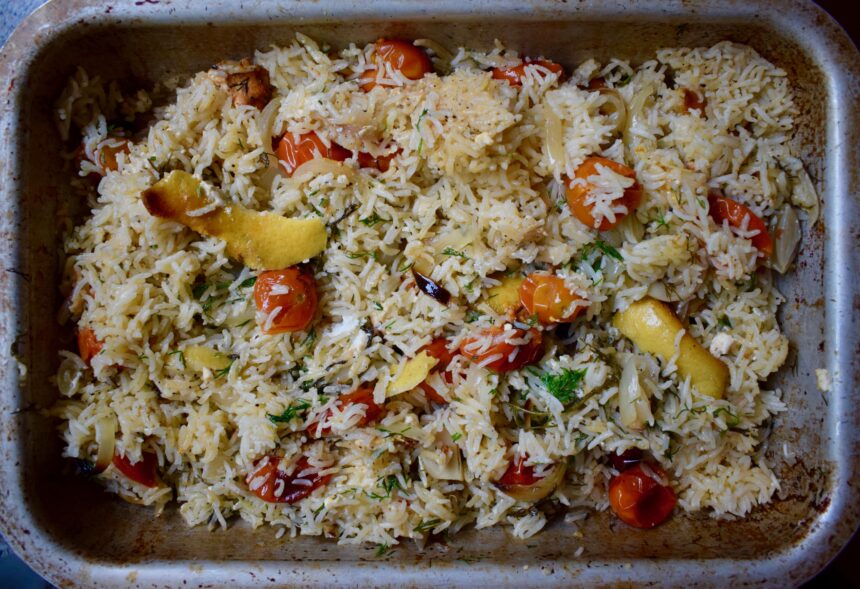 Have you ever thought about baking rice? If not, then this Mediterranean rice recipe will change the way you think about cooking basmati rice forever.
Instead of just boiling it in salted water, the rice is roasted in the oven on a bed of incredible ingredients to give beautifully fluffy, separate grains of basmati rice that are infused with the flavours and oils of the roasting tin.
Here I have given this 'baked rice concept' a Greek influence by infusing the rice with lemon peel, dill, butter and plenty of garlic, stirring through fresh dill and lemon juice right at the end. Once you get the smell of garlic and lemon-infused butter wafting through the house you'll see why I think this recipe is a keeper!
In addition to being delicious, this mediterranean rice recipe with basmati is:
One-pan
Hands-off – no standing over the stove required, just put it in the oven whilst it does its thing
Reliable – it produces beautifully cooked rice every time (no more hard grains or stodgy messes)
You can use this Mediterranean rice recipe as an accompaniment to something else (a piece of pan -fried salmon would work for example, or any other roasted vegetables).
However, this rice is so delicious and substantial that it almost deserves to be used as a main in its own right, perhaps alongside a simple salad.
---
If you want to get straight to cooking, you can jump to the recipe using the button below.
Or, if you would like to read more, this article will guide you through:
What is pilaf/pilau? How you can use this method of baking rice in your own kitchen with impressive and reliable results
How to cook this Mediterranean rice recipe (and how you can easily adapt this recipe in the future to use any flavours you like)
What is 'Mediterranean rice'?
What to serve with this Mediterranean rice recipe
---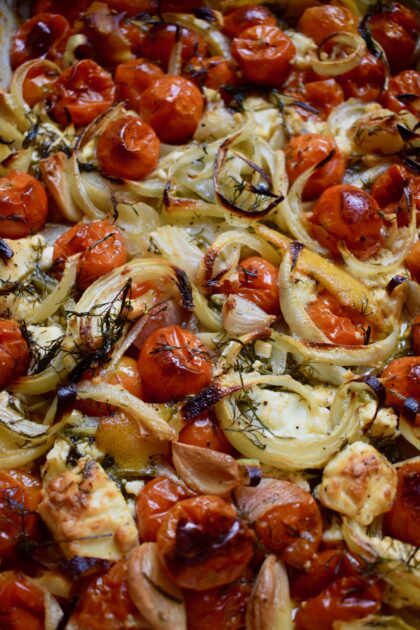 Baking Rice – a game-changing method
I'm used to simple boiled rice being used as an unsung supporting act to the centerpiece of the meal.
However this Mediterranean rice recipe flips that notion on its head. Once you have tried this way of cooking rice, you will probably never go back.
I was introduced to this method through a recipe Ottolenghi's excellent book 'Simple'.
Instead of boiling the basmati rice in lightly salted water, he baked it from raw on a base of roasted tomatoes, garlic, olive oil, cinnamon and thyme. Whilst in the oven, the rice steams perfectly and soaks up all of the flavours in the roasting tin.
I was amazed by a) how delicious it was and b) how the oils and flavours had infused with the steaming rice to give it a beautiful texture. It was so good I couldn't stop eating it on its own!
Although very clever on Ottolenghi's part, this is by no means a new way to cook rice. It is essentially a pilaf/pilau – an old technique of cooking rice and other ingredients in flavoured water or stock to make a hearty main dish.
The pilaf/pilau method is used across many countries and cultures, but probably the most well-known example here in the UK is 'Pilau rice' – an anglicised version of Indian pilaf where basmati rice is cooking with dried spices including turmeric.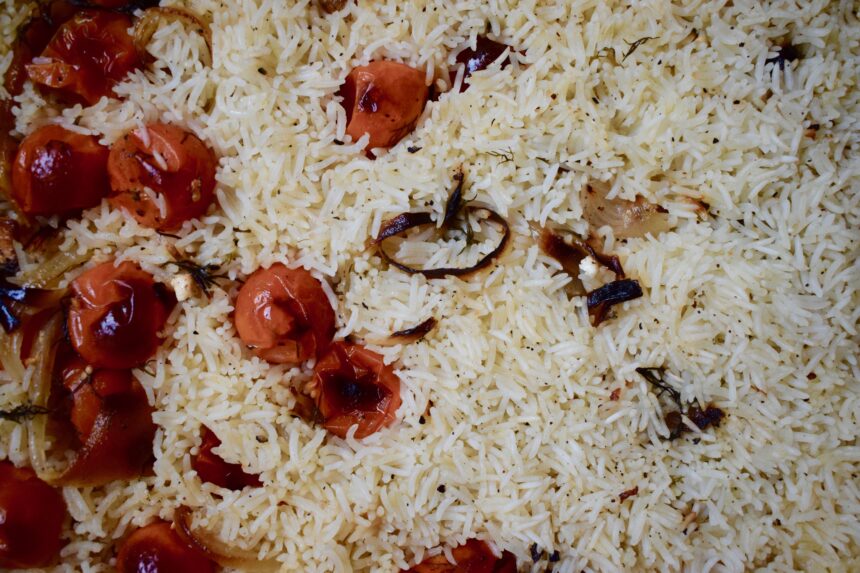 The pilaf/pilau method used in this Mediterranean rice recipe results in light, fluffy and separate rice grains of basmati rice infused with the flavours of the roasting tin.
How to make Mediterranean rice pilaf (or any pilaf)
One of the best bits about this pilaf/pilau method is its reliability. Once you have nailed down the quantities and cooking times (look no further than this Mediterranean rice recipe!) then you can cook fragrant, light and fluffy grains of separated rice every time.
You can also play around with the flavours and include anything that takes your fancy. That is exactly what I have done in this Mediterranean rice recipe by including several Greek-inspired ingredients that work well together, including dill, feta and lemon.
I have also used half butter half olive oil (as opposed to 100% olive oil) because I think it gives the dish an extra richness (and the smell you get from roasting the garlic and lemon zest in butter is phenomenal!).
Roasting the vegetables with butter gives the dish another dimension, and the smells it creates when roasting are something else. It's also a method with some pedigree – the Iranian dish chelow is famed for its crispy bottom (or 'tahdig'), which comes from cooking rice with butter in a similar way to this Mediterranean rice recipe.
A General method for baked basmati rice (serves 4 as a main, 6 as part of a spread)
The below method can be used with almost any combination of flavours to produce delicious basmati rice every time:
Roast your chosen vegetables, herbs and other ingredients with a total of 100ml of olive oil (or 50ml olive oil with 50g of butter) for 1 hour at 180℃/gas mark 4/ 160℃ fan, until softened and crisping.
Remove from the oven and sprinkle 300g of raw basmati rice evenly over the vegetables. Season with salt and pepper, then pour over 600ml of boiling water.
Seal the tray with foil and bake for 25 minutes at 240℃/gas mark 9/ 220℃ fan. Take out and rest with the foil still on for a further 10 minutes.
To finish, mix the rice and stir through any fresh ingredients that don't deserve to be baked (e.g. citrus juice, fresh herbs).
What is 'Mediterannean Rice'?
I just want to clear this up – 'Mediterranean Rice' is actually too broad a term to mean anything specific.
Each country in the Mediterranean has its own characteristic cuisine. In my opinion, these don't really deserve to be grouped under an umbrella term 'Mediterranean'.
The term 'Mediterranean Rice' for example could refer to any of the fundamentally different rice dishes served around the Mediterranean (e.g. spanakroizo from Greece, Paella from Spain, or even an Italian Risotto). More commonly however (particularly in the US) it seems to be used to refer to any form of rice that has been mixed with vegetables and herbs – so a pretty broad definition.
I have taken the 'Mediterranean rice' recipe concept down a very specific Greek-inspired path because I feel that the flavours lend themselves particularly well to this amazing method of cooking rice.
The garlic and lemon zest make and incredible smelling butter infusion that flavours all of the rice. The large chunks of crumbled feta become deliciously soft when roasted and add a salty twang and richness. Finally the 'high notes' of lemon juice and the fresh dill give the rich dish a needed lift, with the dill completing the Greek theme.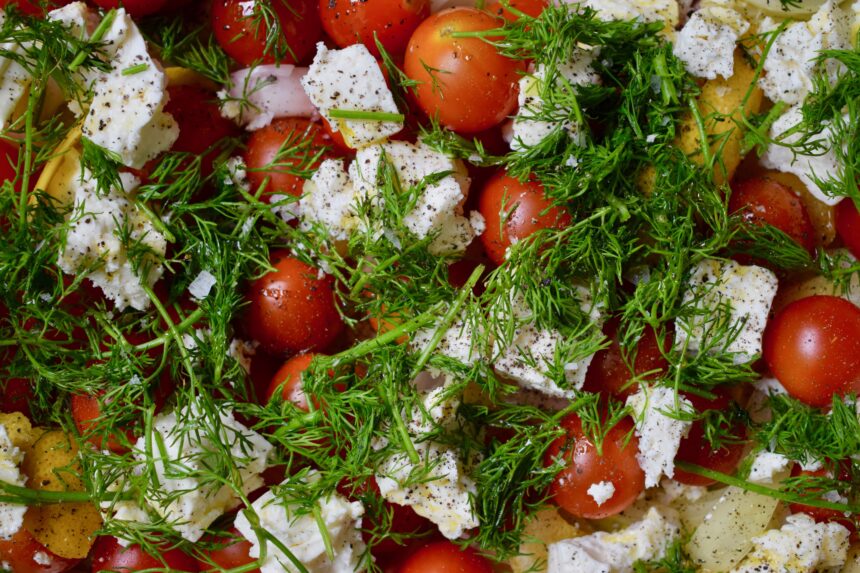 The lemon zest, garlic, feta and dill infuse with the butter to give the rice an beautiful Greek-inspired flavour
Ingredient notes
Use Basmati Rice
The ingredients in this Mediterranean rice recipe are fairly straightforward, and you can substitute them for anything that takes your fancy really.
The only non-negotiable really is the rice, which has to be basmati. Other rices will not give you the light, fluffy and separate grains that you are looking for.
Brown basmati might be an option, but you would need to experiment with the water quantity and cooking times.
What to serve with this Mediterranean Rice Recipe
Although you can serve it with other dishes as part of a spread, I think this Mediterannean rice recipe is good enough to be eaten on its own.
If you do want to serve it with something else however, your options are fairly broad. I like to eat it with roasted vegetables, particularly these fail-safe roasted peppers (pictured below), which produce lots of roasting juices that can be soaked up by the rice.
It will also go with any sort of grilled, roasted or barbecued meat and fish – a pan-fried salmon fillet would go particularly well.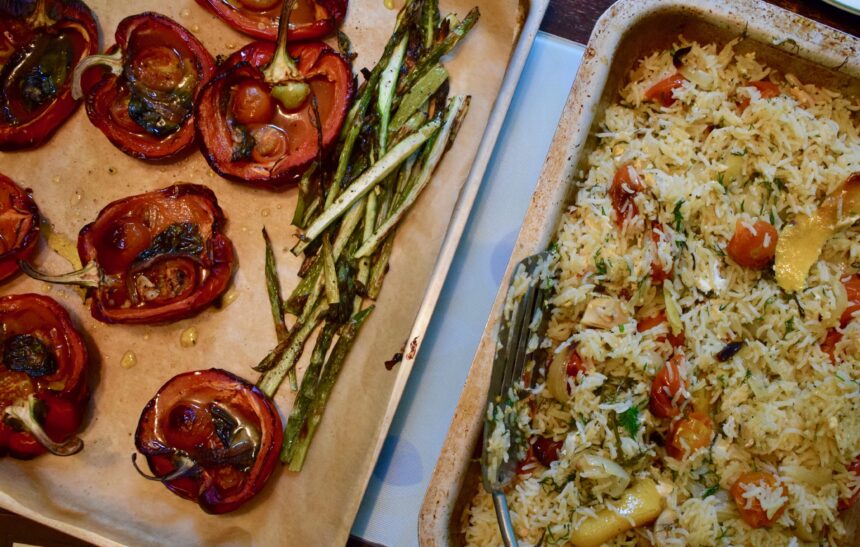 This Baked Mediterranean Rice Recipe goes excellently with these simple oven-roasted peppers. Also influenced by the flavours of the Mediterranean (this time taking inspiration from Italian Puttanesca), they are only 10 minutes of additional prep. Also the rice is great for soaking up the beautiful infused oil from the peppers.
Print Recipe
One-pan Buttery Baked Mediterranean Rice Recipe with basmati, dill, lemon and feta
A Greek-inspired pilaf that produces fluffy grains of rice infused with roasted Greek flavours.
Servings:
4
people as a main, 6 as a side
Ingredients
800

g

cherry tomatoes

250

g

shallots

peeled and sliced in half lengthways (or onions, peeled and sliced into wedges)

12

cloves

of garlic

peeled and left whole

200

g

feta cheese

roughly crumbled into 3cm pieces

1

lemon

zest pared (peeled into strips) and remainder juiced

40

g

dill

roughly chopped

50

ml

olive oil

50

g

butter

400

g

basmati rice

800

ml

boiling water

Salt

Pepper
Instructions
Preheat the oven to 180℃/gas mark 4/160℃ fan

Place the tomatoes, shallots, garlic, feta, lemon zest, half the dill and olive oil in a high-sided casserole dish (about 20x30cm). Season liberally with salt and pepper and toss to coat all the ingredients. Evenly place small knobs of the butter on top, using all 50g, and then place in the oven for 1 hour until the vegetables are soft and have taken on some colour.

Remove the dish from the oven and increase the temperature to 240℃/gas mark 9/220℃ fan. Without stirring anything, sprinkle the raw rice evenly over the vegetables. Top with 1/2 tsp salt and plenty of pepper, then pour over the boiling water. Seal the dish tightly with foil (you don't want any steam to escape) and place in the oven for 25 minutes, until the rice is cooked.

Remove from the oven and leave to rest for 10 minutes.

Remove the foil, stir through the remaining dill and lemon juice and serve.