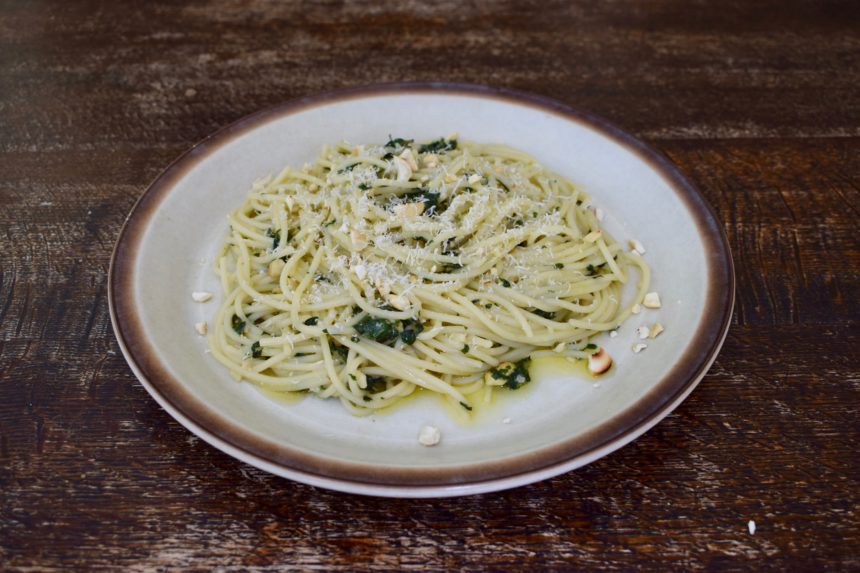 I don't usually consider ordering Italian-inspired dishes when in South East Asia, let alone rave about them.
However this Thai basil pesto with cashews from Ranong province (the heart of Thailand's cashew nut industry) was a triumph.
It was a Thai-run restaurant's take on the classic Italian pesto genovese. European basil and pine nuts were substituted for high quality (and far more available) local ingredients: Thai basil and cashew nuts.
The resulting Thai basil pesto pasta has that beautiful flavour of bashed nuts and herbs that you can only get from a fresh pesto, along with the fragrance of Thai basil and texture of cashews that take it in a beautiful new direction.
Best of all – it's a dish that you can finish in the time it takes to cook the pasta!
In this article, I will show you how to make a fresh Thai basil pesto with cashews, identical to the one I enjoyed so much in Thailand. I'll also show you how to turn this into a simple but delicious meal: Thai basil pesto pasta.
Can you make pesto with thai basil?
In short, yes you can.
Take it from me, it is delicious, which is all that really matters. In truth, pretty much any combination of crushed herbs, nuts, oil and parmesan is probably going to be fairly good.
If you are Italian and merely associating this with the word 'pesto' makes your blood boil – fair enough. This is not pesto Genovese (which has to use European basil and pine nuts).
However, I hope that it is possible to appreciate that this recipe came from an admirable aim: to combine the best quality local ingredients with the classic technique of crushing herbs and nuts in a pestle and mortar.
If this still doesn't float your boat then know that 'modern pesto' is thought to derive from an ancient Roman sauce called moretum, which was made by crushing celery, garlic, coriander seeds and parsley. So I would say the only truly defining feature of a pesto is that you grind nice things in a pestle and mortar. In that case, this Thai basil pesto with cashews definitely ticks the box.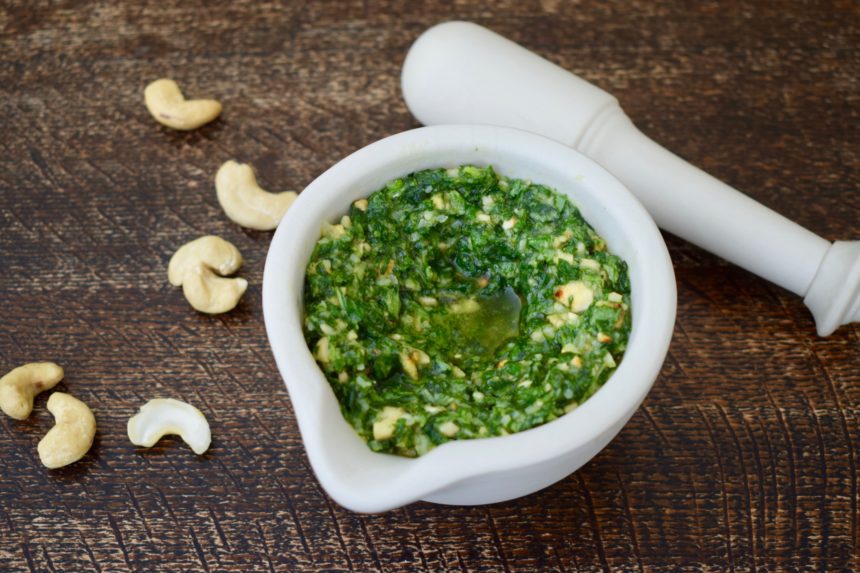 My recreation of Thai basil pesto with cashews – looks like pesto to me
Where is this Recreation Recipe recipe from?
I originally ate this dish at Tum Restaurant – a humble restaurant on the tiny island of Koh Phayam.
Koh Phayam is off the coast of Ranong province in Southern Thailand. Ranong province is one of the 3 or so provinces that produces the majority of Thailand's cashew nut crop. According to the locals we spoke to at least, Ranong produces the best.
It makes sense then that the locals are taking advantage of this excellent crop to make delicious food. I'll talk about some of the other delicious dishes they made using cashew nuts in later articles (including actual Thai classics such as pad med mamuang) but for now, this Thai basil pesto with cashews is a perfect example of how to make the most from local ingredients.
These cashew nuts were a big thing in Koh Phayam. You only need these and a few other ingredients to make great Thai basil pesto with cashew nuts.
The original Thai basil pesto pasta – how it tasted
One of the best bits about cooking this Thai basil pesto pasta is that it is very simple. This fact also made it easier to taste exactly what was going when I ate the original dish.
The cashews themselves had definitely been toasted (as they had in all the cashew-based dishes we tried on Koh Phayam). They had then been bashed with salt, pepper, parmesan, olive oil and plenty of Thai basil.
There was also a small hint of sweetness – my assumption was that a small amount of sugar was added to balance the tastes (an important factor in Thai cuisine in general).
You could smell the aroma of the herb even before taking your first bite of the Thai basil pasta. When you did actually eat it, Thai basil was indeed the primary flavour. You could also taste the occasional toasty note of a cashew, although the best bit about the nuts was their unique soft texture.
Coupled with the al dente bite of the pasta (surprisingly well done for somewhere that doesn't see a lot of pasta), and you had a delicious Thai basil pesto pasta dish an Italian would be proud of.
Cooking notes
Blender or pestle & mortar?
Grinding with a pestle & mortar is the classic way to make all pestos. It was also the way it was made in Thailand.
However, if you don't own a large pestle & mortar (or you are just very short on time), then you can still get a great result with a food processor. The only thing to remember is to go easy on the blending. You don't want a completely smooth Thai basil pesto. The chunks of herb and cashew nut make the final dish more interesting.
Due to current pandemic-related issues, I don't have access to my pestle & mortar and so have used a food processor. The texture shown in the picture is what you want to aim for as it roughly emulates the rustic texture you would get from bashing by hand.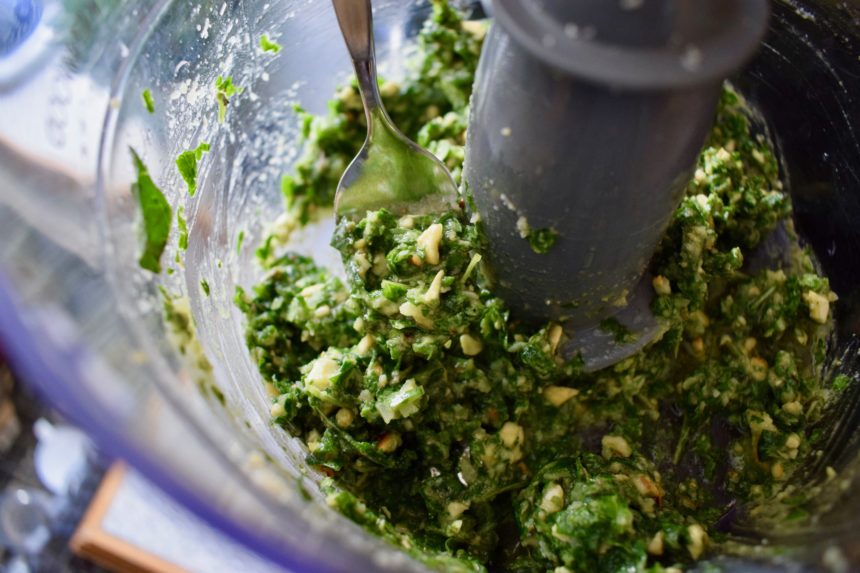 This is the rustic texture you want for your Thai basil pesto with cashews. The texture makes the final Thai basil pesto pasta dish all the more delicious!
Toasting the nuts
Because cashew nuts are one of the two major ingredients in this Thai basil pesto, this step is worth doing. In any case the whole meal is so simple that you won't mind the little extra effort it takes.
Toast them in a dry pan over a high heat. Make sure you don't take your eye off as they can burn if you forget about them.
It took me about 90 seconds to see some colour, and in 4 minutes they were done (as in the below photo).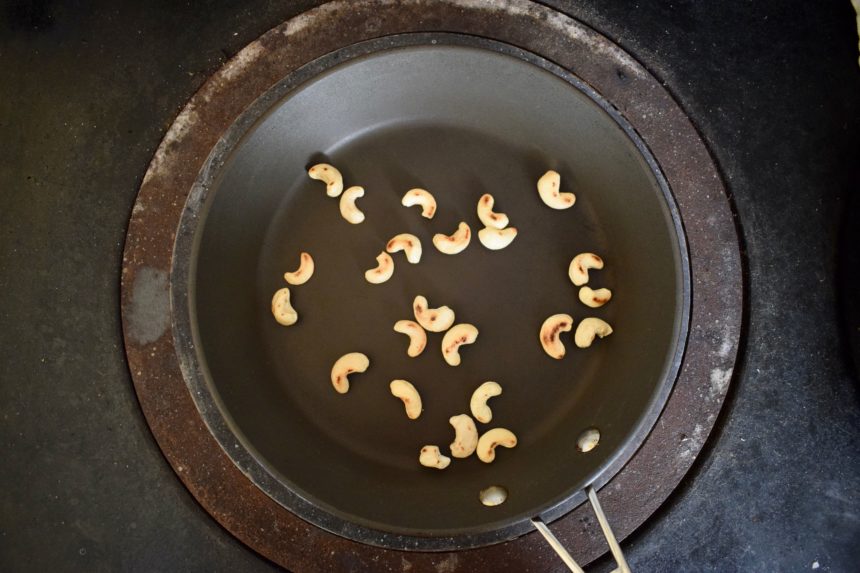 Toasting the nuts give a noticeable extra flavour to your Thai basil pesto pasta
Cooking the pasta
All the normal pasta-cooking rules* apply to your Thai basil pesto pasta.
The most important thing for this dish specifically is to keep some of the pasta water when you drain. For a 'non-saucy' pasta such as Thai basil pesto with cashews, it is key to mix some of this pasta water into the dish so that you get that creamy, oozy consistency that coats all of the pasta.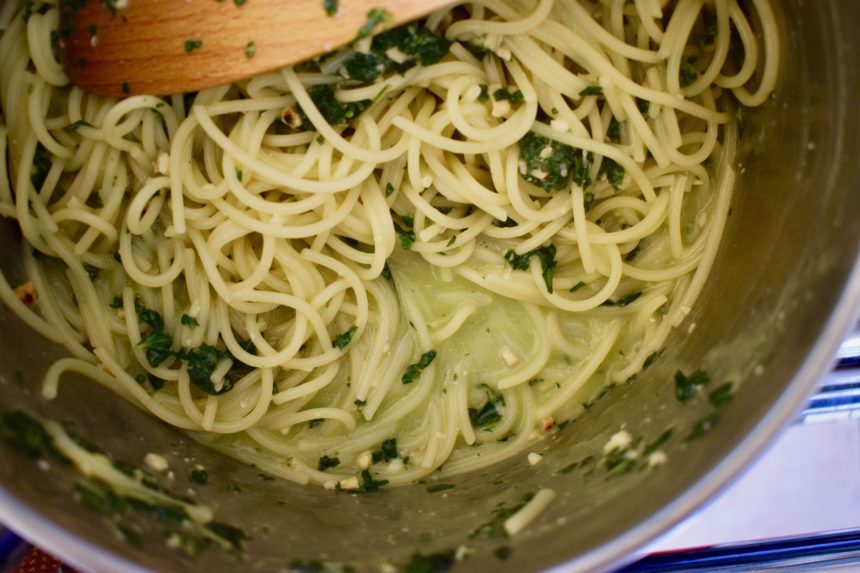 Adding pasta water (and in this case some more olive oil) when mixing your Thai basil pesto pasta is key. You want a small pool of this 'creamy' sauce which coats the pasta and makes it glossy.
This particular dish can take quite a lot of pasta water – I ended up using about half a mug. This means it is also very important not to over-salt the water you use to cook your pasta. If you do, then adding half a mug of it at the end will make the final Thai basil pesto pasta too salty. So give the water a few decent pinches, but don't free-pour half a gallon. If you like to measure, then I recommend about 1.5 tsp of salt per litre of water.
*Normal pasta-cooking 'rules':
Use lots of salted water
Get this to a rolling boil before adding pasta, and after the pasta has been added
Give it a good few stirs to make sure the pasta doesn't stick to itself or the pot
Always test the pasta rather than relying completely on packet times. It usually reaches the al-dente point a couple of minutes sooner than the packet suggests. Trying some is the best way to tell if it is done.
Save some of the pasta water when draining to use for the sauce
Ingredient notes
What if I can't find (or afford) so much Thai basil?
I think the amount of Thai basil (equivalent to one 25g bunch per person) is about perfect in terms of flavour. Certainly any more might make the Thai basil pesto pasta too pungent for those on the fence about the distinctive flavour of holy basil.
However, if you want to scale this up to make a meal for more people and can't find enough Thai basil, then it would not do any harm to substitute some of it for other 'greens'.
European basil would be the best, but even spinach would work. The flavour of the Thai basil is strong enough not to be overshadowed by either of these. This will mean you should be able to keep the essence of the original Thai basil pesto with cashews.
Can I use other nuts?
You can – one of the best things about pesto is that almost any combination of nuts and herbs in this format will be nice. However, it will change the nature of the dish – you can't have 'Thai basil pesto with cashews' without cashews! Cashew nuts have their own texture and buttery flavour that is not replicated by another nut.
Print Recipe
Thai basil pesto pasta recipe – straight from Thailand's Cashew Nut County
An aromatic twist on a classic pasta dish using Thai ingredients. Home-made Thai basil pesto with cashew nuts makes a 'creamy' and luxurious pasta sauce.
Ingredients
200

g

white spaghetti

50

g

Thai basil

30

g

cashew nuts

30

g

parmesan or grana padano

grated

4

tbsp

olive oil

¼

tsp

sugar

Salt

Pepper
Instructions
Making the Thai basil pesto with cashew nuts
Toast the cashew nuts in a dry pan on a high heat until golden (see photo). Reserve a few for garnish.

Wash the Thai basil and take leaves off the stalks.

Place all ingredients (minus the pasta and reserved cashew nuts) into your pestle & mortar (or food processor if using – see 'cooking notes'). Grind or blend until you have a coarse texture (see photo). If you are using a pestle & mortar, you may have to add the herbs a bit at a time so that it all fits.

Taste and adjust the seasoning with salt and pepper.
Cooking the pasta
Cook the pasta according to packet instructions or until al dente. Do not oversalt the water as you will be using a lot of it in the final step (I recommend 1.5 tsp of salt per litre of water).

Once al dente, drain the pasta and reserve one mug of the cooking water.
Final assembly
Tip your pasta back into the warm pan and add your Thai basil pesto. Add a drizzle of olive oil and a quarter of the water. Keep mixing and adding water if needed until the pesto is well-mixed and you have an oozy consistency. It is good if you have a small pool of 'creamy' sauce at the bottom (see photo).

Divide between warm plates, sprinkle with the remaining toasted cashews and serve.