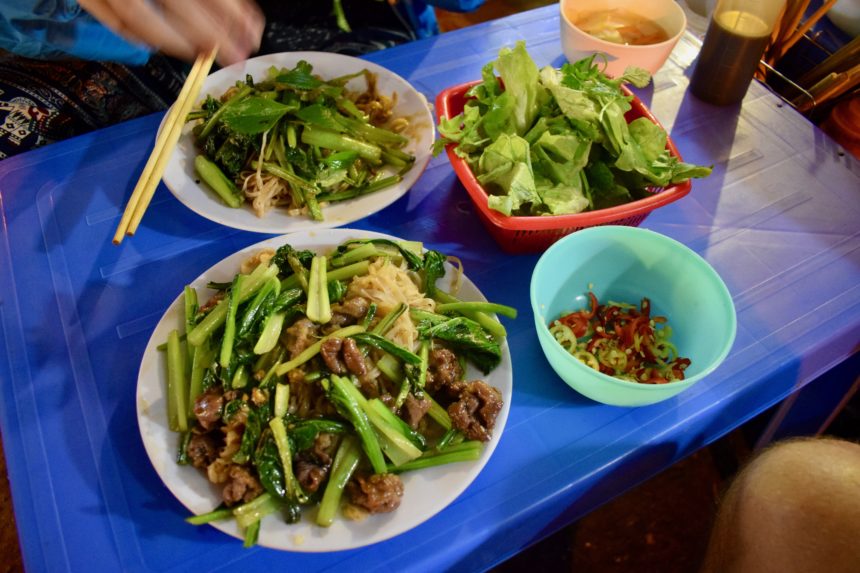 Pho bo is delicious – but have you ever tried the stir-fried version?
Pho Xao Thit Bo (or stir fried flat rice noodles) is the overlooked younger cousin of pho bo: the behemoth of a noodle soup dish that has found international fame and now seems entwined with the identity of Vietnam.
I think this is a mild shame for pho xao because it is a cracking dish in its own right. 
For me, pho xao is the embodiment of what I find exciting about Vietnamese cuisine: flat rice noodles, tender beef, fiery fresh chilli, crunchy pickles, pungent fish sauce and, most importantly, bucketloads of fresh herbs that you can add to your heart's content.
So if you find yourself in the food heaven that is Hanoi's old quarter, take a break from your banh mi's and pho's to sample this simple yet technical dish at Phở Xào Ba Thanh Béo – a small roadside eatery that reportedly serves some of the best pho xao in Hanoi.
What is Pho Xao?
Pho Xao, or Pho Xao Thit Bo, is essentially the dry version of the universally popular pho bo (Vietnamese noodle soup made with flat rice noodles and beef).
Like pho bo, pho xao is centred around the ubiquitous banh pho (flat rice noodle). However, rather than being added to a broth these noodles are fried in a hot wok with seasoning until they take on a mouthwatering 'charred' flavour.
The banh pho are then mixed with wilted greens and extremely tender slices of beef, which have been softened by marinating in a mixture centred around oyster sauce.
In a similar fashion to pho bo, this already delicious base can be improved at the table. The diner is encouraged to add a variety of ingredients to their pho xao, such as lime, chilli, pickles and herbs.
How to cook pho xao Hanoi style: 2 chefs, 2 giant woks
Like a lot of Vietnamese specialities, eating Pho Xao in Hanoi is a true roadside experience.
Bums on plastic stalls that only come about halfway up your shin, skeletal tables that you can't get your legs under, and the occasional motorbike exhaust that blows your herbs away – it's all good fun!
The classic Vietnamese street-eat – one of my fondest memories of Vietnam is eating an unassuming bowl of pho xao in Hanoi whilst sitting beside this busy road.
The best part about eating at these street restaurants tends to be the food: often cheap, authentic and delicious. 
Another bonus I like is that you can sometimes see directly into the kitchen and watch the magic happen, as was the case at Phở Xào Ba Thanh Béo.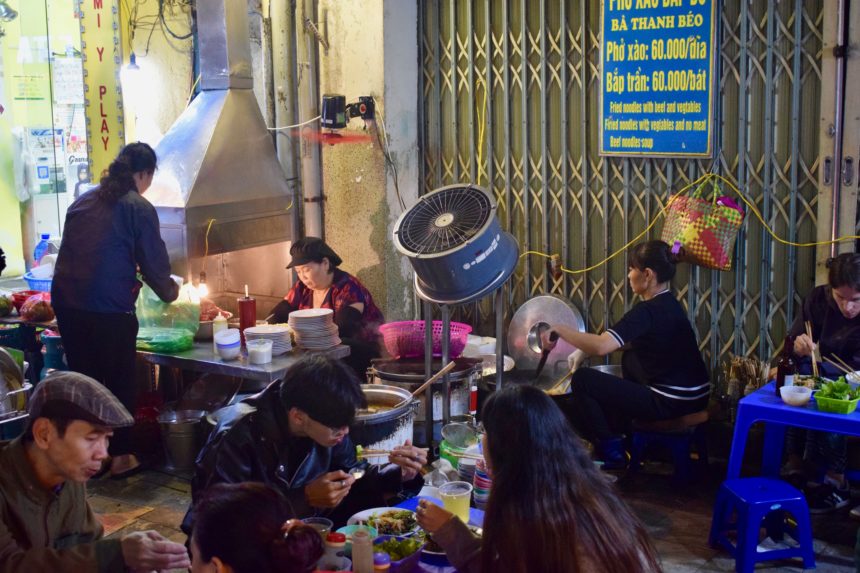 The kitchen at Phở Xào Ba Thanh Béo. The noodles are cooked by the lady on the right, and the beef by the lady on the left.
At Phở Xào Ba Thanh Béo, they serve so much pho xao that at any one time, 2 giant woks are filled with frying ingredients.
The 2 woks look after 2 separate steps:
1 – frying the rice noodles
The lady on the right only cooks the banh pho. This is a critical job because the charred taste you get from doing this properly at a high temperature is delicious. It is also what makes it so difficult to recreate at home!
She worked feverishly, constantly tossing and moving the huge pile of noodles over the high heat so that nothing burned or became stuck.
By the time she had finished, the noodles were darkened. This colour came partly from the charring. The rest came from the seasoning she added, which I think was only dark soy.
2 – frying the beef and greens
The lady on the left was in charge of the remaining ingredients and the plating. 
She would add around 6 portions of beef, which had been sitting in a marinade, followed by the greens.
After working these for a couple of minutes only, she would divide and tip them onto 6 plates of fried noodles that had come from the lady on the right.
And just like that, 6 dishes were whisked away to customers!
Eating the pho xao 'naked'
How can this unassuming bowl of noodles, beef and greens be up there with the best pho xao in Hanoi? It's all in the technique
The base pho xao may look plain, but it was tasty in its own right. So tasty that I had to tell stop myself to stop eating before I forgot to add any condiments.
The fact that such a simple dish could be so good was a testament to the technical skill of the chefs on the woks.
The noodles were well seasoned with nothing more than soy, but what made them moreish was the strong charred flavour from the hot wok frying. All of the effort I had seen the lady put into working the noodles in the wok was for something!
The beef was also delicious. It was sweet and salty, tasting strongly of oyster sauce and back pepper. It was also very tender, in a way you get when you have marinated meat for some time in oyster sauce (a common practice in many Chinese dishes, such as this Szechuan beef stir fry).
The greens were coated in the same sauce and still retained some bite.
All in all, it was a demonstration of how you can turn a few simple ingredients into an amazing dish using nothing but excellent stir-frying technique. This is not surprising given that these two ladies have spent years on the side of a busy street mastering the art of making one of the best pho xao in hanoi!
Condiments – tweaking your pho xao Vietnamese-style
When eating pho xao in Hanoi it would be a crime not to pile your plate high with herbs and chillies
Pho xao is part of the 'pho family'.
This means you can expect a generous spread of delicious seasonings and condiments to be at your personal disposal as you eat the dish – one of my favourite things about Vietnamese cuisine in general.
There was a bowl of lettuce and fresh herbs (Vietnamese Perilla, or Tiá Tô, and mint) which provided crunch and a herby aromatic freshness. Finely sliced fresh red chilli gave fresh and intense heat. A squeeze of lime gave sourness, and fish sauce that pungent South-East Asian twang.
These additions were all fresh and intense, providing high notes to the delicious smoky base. Also, it was the heat of chilli and strong flavour of the herbs that lingered in your mouth, making you savour the pho xao long after the final bite.
Finally there were the pickled slices carrot and a mysterious green vegetable (identical to that you are often get with bun cha). These provided a welcome crunch, and even more freshness to the pho xao.
These additions not only made the dish more rounded and delicious, but also turned what was simply an exhibition of wok-skill into something that is distinctively Vietnamese in character.
Eating Pho Xao in Hanoi – often overlooked but unmissable
You may be of the school of thought that pho xao is little more than a simple bowl of fried noodles with a few additions.
I disagree!
Perhaps it is because I love the ingredients so much or perhaps I just love the concept, but pho xao really is more than the sum of its parts. For me, Pho xao is what makes Vietnamese food great, summarised on a plate.
Simple dishes like pho xao are easy to make, but very difficult to make really well. I think the two ladies here have mastered their art, and probably deserve their reputation for serving one of the best pho xao in Hanoi.
I also think it's a shame that pho xao doesn't get anywhere near the recognition of pho bo.
Therefore if you find yourself in Hanoi Old Quarter, I highly recommend you give yourself a break from noodle soup (as good as it can be), to come and sample this wonderful dish – you'll be glad you did.
Price and Location
Price
With beef, 60k VND (=$2.55 = £2.05)
Without beef, 40k VND
They also serve classic pho bo (or without the bo) for the same price as the pho xao.
Location
Phở Xào Ba Thanh Béo is at the heart of the old quarter, a stone's throw from the infamous 'beer corner'. Don't let this put you off though – the food is a far cry from some of the surrounding eateries (as the regular crowd of locals eating there would suggest).