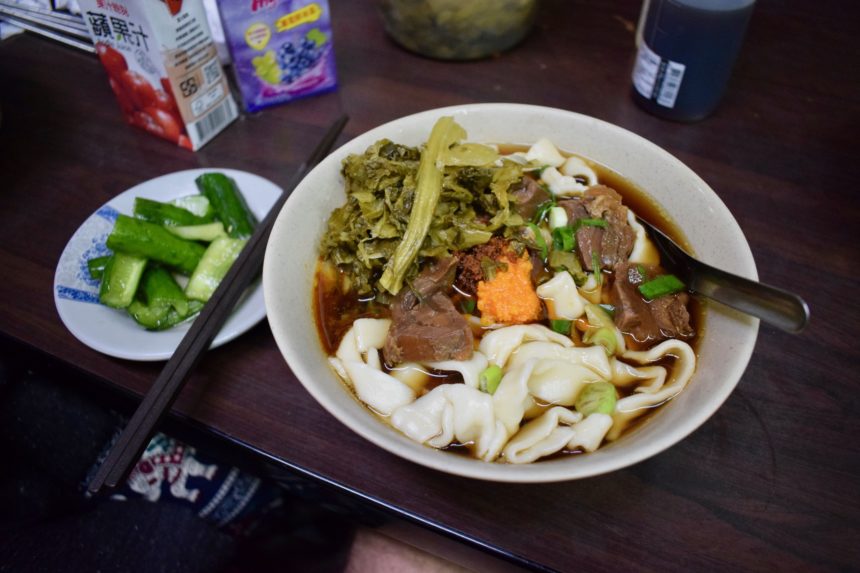 A local's take on the best beef noodles in Ximending
You could spend hours trawling the internet for the best beef noodles in Ximending and never come to a solid conclusion.
The history behind Taiwanese beef noodle soup, plus a culture of eating out regularly, mean that locals you speak to will almost always have a strong opinion about which particular shop you should visit.
And there are thousands of opinions!
We took the thought out of the decision by visiting Fuhong Beef Noodle on the recommendation of a Taipei local. We were rewarded with tender beef, rustic noodles and an incredible deep-orange chill butter – the best bowl we had during our month in Taiwan.
What is beef noodle soup?
Beef noodle soup is the national dish of Taiwan. You will find a restaurant serving it in every town and city across the country.
Historically, the Taiwanese have avoided eating beef. This is because of how useful the cow was for everyday farming life (interestingly similar to India, where part of the 'no beef' cultural mindset was to preserve the source of cow dung: the primary cooking fuel). Even today, some of the older generation tend to avoid it.
I think it speaks volumes for the tastiness of Taiwanese beef noodle soup that it was able to overcome this dogma to gradually win the hearts of the nation and become the national dish!
Large pieces of beef tendon or shank are braised for a long time in a liquor which has been heavily flavoured with spices, Taiwanese chilli pastes, garlic, ginger, spring onion and more. The slices are served in a soup made from the braising liquor and noodles.
Finally, your individual bowl can be 'pimped' at the table with pickled mustard greens, vinegar and 'chilli butter' – a warming mixture of roasted chilli and beef fat that is unique to the dish.
Why Fuhong Beef Noodles Ximending?
As I have alluded to, there are hundreds of beef noodle soup shops that you could visit in Taipei alone.
Lao Shandong Beef Noodles, Lin Dong Fan, Yong Kang and Jianhong beef noodles are a handful of the famous beef noodle restaurants in Taipei, each with its own enthusiastic fan base. In short, the choice of places to eat beef noodles is overwhelming!
Therefore we were more than happy to listen to the words of our host – a local who was born and bred in Taipei. We told her that we were looking for the best beef noodles in Ximending (our local area) and without hesitation, she told us that Fuhong beef noodles were the best beef noodles in Taipei, period. Choice sorted!
Our first impression of the restaurant seemed to lend weight to her opinion. The restaurant was completely packed, both inside and out. Even better, it seemed that almost everyone was a local (although we did meet one fellow tourist from South Korea). All good signs that the place would dish up some tasty, authentic Taiwanese beef noodle soup!
The busy shop-front of Fuhong Beef Noodles restaurant
Another promising sign for Fuhong Beef Noodles was that there was no English translation of the menu.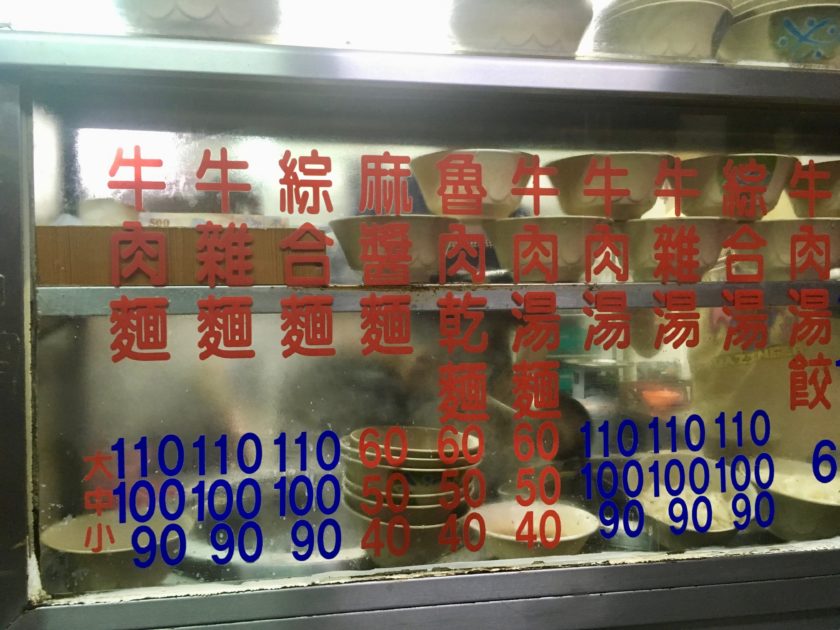 The menu, which I instantly translated with the greatest of ease
This could have been a struggle for us and our very limited mandarin. Fortunately, it makes things easier when there is essentially only one thing on the menu.
Luckily, the lady serving was very accommodating and explained our basic choices:
choose your beef – tendon, meat slices or mixed
choose your noodles – thick or thin
As simple as that!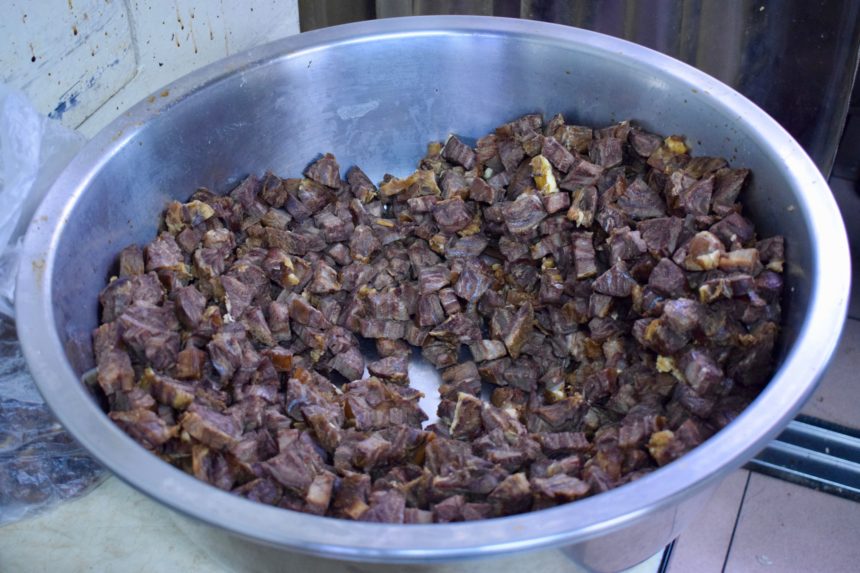 I asked for this bowl. Quite wisely, they wouldn't give it to me
I ordered the large bowl with beef slices and thick noodles, at 110 NTD.
Since we were sitting outside at the front, I decided to have a little wander into the restaurant itself. Don't' forget to do this as there is a fridge at the back filled with small side plates which you can take. I took one plate of pickled cucumbers and one of Taiwanese golden kimchi.
Also, our host told us that you get a free carton of juice with every bowl. You wouldn't know unless you could speak Mandarin, but you can just go into the fridge and help yourself.
The beef noodle soup
The first thing I always do with a bowl of noodle soup is try the broth before adding anything. A decent soup broth has good depth of flavour, even if it requires some sort of additional seasoning (usually provided as a condiment). This flavour is the important bit because it can only come from painstakingly boiling the broth with lots of wonderful ingredients.
This was exactly the case with Fuhong's broth. It was not aggressively flavoured, and there weren't clear flavours you could pick out as such. However, it did have a noticeable depth. It had clearly been cooked for a long time to allow these flavours to develop – you could even see microscopic bits of beef floating in it. A good background, ready to be enhanced by condiments!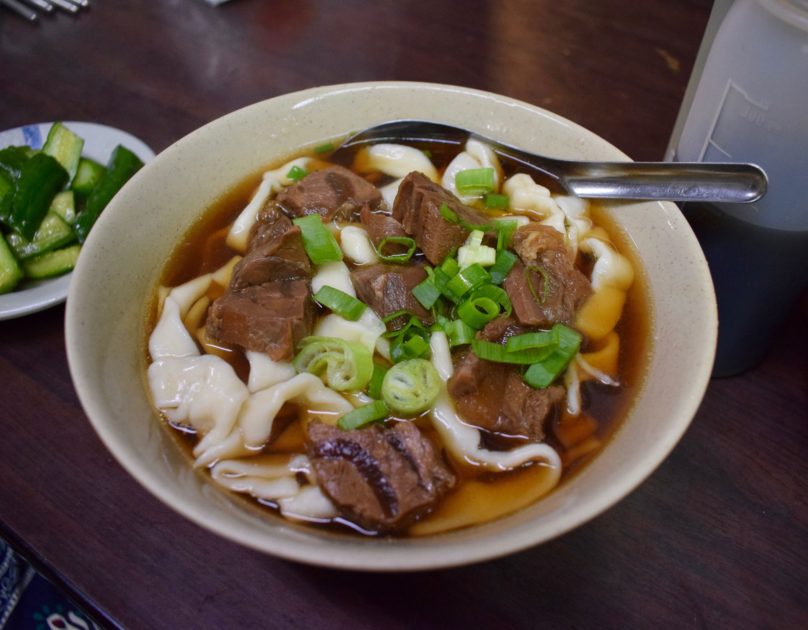 The 'naked' beef noodle soup
The next thing I did was go straight for a slice of the beef. I couldn't resist – the slices were a beautiful cross-section of the cheaper cut, showing alternating layers of soft meat and melting fat. You knew before eating it that this cheaper cut had been treated with love and was going to be beautifully soft.
The long cooking made the usually tough shank soft and delicious
And it didn't disappoint. The layers of fat melted away in your mouth. Interestingly the meat itself didn't. The tradition for Taiwanese beef noodle soup isn't to cook the meat until it is as soft as possible. They aim to keep some integrity so that the slices retain their shape and a bit of bite. Here the meat was about 70% tender, and I really liked it.
The final major element of the soup was the noodles themselves. At Fuhong beef noodles, these don't seem like an afterthought: they were perhaps my favourite part of the dish. I had chosen the thick versions, which were incredibly rustic. Homemade, thick, flat, non-uniform, al dente in the middle – the noodles reminded me somewhat of a homemade pici that an Italian nonna would make for her family.
They were outstanding. The noodles capped the rustic feel for the whole dish. Whether it's true or not, you get the feeling that Fuhong have been serving this same bowl for the past 50 years. We could see why our host thinks they are the best beef noodles in Ximending!
Long, wide, non-uniform and delicious – as hearty as noodles get
Incredible chilli butter
Although deep and complex, after a few spoonfuls of broth I was crying out for a 'lift'. This was amply provided by the condiments placed on the table.
The first of these were a pair of incredible 'chilli butters'. These are actually not butter at all, but beef dripping which has been infused with roasted chilli to give it an incredible colour. The butter is solid but soft enough to dollop a spoonful into your bowl. It then gently melts into the hot soup, dissipating it's chilli warmth as it does so.
Close-up of orange butter in bowl – the lighter of the two butters, gently melting into the hot soup.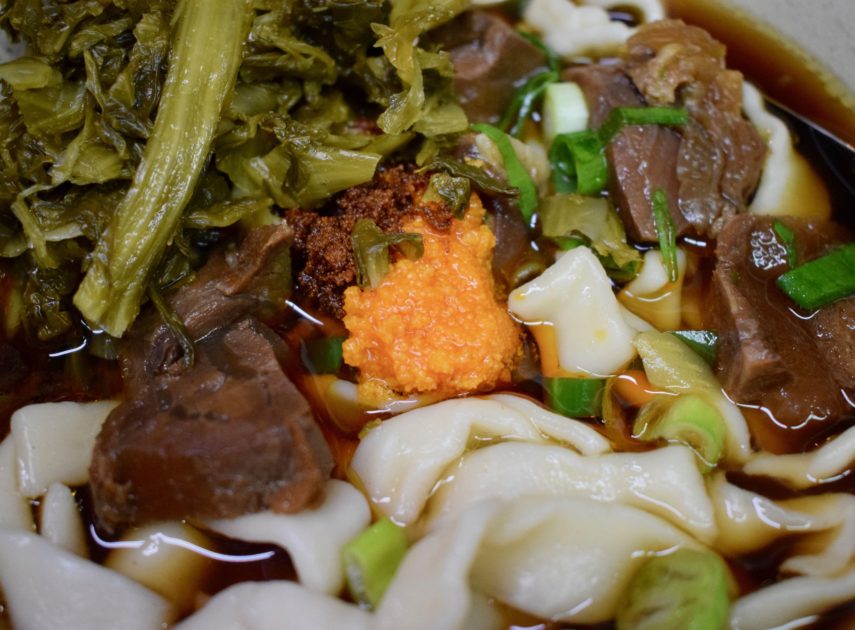 Spoon the butter into your soup and watch it melt away…
There were actually two butters available. Both tasted fairly similar, with the darker perhaps having a touch more heat. Despite the colour though, neither was hugely spicy. The spice they did provide was not the sharp heat of fresh chilli, but the gentle warmth of dried. This and the flavour of roasted chilli were a welcome addition to the bowl.
The darker of the two butters – looks intimidating but actually gives you a warming hug
Pimp your bowl round 2 – vinegar and pickles
As you can imagine at this point, you have a bowl with great depth full of rich and warming flavours and tastes. What you need are a few high notes – sour, sweet, fresh etc.
As with the braised pork belly I ate in Taichung, it was pickled mustard greens that came to the rescue! These are leafy green vegetables which have been pickled for up to a month. The result is a crunchy, slightly sour and sometimes sweet pickle that beautifully contrasts rich fatty dishes such as Taiwanese braised pork and beef noodle soup.
These, and the pot of vinegar for true sour-heads, rounded off the dish nicely.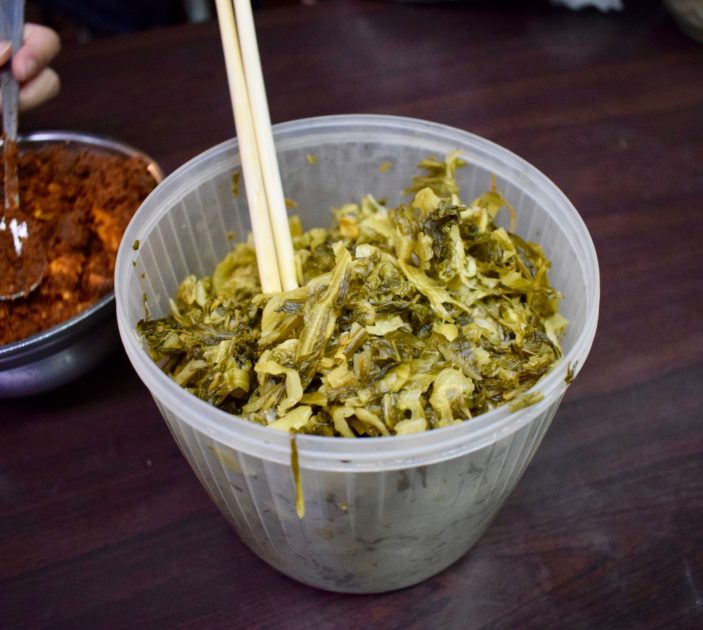 Enough mustard greens for ya?
Taiwanese Pickled Cucumbers
Looking back on this meal, I am surprised to find that the memory I keep going back to is not the incredible bowl of beef soup. Instead, I think of the small plate of pickled cucumbers that I found in the fridge at the back. The soup may have been the best beef noodles in Ximending, but these little green fellas somehow stole the show.
They were small cucumbers that had been sliced in half lengthways, cored, and pickled. Taste-wise, they were most noticeably sweet. This was balanced by some saltiness and a surprisingly small hint of sour. The dominating flavour was sesame, with a hint of pungent raw garlic (there were tiny pieces of sliced red chilli, but not enough to compete with these strong flavours). The texture of the cucumbers was crunchy, but at the same time they were softer than raw cucumber and had gone slightly translucent – both signs that they had been pickled for some time.
The result – a sweet, crunchy and fragrant side that was a brilliant accompaniment to the warming soup. Definitely a condiment I'll want to be cooking and eating in the future!
Forget the best beef noodles in Ximending, these are probably the best pickled cucumbers in Taiwan!
Taiwanese Golden Kimchi
The other small plate I couldn't resist trying was the Taiwanese golden kimchi. I love traditional Korean kimchi, both on its own and as an ingredient in cooking, and so was excited to try a different version.
The Taiwanese version is referred to as 'golden' because it doesn't have the orange colour of the Korean version, which comes from the liberal use of Korean chilli flakes. Predictably therefore, the Taiwanese version is not spicy. It was also nowhere near as sour as Korean kimchi. Instead it was very sweet.
All in all, it was OK, but Korean kimchi is the one for me. Still, always worth a try!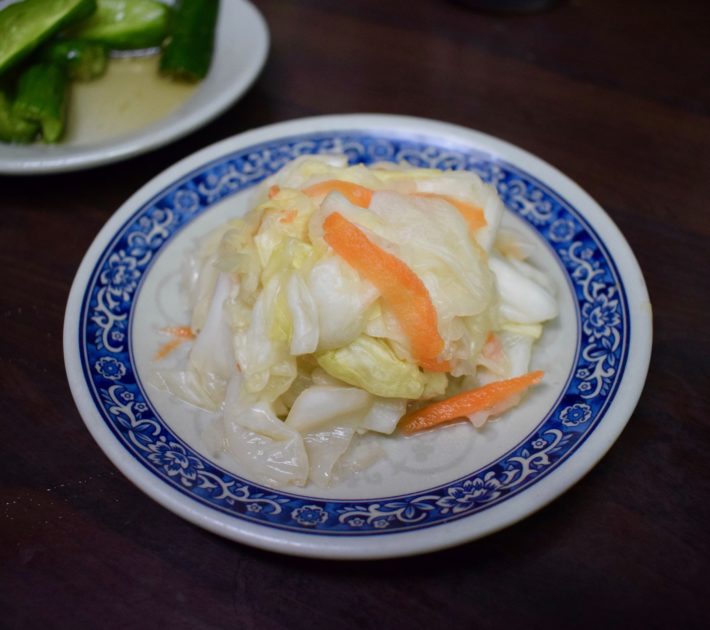 Summary – the best beef noodles in Ximending?
I don't think anyone can definitively say which shop serves the best beef noodles in Ximending, or indeed the best beef noodle in Taipei as a whole, simply because there are so many different opinions!
You could look at this as a frustration, but I think it's a great thing. The strong opinions reflect the passion that Taipei locals have for their food. Couple this to the regularity with which they eat out and it is no surprise that you end up with so many good spots serving their own 'famous beef noodles' in Taipei. What I'm trying to say is that no matter which of these you pick, you're probably in for a good time.
We certainly felt that the bowl at Fuhong Beef Noodles lived up to our host's billing as the best beef noodles in Ximending. Rustic, well balanced, soft meat, deeply flavoured broth and homemade noodles – it felt like they had been making the same recipe for a long time. Whether or not this really is the best bowl is beside the point – the recipe was a hit with me, and it clearly was with the locals too.
Price and Location
Fuhong Beef Noodles Price
A small bowl is 90 NTD, medium 100 NTD and a large 110 NTD. I paid 110 NTD (= $3.64 = £2.93) for a large bowl with beef slices and thick noodles. It was a very large and filling bowl.
I would say this is about standard price for beef noodles in Taipei (beef noodle soup is slightly expensive meal by Taiwanese standards wherever you eat it, I assume because of the beef).
Location
Fuhong Beef Noodles is conveniently located a 10 minute walk from Ximen MRT station, 10 minutes from Taipei Main Station and only 6 minutes from Biemen station.
It is surrounded by other beef noodle shops – make sure you look closely at the map and pick Fuhong!