This site isn't necessarily about fancy food, it's about good food, and if your definition of 'good food' is like mine (anything tasty enough to make you order it again), then a simple piece of fried chicken can more than make the grade.
Hot Star Large Fried Chicken therefore claims this title by definition – it was seared into my memory after my first visit to Taipei 4 years ago. 
And how could it not be? It's not every day you get to walk along the dazzling Ximending walking street holding a piece of fried chicken the size of your head.
Fortunately, unlike some other #grammable street-eats (Taiwanese blow-torched steak, I'm looking at you), the Hot Star large fried chicken not only looks impressive, but it is actually worth eating too.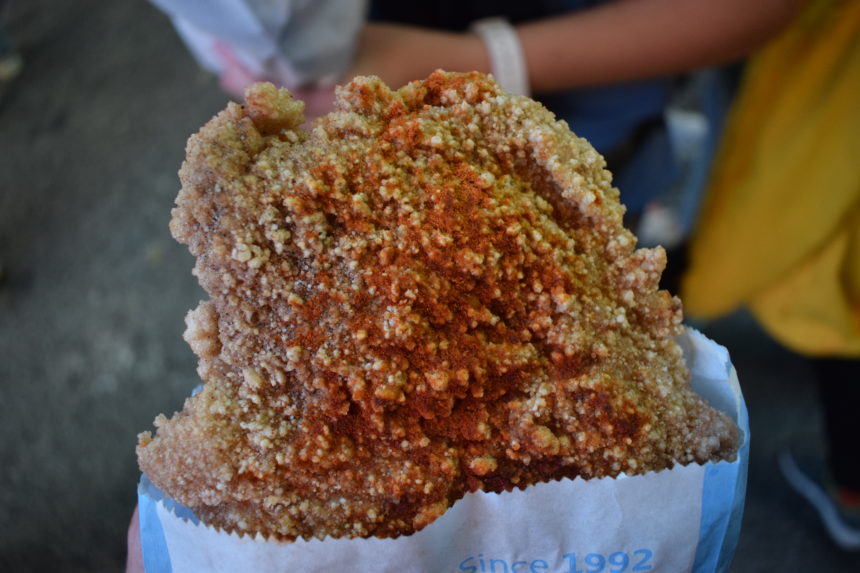 What on Earth is 'Hot Star large fried chicken'?
Exactly what it says on the tin. It is an exceptionally large piece of fried chicken (as you can see below).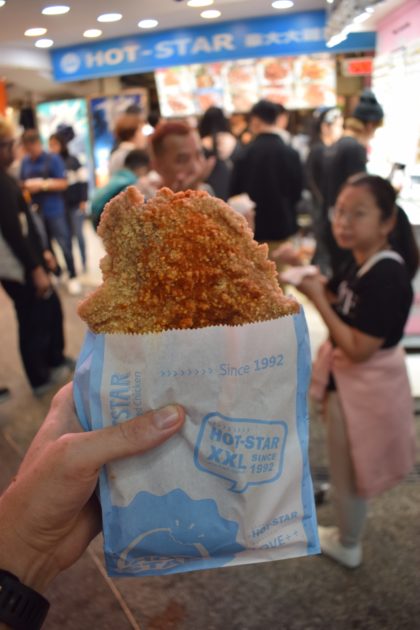 One Hot Star Large Fried Chicken, shown with hand for scale (I have big hands)
Like many countries, Taiwan has its own take on the universally popular dish of fried chicken. Perhaps its most popular export is the original 'popcorn chicken' (forget KFC – think double-fried peppery nuggets of juicy thigh meat mixed with Thai basil).
Hot Star fried chicken is Taiwan's second favourite fried chicken incarnation.
It started life as a small market stall in Taichung, temptingly named: 'Wang's fried chicken'. After much success, it migrated to the famous Shilin night market in Taipei where it was really able to take off, reportedly selling 3000 pieces a day.
Today there are many Hot Star Fried Chicken night market stalls, as well as a few bricks and mortar outlets like the one in Ximending.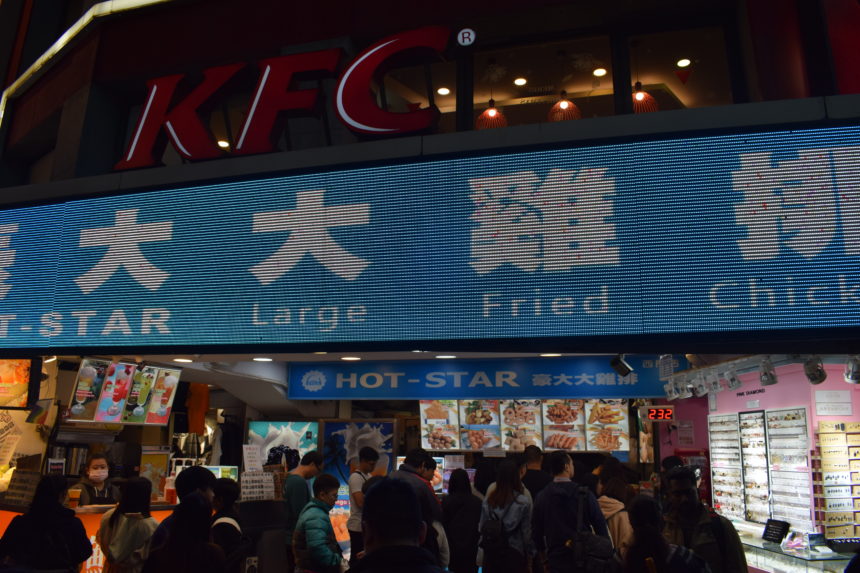 The bricks and mortar Hotstar Restaurant in Ximending. Top tip – don't accidentally go upstairs
Hot Star fried chicken menu
The menu at Hot Star Fried Chicken is encouragingly minimal. I always like it when a place sticks to what they know and do it well, and Hot Star Fried Chicken have clearly identified their raison d'etre: to fry stuff.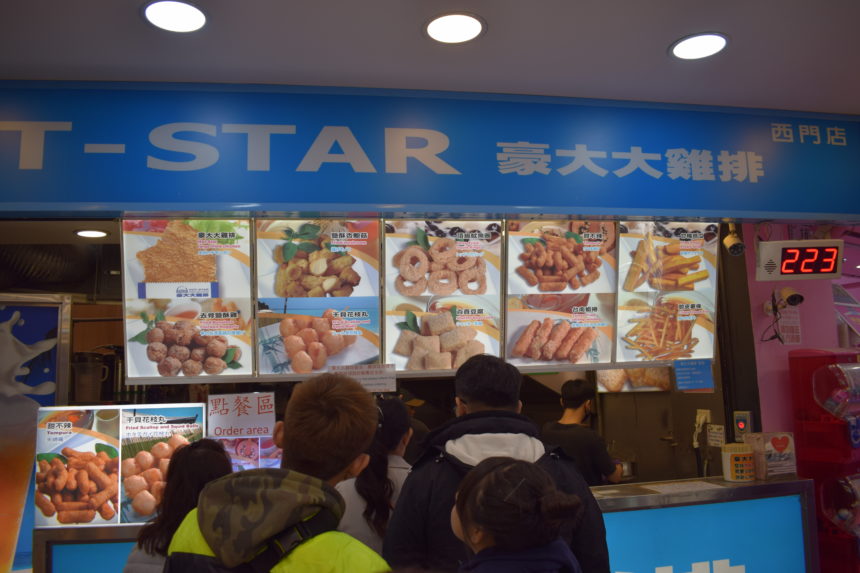 The menu at Hot Star Fried Chicken – pretend to ponder before you inevitably order the large fried chicken
Having said this, in reality the menu is almost obsolete. People come from far and wide not for the chips or octopus balls, but rather the majestically named 'large fried chicken' (note – there is no 'small fried chicken' on offer).
We decided to respect tradition, ordered our respective chickens, and waited in wonderfully ordered Taiwanese fashion for our number to appear on the screen.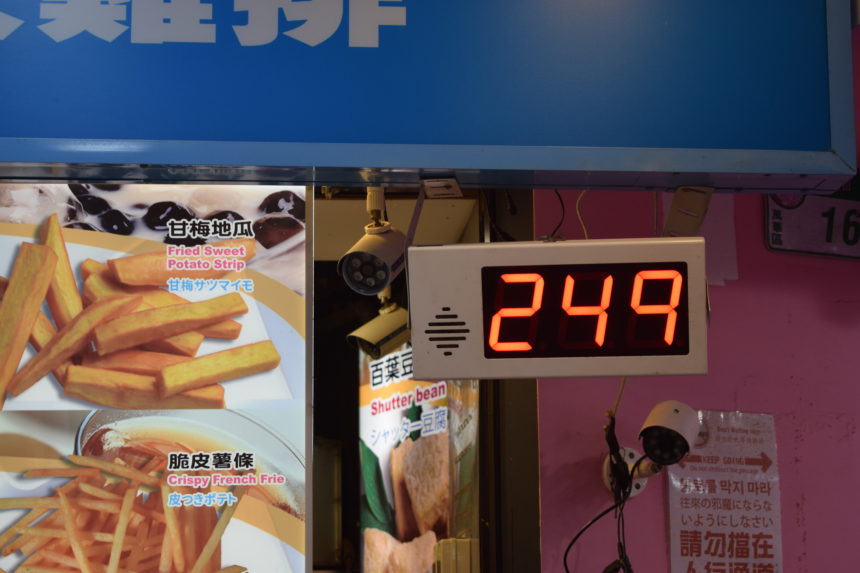 All the excitement of Argos, but with more chicken
Eating Hot Star fried chicken – what I like
The first thing you have to notice is how comically large a piece of fried chicken it is.
The paper bag valiantly attempts to contain it, but only manages to cover up half at best.
How do they make a piece of chicken so large? Surely it is just a huge piece of reconstituted meat you might ask?
Fortunately not. One of the best bits about the Hot Star Large Fried Chicken is that you can tell from the texture and look that it is pure breast meat.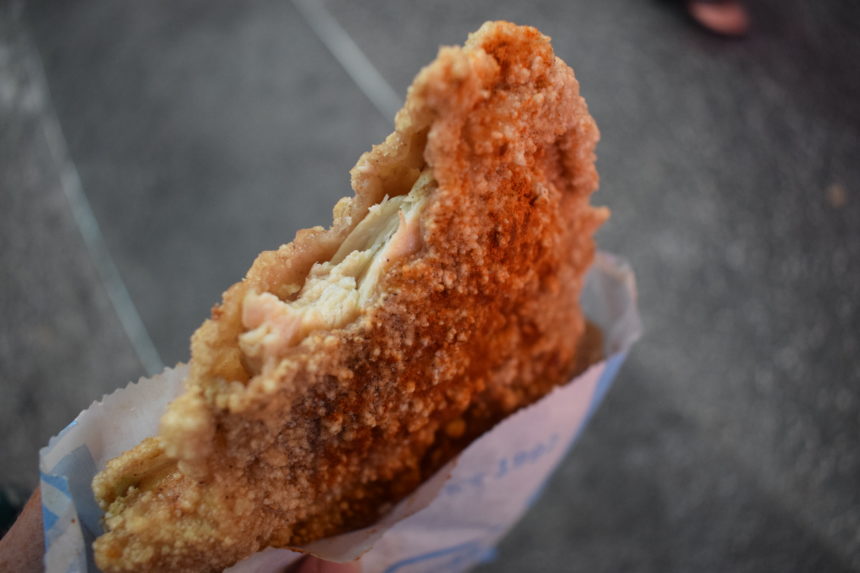 You can see and taste the pure breast meat – nothing reconstituted here!
In fact it is a whole chicken breast still attached to a piece of the ribcage. It would be impossible to fry something so large without either scorching the outside or leaving the inside raw.
Hot Star Fried Chicken decided to solve this conundrum by flattening the entire breast to about 1-inch thickness.
The side-effect of this very practical step is that the breast ends up looking like a continent and attracting international fame.
Another thing I like about Hot Star Large Fried Chicken is the seasoning they use.
When you step up to the counter to collect your order, the man grasps your newly fried breast in his tongs and covers one side with powder from a shaker. This powder provides all the seasoning and is a mixture of salt, ground white pepper, a touch of sugar and finally some subtle dried spices (hard to pinpoint, but probably anise and/or cinnamon).
It is a tasty addition, and gives the fried chicken its own Taiwanese character, with a similar purpose but entirely different feel to the 'secret blend of herbs and spices' you find in classic American fried chicken.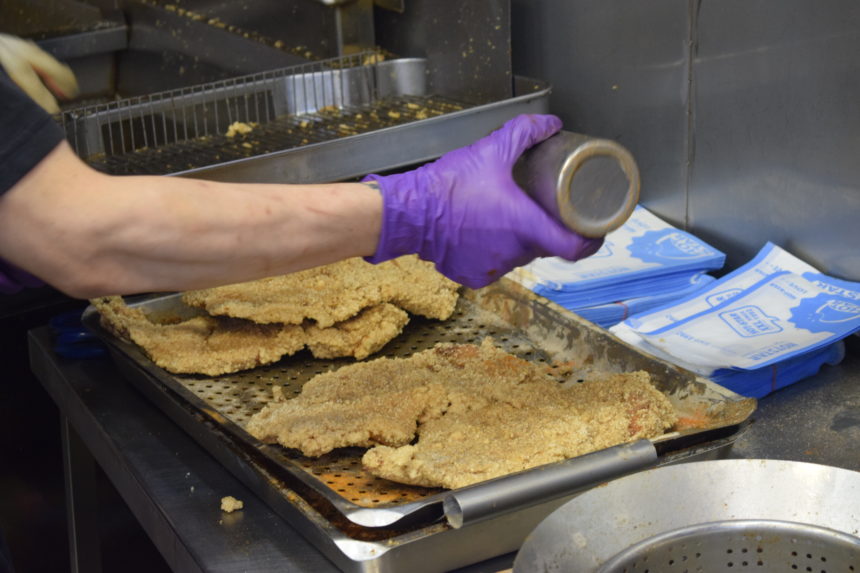 Sprinkle step 1 – the secret blend of Taiwanese herbs and spices
You also have the additional option to add a sprinkling of red chilli powder to your chicken. I couldn't resist (as usual).
This and the pepper in the spice mix left my lips pleasantly tingling for a good long time after the chicken had disappeared.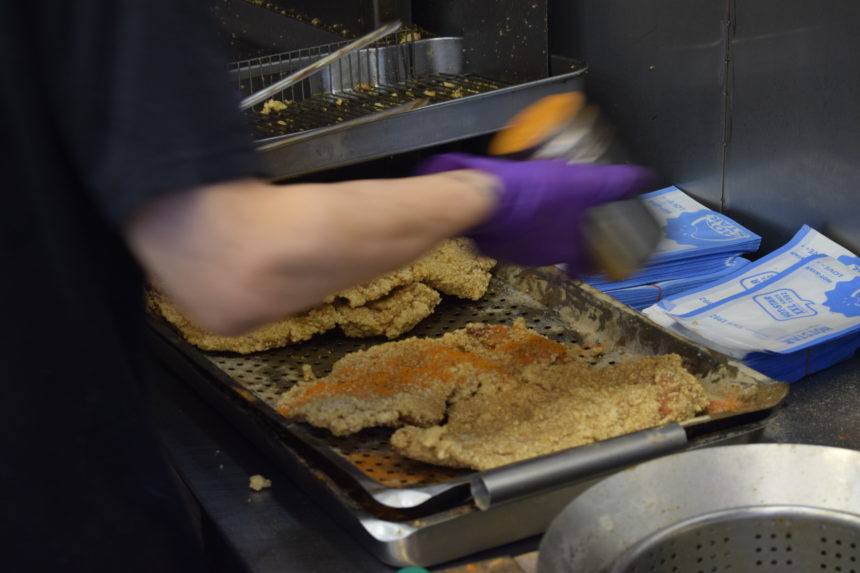 Sprinkle step 2 – scary orange powder for the spice fans
The final thing I like about the Hot Star Large Fried Chicken is that the meat was juicy – a badge of honour for any fried chicken vendor.
Good fried chicken should always be this way, as the meat becomes encased in a layer of batter during the frying process, protecting it and leaving it juicy. 
What I don't like
The only critique I would have with this meal (apart from the obvious lack of vegetables, which to be fair I signed up for) is the batter.
Although crispy, it is on the thick side and so forms its own layer, which becomes detached from the chicken breast within.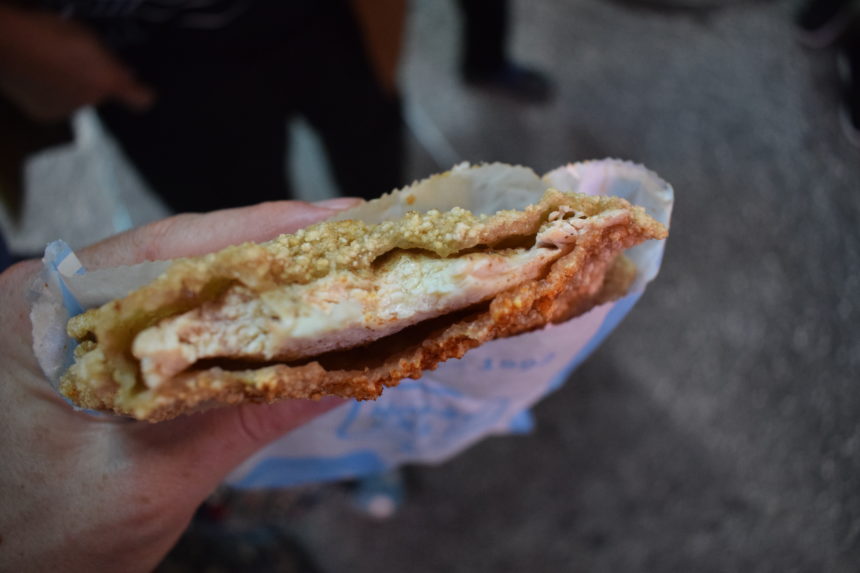 You can see the thickness of the batter, and how it detaches from the chicken.
Although the outside is nicely crispy (and rough enough to hold the seasoning), the thickness means that the inside layer is moist, and, although not quite raw, is noticeably not crispy.
Furthermore, any part of the chicken that is not hit by the sprinkling of seasoning (understandable on account of its size) is rather plain.
Anyways, this was only a small blip that prevented this piece of fried chicken from reaching perfection. However, it certainly wasn't enough to prevent me from finishing the thing.
One can't be too harsh in any case – I'm still yet to find the perfect fried chicken. If I do find that holy grail, I'll let you know.
Price and location
Price
The star of the show, the Hot Star Large Fried Chicken, is 70 NTD (= £1.73 = $2.31)
This might seem like a lot (for Taiwan at least), but when you take into account how big it is, it's more than fair.
Most people stick to the large fried chicken, but if you want to stray off the beaten path, there is the rest of the menu in the article (see 'Hot Star Fried Chicken Menu' section). We had some fries as well – they weren't bad but nothing to write home about, and at 60 NTD, poor value compared to the chicken.
Location
This outlet is arguably the most famous, and it is located in the Ximending walking area, only a couple of minutes' walk from Ximending MRT station.
Note – the other Google Maps Hot-Star icon to the North of the one highlighted is the old location.