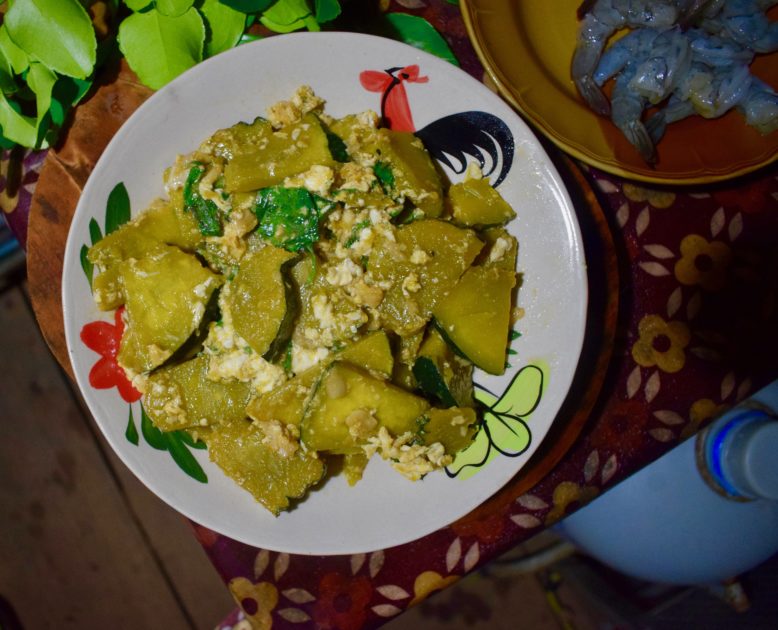 Pad fak tong is an incredible homestyle Thai pumpkin stir fry dish that is not widely known outside of Thailand itself.
Egg and soft slices of squash or pumpkin are combined with garlic, plus the distinctly Thai flavours of fish sauce and Thai basil, to make a unique savoury dish that, dare I say it, is almost as umami-rich as cheese… pretty good for the humble pumpkin if you ask me!
This recipe comes directly from a Thai kitchen in Southern Thailand, and so you can be sure it is a faithful recreation of a home-style Thai pumpkin stir fry.
There probably isn't a more interesting way to use up that old squash and fight the winter blues at the same time than by bringing some Thai magic into your kitchen!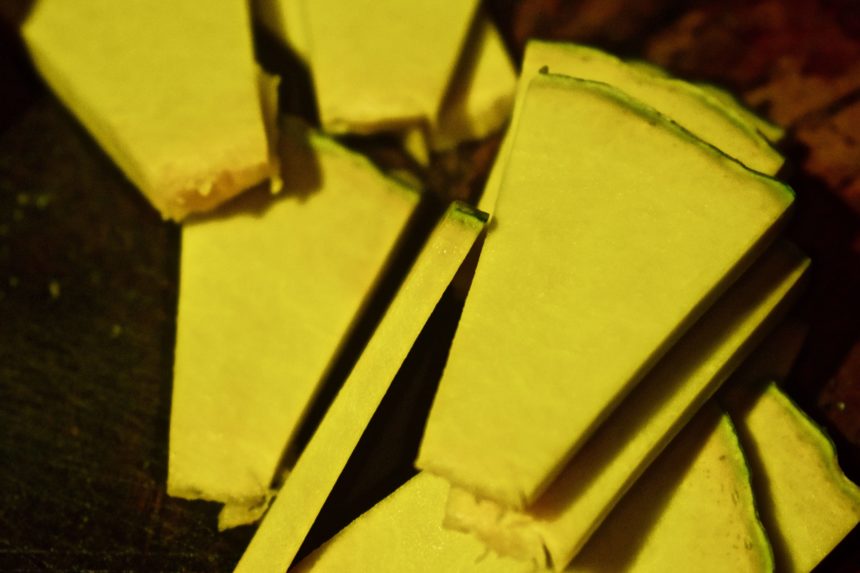 Thai-English Translations:
Pad = 'stir-fried' (e.g. pad thai, pad krapow, pad med mamuang etc.)
Fak tong = 'pumpkin'
Where is this Guest Recipe recipe from?
This Thai pumpkin stir fry recipe comes from the kitchens of Khao Sok Silver Cliff Resort in Surat Thani Province, Southern Thailand. The chefs Gai, Jan and Fang, cook a number of classic Thai staples for guests (including a great Isaan-style Thai larb moo). Pad fak tong is the sort of dish that they have grown up with, occasionally in restaurants, but more often in their own homes.
Note – have no affiliation with the resort, I just enjoyed the food there.
What to serve with this Thai pumpkin stir fry
Pad fak tong is most commonly eaten alongside other dishes and rice as part of a spread. However, in my opinion this Thai pumpkin stir fry is more than tasty enough to be considered the centrepiece of a simple weeknight meal.
Pumpkin in Thailand?! Is this authentic?
Yes!
If you were to jot down a list of Thai produce, I bet the humble pumpkin wouldn't be on it. The mind fills with exotic ingredients such as Thai basil, green papaya, lemongrass, pea aubergine and of course chillies.
However, pumpkin is actually one of the staple vegetables of Thailand. Wander round a local town market and you will see that almost every produce stall sells pumpkins. And can you guess where a significant chunk of this will end up? In pad fak tong of course.
A note on pumpkin varieties – the actual variety you find in Thailand is the Japanese pumpkin, or kabocha squash. For notes on alternative varieties you can use, see the 'Ingredient notes' section of this article.
In the West, Thai pumpkin recipes tend to boil down to either soup or Thai pumpkin curry. The curry may have some credibility, however 'Thai pumpkin soup' is not really a thing in Thailand. It might be tasty, but if authenticity is what you are after, then Thai pumpkin stir fry is the way to use your pumpkin Thai-style.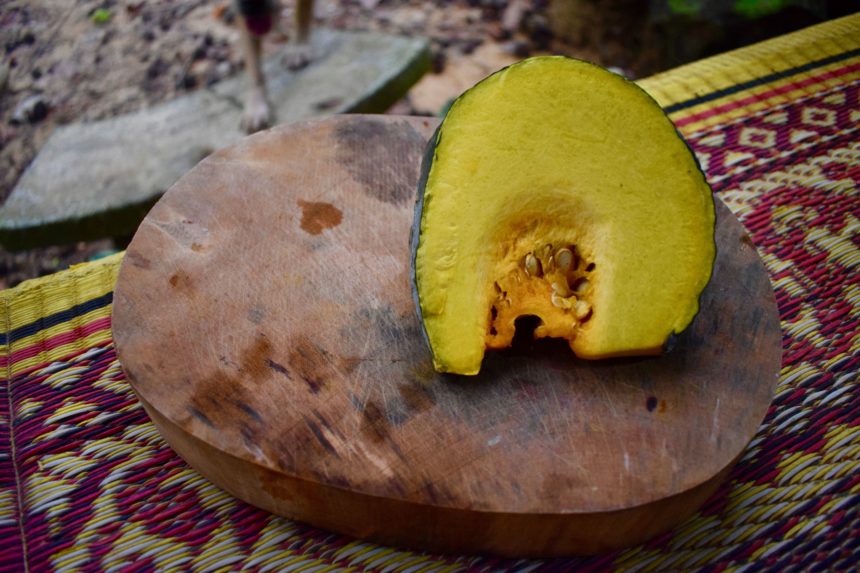 The slice of kabocha squash we bought at a market in Kuraburi to make our Thai pumpkin stir fry
Ingredient notes
Can I make it vegetarian?
You can omit the fish sauce to make it vegetarian. It will not necessarily make it less authentic – I have watched a restaurant in Koh Phayam prepare their Thai pumpkin stir fry without fish sauce (granted they used oyster sauce instead; not an option if you are vegetarian). It will still be a great dish, but you will lose that magic umami touch and resulting 'cheesiness' that the fish sauce somehow creates.
Can I add Thai basil?
This is optional for me. The original recipe I learned at Silver Cliff did not include it and I actually prefer it without. As mentioned above, the umami-richness from the fish sauce is the standout aspect of the dish, and the Thai basil almost distracts from that. Having said this, I have eaten Thai pumpkin stir fry in a few restaurants since and Thai basil is commonly added, so I'll leave it up to you. You can see from the selection of photos in this article that I have tried both!
Which type of pumpkin/squash to use?
In Thailand they use Japanese pumpkin, otherwise known as kabocha squash. This is a good pumpkin to use because:
it is sweet
the skin can be eaten
it is firm enough to hold its shape during the stir-frying.
Unfortunately, you might struggle to find this outside of Asian grocery shops (in the UK at least).
If you cannot find kabocha squash any pumpkin or squash, that has the above 3 attributes will be fine. Butternut squash will probably be your best option, but delicata squash and coquina squash will also work well. Just make sure you cut the skin off your variety of choice if it is inedible.
I imagine the giant pumpkins you get at Halloween are neither sweet nor firm enough, although I have not yet tried it myself.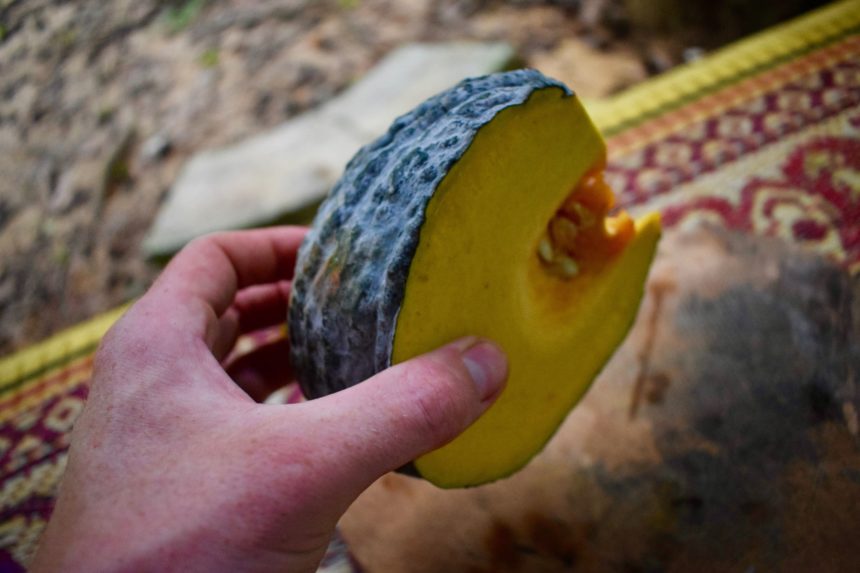 The slice of pumpkin I used in this Thai pumpkin stir fry recipe
Cooking notes – how to prepare a Thai pumpkin stir fy
Pumpkin slice thickness
The exact size and thickness aren't so important as long as they are all roughly even.
This is because you will test for firmness during cooking – if you cut them bigger you just end up having to cook them for a little longer.
I go for thin slices, as shown below.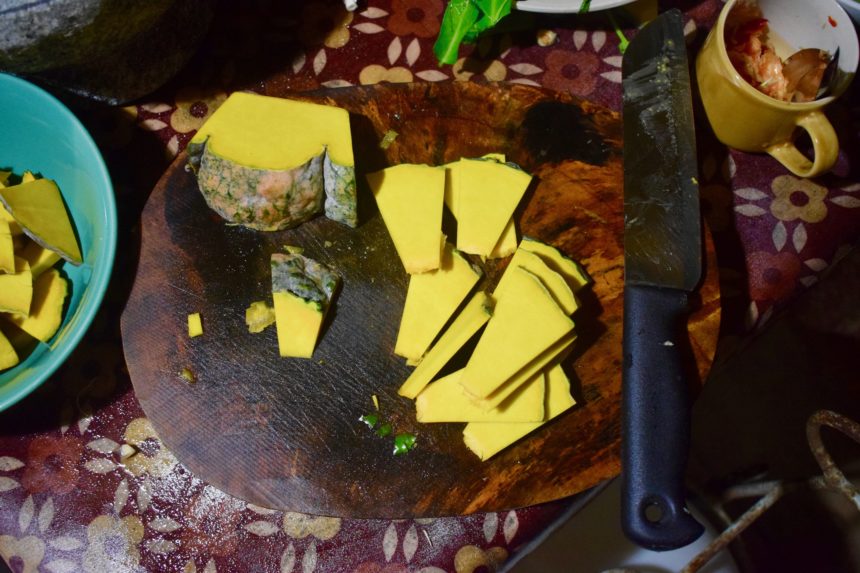 Notes on stir-frying for pad fak tong
This is a classic stir-fry in some ways:
The cooking is fast – and so wok needs to be very hot. In Thailand they tend to have fairly big burners and thin woks which makes this easy. At home you should pretty much always turn up your stove up to maximum whilst stir-frying.
Pre-prep your raw ingredients – because the cooking is so quick, it is best to get all of your ingredients prepped and ready to use before heating up the wok.
However it is not classic in other ways:
The pumpkin is cooked in liquid in the wok itself
No need to worry about scaling up – normally, crowding the pan is the bane of a good stir fry because you end up boiling rather than colouring. However, the aim is to boil here so this doesn't really matter. It is one of the few stir-fries where it is easy to cook for more than 2 or 3 people at once.
How to cook the pumpkin in the wok
Instead of boiling it separately, you effectively boil the pumpkin in the wok in a seasoned cooking liquid (water + fish sauce/soy sauce/sugar).
This means that you need to keep an eye on the liquid levels during cooking – too low and the pumpkin won't cook, too high and you will end up with a watery sauce that does not cling to the pumpkin.
Don't be discouraged though – it's not tricky if you keep the following principle in mind!
Start by adding only enough water to half-submerge the pumpkin (see below photo). Don't worry about adding too little liquid at this stage, you can always top up with a splash if it is getting dry before the pumpkin is cooked at any subsequent stage.
This liquid should gradually disappear during cooking until you are left with a thicker sauce that coats the pumpkin (see mine below).
It is fine if a little is left pooling at the bottom of the wok at the end.
How should the final dish taste?
The pumpkin/squash slices should be soft but not mushy.
The egg should also be soft (cooked just beyond raw) and dispersed throughout the dish. Each piece of pumpkin should therefore be coated in a thin layer of sauce and strands of egg (with the occasional wilted basil leaf, if using). There is usually a shallow pool of excess sauce that hasn't been soaked up by the pumpkin at the bottom of the dish.
The sauce itself is predominantly salty and umami, with a touch of sweetness from the sugar (but only enough to balance).
The umami is what makes the dish special for me, making the fish sauce a fairly indispensable ingredient. I'm not sure how it works, but the fish sauce and egg seem to combine to give this umami richness that makes pad fak tong almost cheese-like.
Print Recipe
Authentic Thai pumpkin stir fry (pad fak tong)
Stir fried pumpkin and egg with Thai basil
Servings:
2
people (as a side)
Ingredients
1

hand-sized piece

pumpkin or squash

(see 'ingredient notes' for varieties you can use and a photo showing the size of the piece I used).

5

cloves

garlic

1

tbsp

vegetable oil

About half

a large wineglass

of water

Half

tsp

sugar

1

tbsp

fish sauce

1

tbsp

light soy sauce

1

egg

1

handful (50g)

Thai basil – a handful

(optional – see note)
Instructions
Preparation:
Deseed the pumpkin. Remove the skin if the variety you are using has inedible skin or if there are any unappetising blotches. Cut the pumpkin into thin slices. See 'cooking notes' if you need more guidance or a photo.

Peel your garlic and roughly mash it Thai-style in a pestle and mortar (if you don't have one, then you can just thinly slice the cloves).

If using Thai basil, pick the leaves from the stalk, wash and set aside.

Lay out remaining ingredients within arm's reach of the wok so that they are ready to add during the cooking stage.
Cooking:
Add the vegetable oil to the wok and place over the highest heat possible.

Once the oil is hot, add the garlic. Stir-fry for 10 seconds.

Add the slices of pumpkin and coat in the oil and garlic. Stir fry for 20 seconds.

Add water until most of the pumpkin slices are half-submerged (judge this by eye rather than religiously adding half a wineglass). This is not an exact science (see 'cooking notes' for detailed guidance), but it is best to add too little rather than too much at this stage, as you can always top it up if it is getting too dry at any point. Also add the fish sauce, soy sauce and sugar.

Keep cooking, stirring occasionally, until the pumpkin is nearly soft enough to eat. To test this you can either eat a piece (my favourite method) or poke with your cooking spoon – if it easily goes through a piece of pumpkin then it is cooked. The amount of time it takes will depend on your wok and the size of your pumpkin slices. For thin slices it will probably be 1-2 minutes cooking in total. Remember to top up with a splash of water if it is getting too dry.

Once the pumpkin is nearly cooked, you are ready to add the egg. Make a well in the centre of the pumpkin with your spoon and crack it in. Break the yolk and slightly scramble with the spoon.

Cook until the bottom of the egg is turning opaque (20 seconds or so, around about the point in the above picture). Then stir the whole dish so that egg is mixed throughout.

If you are using Thai basil then throw in at this point.

Once the egg is cooked (a matter of seconds after the final stir) then the dish is done. Give it one final taste to make sure the pumpkin is cooked and the seasoning is correct. If there is not enough moisture, you can also add a splash more water.

Tip onto a serving plate.