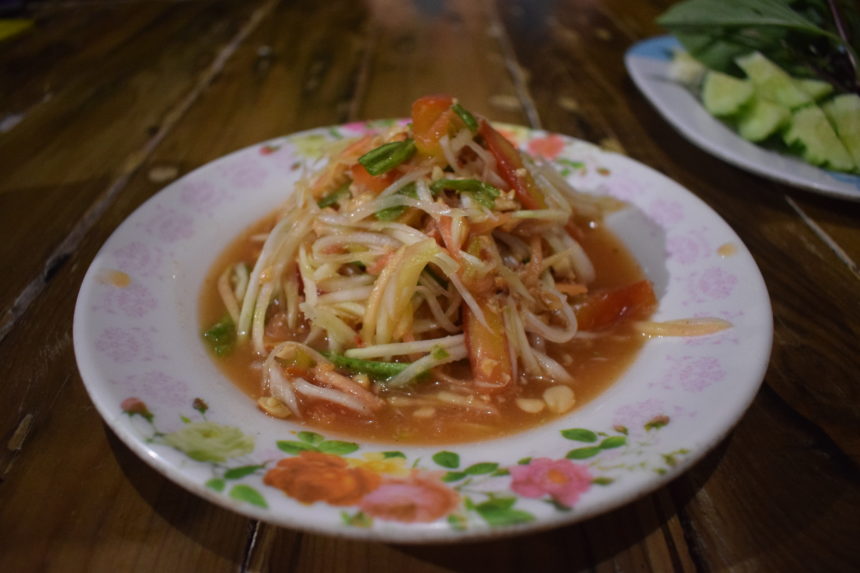 "There is no greater pleasure in life than dipping a ball of sticky rice into the fiery juices of a som tam."
What and where is Kuraburi?
Kuraburi (sometimes spelt Khura Buri), a small town in Phang-Nga Province, Southern-Thailand. It does not feature prominently in Western travel guides owing to its small size and unassuming nature. Kuraburi is known for little more than its food markets, Kuraburi pier and the surprisingly large Kuraburi Greenview resort; where the few tourists that do venture to there end up staying.
We loved it in Kuraburi. There were lots of things to see and do (especially with a motorbike) and the town had a real local feel. Almost nobody in Kuraburi spoke English and, best of all, the food at both restaurants and markets, was cheap, authentic and delicious.
Where to eat in Kuraburi
As such, there is only one restaurant in town, named Ba Dow, for which we were able to get a recommendation. However, this recommendation was from a resident of nearby Khao Sok who had lived in Kuraburi for the best part of ten years and, perhaps more importantly, loved Thai food.
Imagine our dismay then, when after riding 5km Southbound away from town one evening with empty stomachs, we pulled off the motorway to find the bamboo huts of Ba Dow shrouded in darkness. After a few moments however, our despairing prayers were answered as a lady passed by on a sidecar motorbike, pointing to the darkened restaurant. A short conversation ensued, during which we quickly reached the limits of our beginners Thai. However, we were able to gleam that this was in fact the restaurant's owner.
She kindly led us inside to fire up the wok again just for us.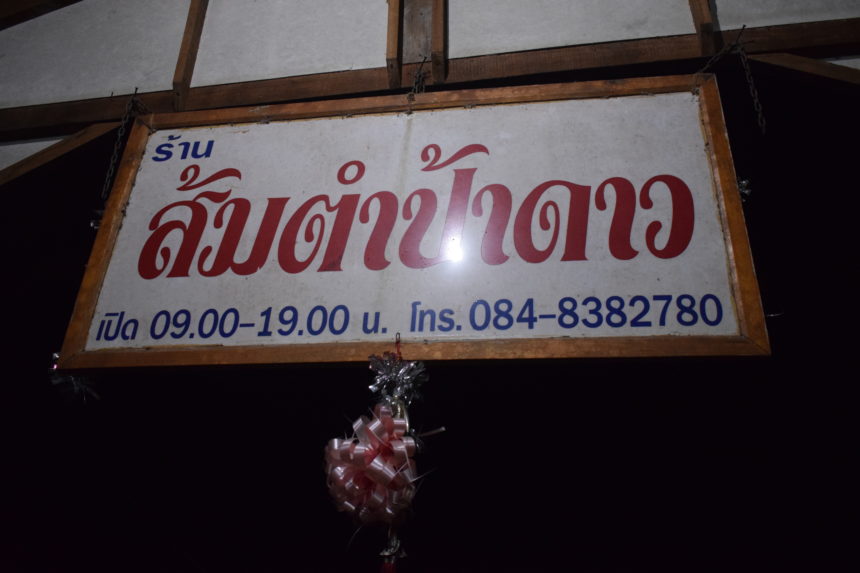 The food at Ba Dow, Kuraburi – a local Isaan-style restaurant
We had been fairly excited to eat at Ba Dow, not because it was well known or well-reviewed by Westerners, but precisely the opposite – we hoped that it would be an insight into the food that Kuraburi locals eat on a regular basis.
Fortunately for us, our ex-local recommender had provided a list of dishes that were served there. Otherwise the menu, written with marker pen entirely in Thai on yellow crinkle boards, would have forced us into the game of 'lucky dip' (from experience: quite exciting, but also risky).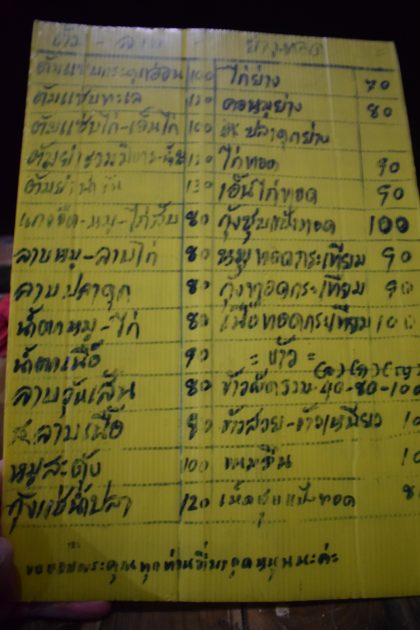 The dishes she had recommended all had an Isaan-feel to them, and it turns out that Ba Dow is the local Isaan-style restaurant in Kuraburi*. Isaan is a region in North-West Thailand with its own distinct culture and cuisine. The cuisine is characterised by its fieriness and lack of coconut milk, and includes some of the most popular dishes across the country: som tam (papaya salad) and Isaan-style larb. Sticky rice (or 'khao neow') is an ever-present side to these dishes.
We ordered some Isaan staples:
Som Tam (papaya salad), Ba Dow's namesake and the dish for which it is best known
Nam Tok Moo (pork waterfall salad)
Khao neow homm jeow (sticky rice with crispy onions)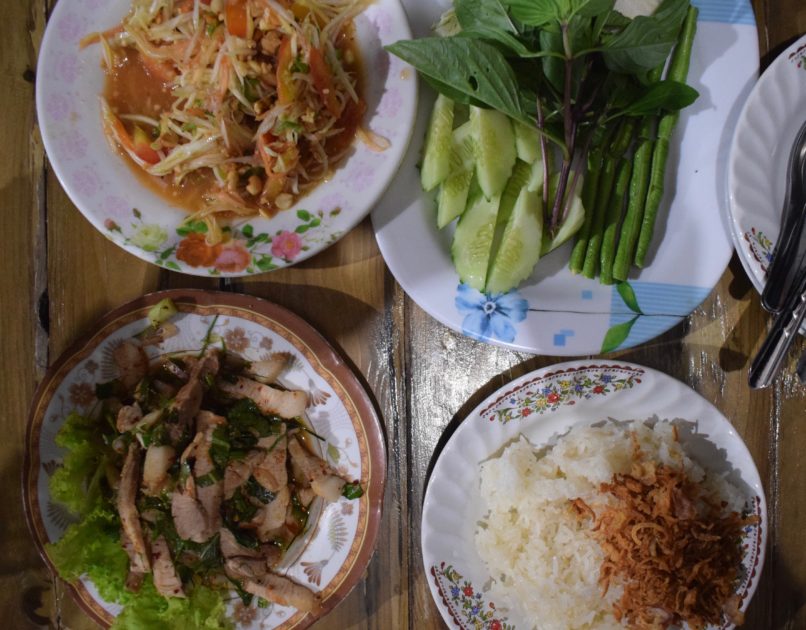 *The full name of the restaurant on Google maps phonetically translates to 'Lan Som Tam Ba Dow'
Lan Som Tam – means 'papaya salad restaurant', but more generally is the name of a place that serves Isaan food (of which som tam is perhaps the flagship dish).
Ba – 'owned by'
Dow – 'female chef', or 'Auntie'
Nam tok moo (pork 'waterfall' salad)
The name 'nam tok moo' actually refers to 2 dishes: the first a spicy pork soup from Central Thailand and the second a pork salad from Isaan/Laos, served with a plate of crunchy vegetables and herbs. This being an Isaan restaurant, it was the latter.
In Thai, 'nam tok' means 'waterfall'. This supposedly refers to the fact that the meat in the dish, which is either pork or beef, is traditionally served rare (i.e. with 'water' still running from it). The beef version of this dish is actually a fairly common sight in the UK, most commonly appearing on the menu of Thai restaurants as 'Thai rare beef salad' or 'weeping beef salad'. Perhaps fortunately for our fragile Western compositions, the pork here was cooked through, although still deliciously juicy.
These thin strips of slightly fatty pork neck were tossed in a salad which tasted identical to Isaan-style larb. Another conversation with the owner confirmed this to be the case. As with larb, the greens in the salad were not merely carriers for the sauce but provided an integral part of the overall flavour. Slices of raw red and spring onion gave an oniony punch, with the herby notes of mint and coriander present in each bite.
The sauce, which had been thickened slightly by the addition of toasted sticky rice (a technique also used in larb), was the classic palette-bashing combination of sugar, lime, fish sauce and dried chilli (sweet, sour, salty, spicy respectively). This combination is so fresh and vibrant it has to be one of my favourite in Thai cuisine.
Som tam Thai
This being one of the best dishes in the world*, you just have to order this if a restaurant is known for it. The salad did not disappoint, with the sauce erring on the sour side (some places tend to serve it a bit sweet, which is not the best in my opinion). This version of the salad was som tam Thai. The 'Thai' refers to a specific version of the salad, differentiated by the fact that it contains small dried shrimp and a generous amount of roasted peanuts.
Fiery to the max, crunchy from the green papaya shreds and toasted peanuts, and all doused in the sour, sweet, salty dressing – it never fails to please.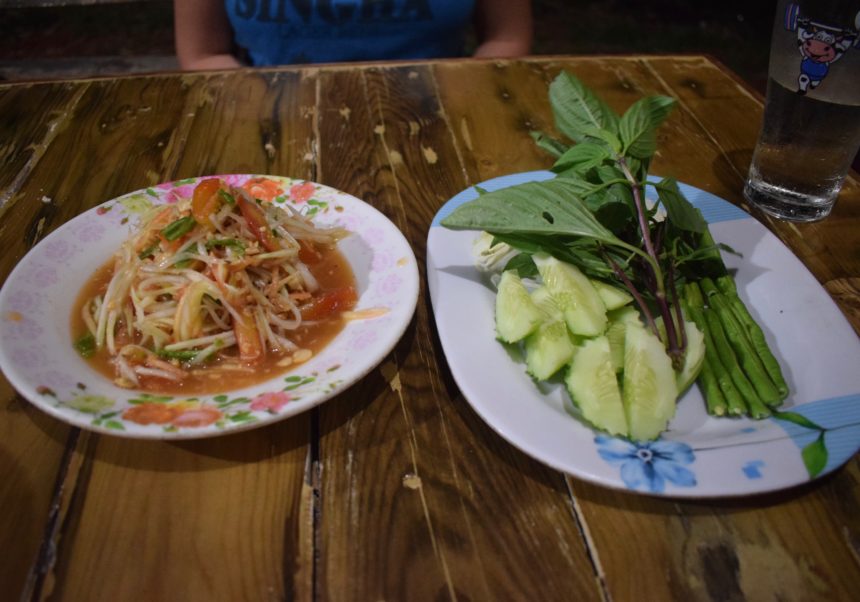 *CNN's word (https://edition.cnn.com/travel/article/world-best-food-dishes/index.html) not mine, although I wholeheartedly agree
Khao neow with homm jeow
Sticky rice (khao neow) is the natural partner to Isaan-style dishes such as som tam and nam tok moo, and we duly obliged to tradition. You really need it too, to soak up the palette-bashing sauces left over from both dishes. And let me tell you now, there is no greater pleasure in life than dipping a ball of sticky rice into the fiery juices of a som tam.
Ba Dow gives you the option of livening it up even further by serving the rice with homm jeow: aka super-crispy fried onions. Normally sticky rice is good enough to eat on its own. With these onions, it strays further towards being a dish in its own right.
Summary – an authentic Isaan feast in Kuraburi
I would certainly say we got what we came for at Ba Dow – a taste of authentic Thai food eaten by locals. It was also a nice break from Southern Thai dishes (such as gaeng som and kua kling) which are found all over the rest of town. Combine this with the awesome hospitality and friendliness of the owner, who not only re-opened the restaurant for us but was even happy to talk to us about the food despite our limited Thai, and you end up with a great restaurant.
If you are staying at the nearby Greenview resort in Kuraburi, then it is certainly worth the 10 minute taxi. Just make sure you get there reasonably early if you plan on going for dinner.
Meal items, cost and ordering
How to order if you don't speak Thai
Kuraburi and this restaurant are very local affairs that don't often see tourists (however they are extremely friendly and accommodating, as you can tell from the way we were treated). This means that the menu has no English, and in this case, no pictures.
Don't be dissuaded though! You don't need much to get yourself a delicious meal. Here is a list of dishes you can order:
'Som tam' (or 'som tam thai' if you are keen for the peanut version described in the article)
'Nam tok moo' – pork waterfall salad
Larb – similar to nam tok moo, but with minced meat (chicken or pork)
'Khao neow' – sticky rice. Order with 'hom jeow' if you want crispy onions.
'Khao blau' – plain white rice
'Yum kai dow' – a delicious sour-spicy fried egg salad, one of my favourite dishes in Thailand.
'Gai tord' – chicken in tempura batter
'Gai yang' – BBQ chicken
'Tom Yum' – The famous spicy and sour clear soup
Tom Saap – another spicy and sour soup, usually served with pork
Yam nor mai – young bamboo shoot salad
Yum plah do foo – fried catfish salad
Other generally useful words:
'Moo' – pork ; 'gai' – chicken ; 'goong' – prawn ; 'talae' – seafood ; 'neua' ('newer') – beef ; 'pak' – vegetable ; 'mai pet' – no spice ; 'pet mak' – very spicy.
Price
Total = 160 baht
I don't have the breakdown because I can't read Thai, but this was the price for the above 3 dishes plus ice and water.
Location
You won't find this restaurant by googling the English name. It is however, on Google maps with its Thai spelling. Just tap on the map below to see the location.
It is a short 9 minute drive from Kuraburi Greenview Resort, and taxis are very cheap.
If coming from Kuraburi, it is around a 5 minute drive South of the town centre. Just follow the main highway out of town (past the market on your right and School on your left). After about 5 minutes, Ba Dow will be on your right, just after the second bridge.
Address: Mae Ya Nang Kao, Khura Buri District, Phang-nga 82150
Address in Thai: ตำบล แม่นางขาว อำเภอ คุระบุรี พังงา 82150
Open from: 9am – 7PM