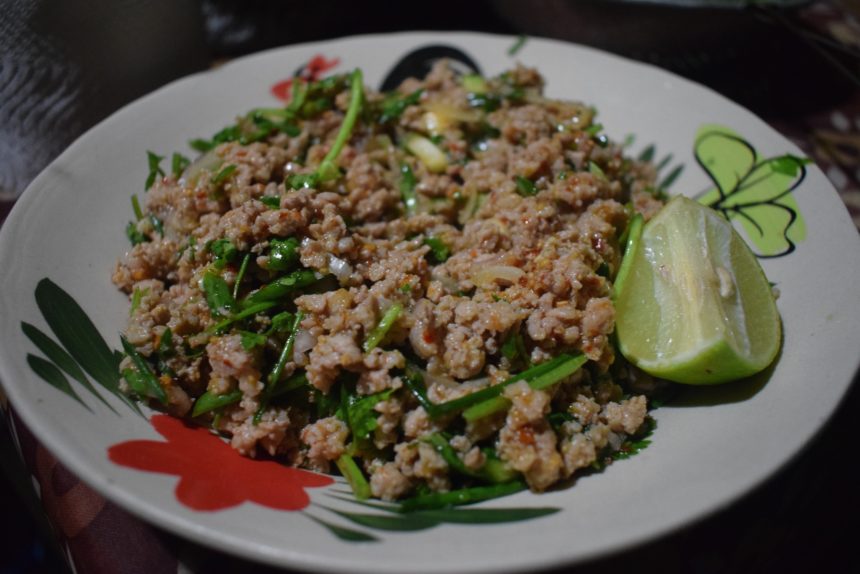 Pork larb is a dead-simple Thai salad that is bursting with fresh flavours. For me, is the perfect summer dish when served with plain white rice (and perhaps a few extra chillies!).
This particular recipe is an authentic version of an 'Isaan-style' Thai larb – perhaps the most widely available version in Thailand. It is made from a base of minced pork which has been flavoured with loads of fresh herbs, onions, spring onions and a zingy dressing made from lime, sugar, fish sauce and chilli.
This pork larb recipe:
Can be finished in 15 minutes
Requires almost no cooking
Is made in a single pot
Comes directly from a kitchen in Southern Thailand and faithfully recreates the basic Isaan-style Thai larb that can be ordered across Thailand
---
If you are familiar with pork larb, or just want to get to cooking, then you can jump straight to the recipe using the button below.
`Or, if you would like to read more, this article will guide you through:
Where this pork larb recipe is from
What is pork larb and why is it so good?
Detailed cooking and ingredient notes to help you cook an authentic version of Thai pork larb
What to serve with pork larb
---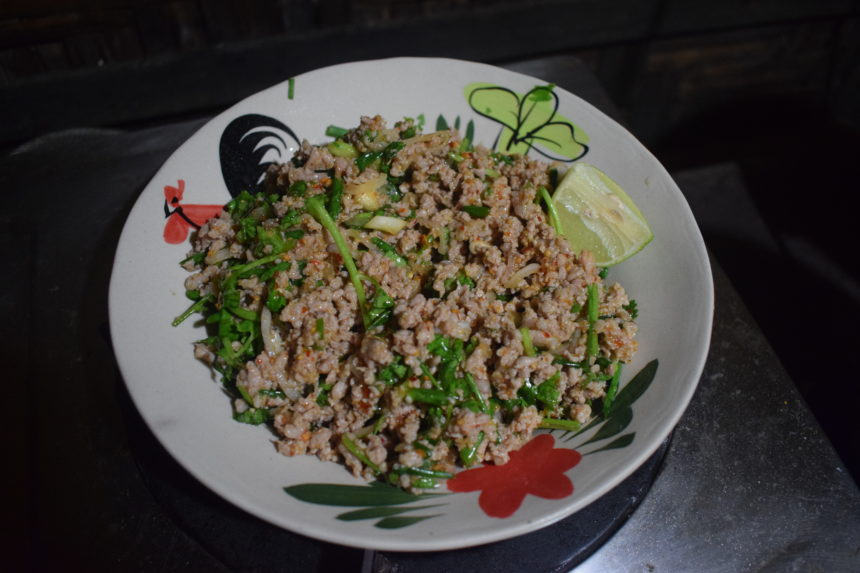 What is Isaan-style pork larb?
In a nutshell, Isaan pork larb is a herby 'salad' based on minced pork.
The minced meat is cooked and then mixed with raw onion and generous handfuls fresh herbs (commonly mint and coriander). The whole salad is then tossed in a mouthwatering dressing of lime, chilli, sugar and fish sauce. Finally, toasted sticky rice is added to soak up some of the juices and to provide a slight nutty flavour.
The end result is an unusual, bright and exciting dish that hits all of the sweet, sour, salty and spicy notes that you hope to get from a great Thai dish.
Other Variations of Larb
The term 'larb' (sometimes spelt as 'larp' or 'laap') is actually a broader term that refers to a range of dishes eaten across South East Asia. All larbs are connected by the fact that they are a meat-based salad (Check out ThaiFoodMaster.com for an excellent article on the variations and history of larb).
Aside from Thailand, versions of the dish are also eaten in Southern China and Laos (where it is informally considered a national dish). Across these countries and regions, the composition of larb can vary quite drastically. For example, the Lanna (Northern Thai) larb is made with raw meat and seasoned with bile!
Thankfully for those with a mellow composition, the Isaan (aka North-Eastern Thai) larb described in this recipe is a little more approachable. In fact, if you order a larb in the majority of restaurants in Thailand, you will receive an Isaan-style pork larb like the one described here.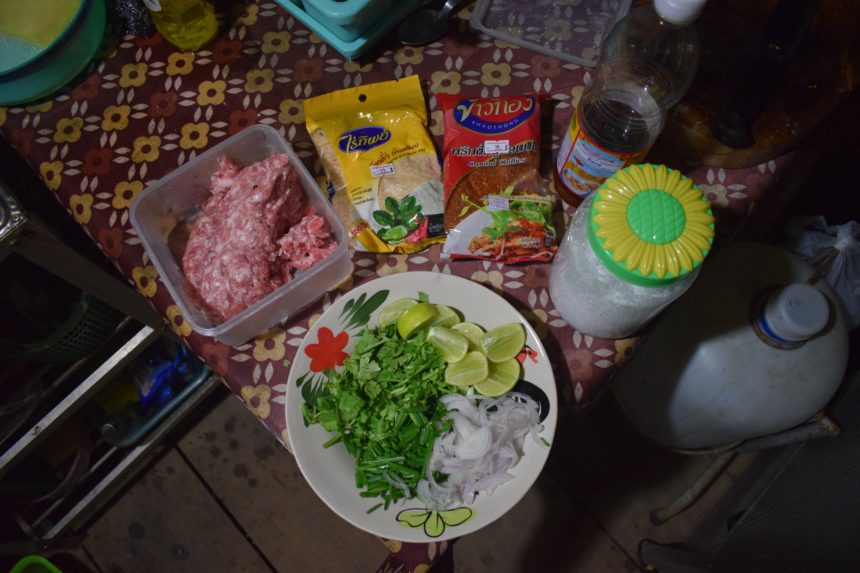 Where is this Isaan-style pork larb recipe from?
This authentic Thai pork larb recipe comes from the kitchen of Sliver Cliff Resort in Khao Sok, Southern Thailand.
The chefs, Gai, Jan and Fang, cook a number of authentic Thai staples for guests. They are from Southern Thailand themselves, and so specialise in Southern dishes such as gaeng som and khua kling.
However, the fact that they can make a cracking Isaan-style larb reflects the fact that this dish, along with its Isaan sibling som tam (papaya salad), is very popular across the entire country.
What to serve with pork larb
Isaan-style pork larb is traditionally served with khao neow (Thai sticky rice), which is a staple of Isaan cuisine. It also comes with a plate of raw veggies and herbs to eat alongside, normally white cabbage, green beans, mint and coriander.
However, it is so packed with flavour that I like to make life simple and serve my pork larb with plain white rice alone (and perhaps an extra veg if I can be bothered).
Pork larb usually comes lukewarm and doesn't benefit from being any hotter (you don't want the onion or herbs to cook in any case). It is even nice served cold if you need to make ahead of time.
Cooking Notes
Balancing tastes in the dressing
The single most important part of the whole dish is the balance of sweet, sour, salty and spicy tastes that come from the sugar, lime juice, fish sauce and dried chilli respectively. If you nail this then you are nine-tenths of the way towards a perfect larb.
The amounts I put in the recipe worked for me and so are a good starting point, however the best thing you can do is taste for yourself as you add each seasoning, tweaking the final amounts to suit your own taste.
I like mine to err on the sour side – I love the way it combines with the herbs and raw onion to create a freshness in the final dish. Sugar and fish sauce act as the sweet and salty balancers, rounding the dish out rather than being at the forefront. Chilli is mandatory, but the amount is personal preference. The 5 teaspoons I added resulted in a Thai medium-spicy dish – I would gauge your crowd's spice tolerance and then add teaspoon by teaspoon until you get there.
Cooking the meat
Cooking the mince for pork larb seems to go against all of your intuition. Firstly, there is no oil needed; secondly it is cooked in a plain metal pan rather than a wok or anything non-stick; and finally, strangest of all, you are not looking to colour or crisp the meat.
Such sacrilege becomes acceptable once you hear the reasoning. If you overcook the meat you are left with no juices. It is these juices (a mixture of water and fat that come out of the mince) that help create the sauce by mixing with the dressing ingredients, whilst also adding a slight porky flavour. The meat also stays softer, meaning each bite is a soft explosion of herbs, porkiness and dressing.
In summary, there is only one rule to remember when cooking the meat for pork larb – cook the mince until it is no longer raw, then just turn the heat off. See the below images for guidance:
Ingredient Notes
Do I have to use pork in my larb?
In a word – no.
Instead of pork larb you can make delicious versions of chicken larb (larb gai) or even turkey larb and toful larb. I have made this exact recipe with chicken mince and the end result is still great.
However, my opinion is that pork mince gives the best result. Pork mince is slightly fattier than poultry mince, which makes the meat in the final dish slightly less dry. In addition, the juices that come off the pork add a porky flavour to the dressing (see below).
To toast rice or to not?
Every Isaan-style pork larb across Thailand will contain 'toasted glutinous rice'. This is the grain that goes into khao neow (Thai sticky rice), which has been toasted in a hot wok from raw until browned and then ground into a fine powder. The reasons for adding to the pork larb are twofold:
it helps to soak up all of the juices from the meat and dressing, acting as a sort of thickener
it adds its own flavour to the pork larb- a warm, toasty flavour, distinct from anything else (but not too far off popcorn in my opinion)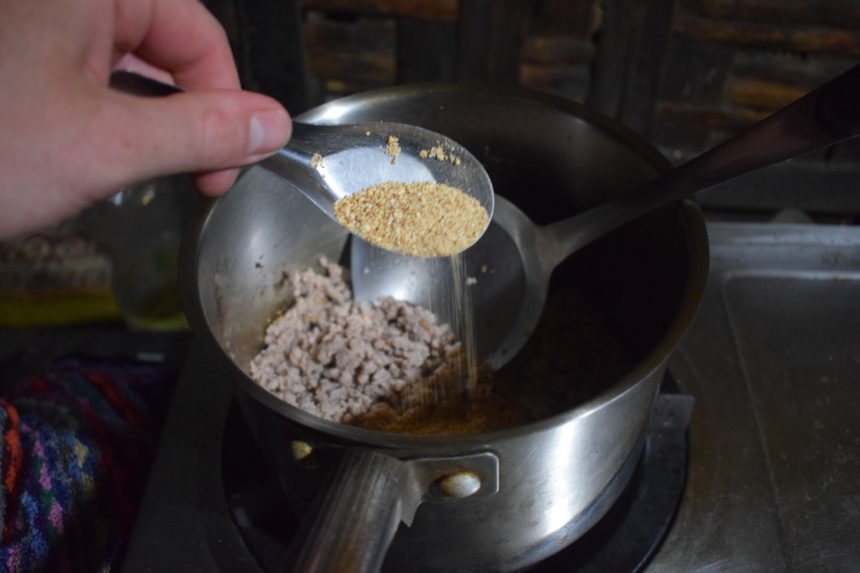 In Thailand, you can easily buy toasted sticky rice in pre-prepared in bags. This is not the case in the UK (although you may find it in good Asian shops).
A viable alternative to buying toasted sticky rice is to make it yourself. For this, put the dry sticky rice grain into a dry wok over a medium heat, continuously tossing until it is a light brown colour before grinding in a pestle and mortar. Making your own is probably the only achievable way for most people in the UK. However, this adds a reasonably laborious step to what is otherwise a very quick and simple dish.
Do you therefore need the rice or can you skip it?
My honest opinion is that pork larb works very well without toasted stick rice – the rice doesn't soak up a great deal of the sauce and, in my opinion, the flavours that make pork larb great are those from the herbs and the dressing. If you are short on time and don't have access to a good Thai grocery shop, then definitely don't let the lack of rice stop you – just keep in mind that the original version will have it!
Print Recipe
Issan-style Thai Pork Larb
A herby, North-Eastern Thai pork mince salad with a sweet, salty, sour and spicy dressing.
Servings:
2
people (as a solo dish, 4 as part of a spread)
Ingredients
400

g

minced pork

I would use the full-fat versions – it will make for a juicier laap. Can substitue for chicken, turkey or tofu (see 'Do I have to use pork in my larb?')

1

handful (about 90g)

coriander

 including stalks. Roughly chopped

2

sprigs

mint

Leaves removed from stalks and roughly torn.

1

Thai red onion

Equivalent to one small UK red onion. Chopped into small slivers.

5

large spring onions

finely sliced

5

tablespoons

dried red chilli

2

tablespoons

fish sauce

1

teaspoon

sugar

2

limes

juiced

1

heaped tablespoon

toasted glutinous rice

(Optional) – see notes above
Instructions
Cook the pork – crumble with your fingers into a pan set over a medium heat (the pan does not need to be non-stick, but no harm if it is). Stir as it begins to cook, further breaking it up with your spoon (you will find that all of the pieces of meat will separate during the cooking process). Eventually, the meat will turn opaque and juices will begin to be produced.

As soon as you can see no more uncooked meat, turn off the heat. You should be left with some of the juices.

If you are using the toasted glutinous rice, you can stir directly into the pan at this point.

Stir in the prepared onion, spring onion, coriander and mint.

Make the dressing by adding the dried chilli, fish sauce, sugar and lime juice. I would advise mixing it straight into the salad rather than a separate bowl so that you can taste as you go. Start by adding half of each ingredient and tasting. You can then gradually work your way up to the full amounts (or more if you desire), tasting all the way. The final salad should be predominantly sour and spicy, with decent sweetness and saltiness to round it off.

Serve whilst still lukewarm with plain white rice, or even better, Thai sticky rice.