What would you rather have for breakfast?
A cold bowl of cereal with milk? Or a steaming bowl of fragrant rice, topped with a mountain of pickled mustard greens and a glistening slice of slow-cooked pork belly?
If you are the sort of person that would always go for the latter, then you will love Xiao Yan Meat Rice (蕭爌肉飯). It is a spit-and-sawdust place serving breakfast in Taichung with a long history of nailing one classic Taiwanese dish – Taiwanese braised pork belly with pickled mustard greens.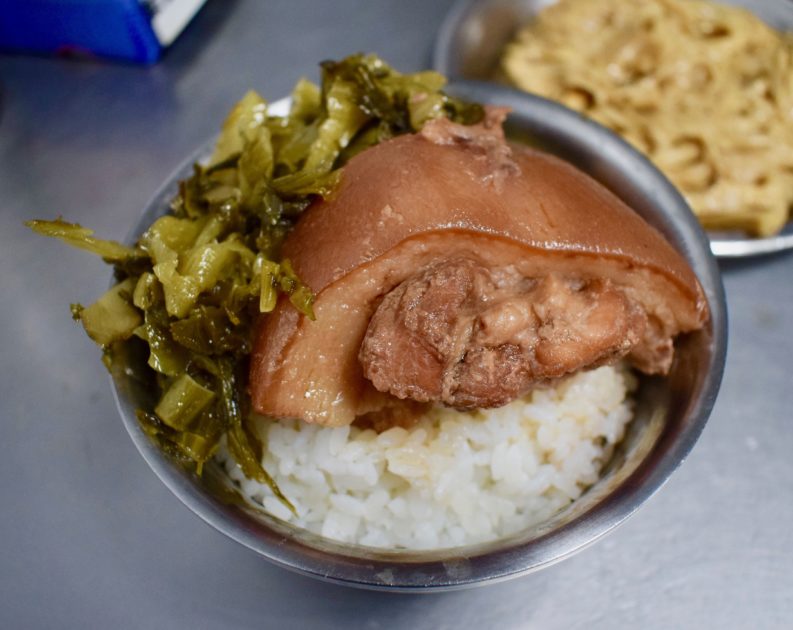 My favourite breakfast in Taichung
Xiao Yan Meat Rice (蕭爌肉飯) – serving breakfast in Taichung with local heritage
I feel quite lucky to have stumbled upon this place. I had been wanting to try the classic Taiwanese braised pork belly for a couple of weeks, but only picked out this restaurant on a whim whilst searching for breakfast in Taichung because of its decent reviews and because it was close to Taichung train station.
It was only after eating here that I read the reviews in detail and the reputation became apparent. Apparently, Xiao Yan Meat Rice started life as a place to fill the bellies of hungry transportation workers (presumably from the nearby train station). This meant hearty food, large portions and cheap prices – music to my ears!
Over time however, the quality of the food made it popular with all sorts of people, not just transportation workers. Today Xiao Yan Meat Rice has cemented its reputation as the go-to place in Taichung for the nationally popular dish of braised pork belly with rice. Some even go as far as to suggest it is the best in the country!
I certainly don't have the authority to decide whether or not that claim is true. I'll just let the food speak for itself.
What I can tell you is that it was not only my favourite breakfast in Taichung, but probably the best breakfast I had in Taiwan.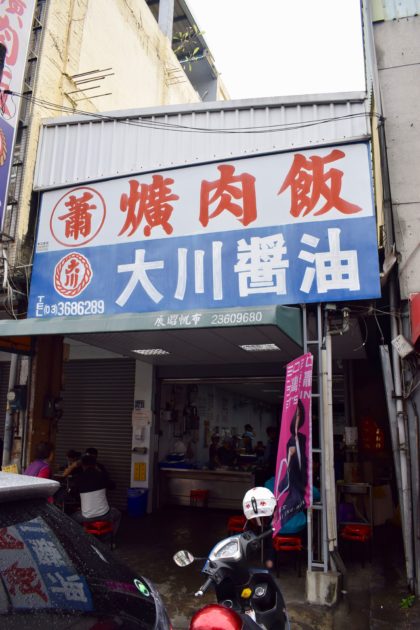 The unassuming entrance to Xiao Yan Meat Rice (蕭爌肉飯), the local's go-to place for breakfast in Taichung
What they serve and how it works
I know I sound like a broken record, but places that specialise in a single dish are almost always the places you want to eat.
Xiao Yan Meat Rice is no exception.
The dish they are famous for is their braised pork with pickled mustard greens and rice. Popular across Taiwan, this is made by slow-cooking large chunks of pork in an aromatic sweet and salty broth. The pork is cooked for many hours, meaning that the meat is fall-apart tender and the fat melts in the mouth.
The slow cooking also creates a deliciously rich and porky broth, which is used to cook the rice, giving it a unique flavour and texture (similar to that you find in Lou Rou Fan).
The dish is completed by pickled mustard greens – a pickled vegetable that provides contrasting sharpness and crunch to cut through the rich, fatty pork. One of the best bits about this restaurant is that they have an unlimited pickled cabbage policy. Customers help themselves from a large bowl at the serving station, and you can see many returning midway through their meal for a top-up. The only thing that may limit you? Your chopstick skills, which are silently judged by locals in the queue.
Help yourself to unlimited pickles and showcase your chopstick skills to locals
To accompany the main dish, Xiao Yan Meat Rice also make 4 soups at any one time and a selection of sides. We ordered some homemade meatballs, braised bamboo shoots and braised cabbage.
In the spirit of the restaurant's heritage, the service is friendly but minimal. Join the fast-moving queue stretching slightly outside the building (apparently a common sight due to the popularity), select your cut (trotter or belly), point to any sides you want and most importantly, load your bowl high with the pickled greens.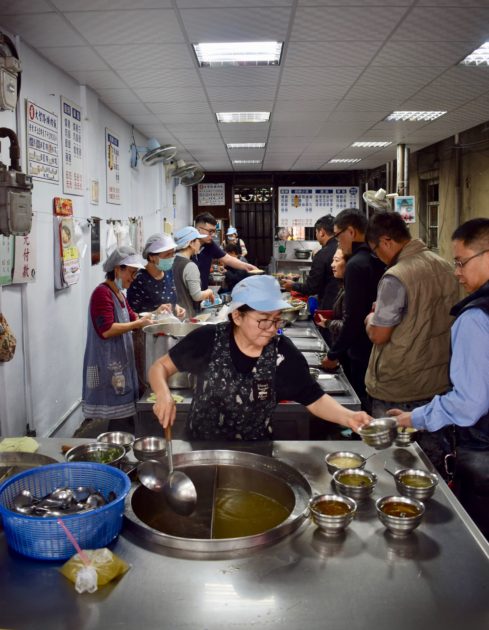 The business-end of the queue
The braised pork belly
The star of the show, glistening atop its throne of rice, which gives a jolly little wobble as it is thrust into your hands by the server.
The first thing to say about this is how fall-apart tender the meat is. As previously mentioned, they braise the pork in aromatic juices for many hours here. Forget knives – a gentle squeeze from pair of chopsticks is all you need to remove your first bite. This immediately melts into its constituent fibres when you put it in your mouth.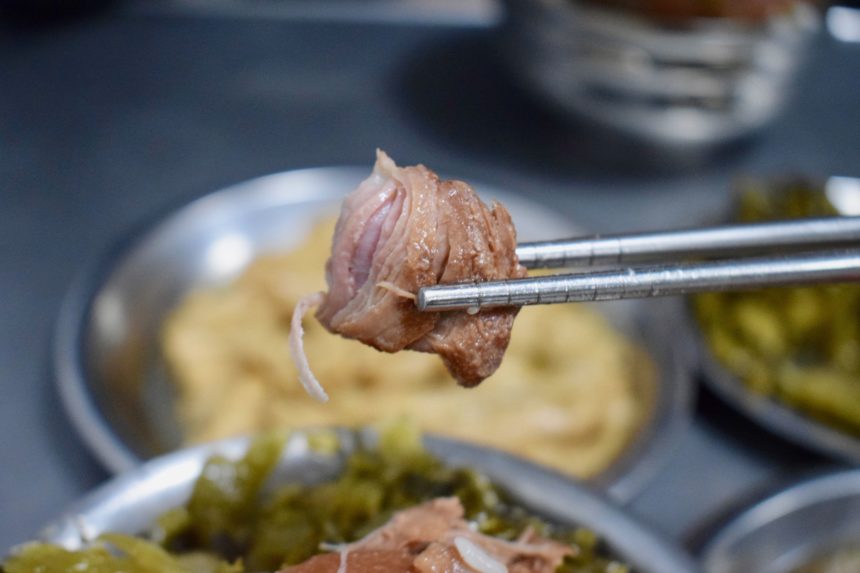 I like the way they eat meltingly soft pork belly for breakfast in Taichung. It's going to be hard to go back to cornflakes…
In addition to the texture, many hours of cooking meant that the broth had fully penetrated the meat. This made each bite rich, salty and slightly sweet. The slight sweetness, presumably from the presence of a darker soy sauce in the marinade, was excellent with the pork.
As you can probably see from the pictures, each slice of pork came with a large piece of fat. Although we tend to minimize or crisp it in the West, fat it is treated as an integral part of the dish here – and to great effect. In my mind, pork is one of the few fats that you can do this with.
Because it had been cooked for so long, each piece you eat instantly melts, coating your mouth with a delicious porky richness that was decidedly moreish. Combined with the meat, rice and sharp pickle, it was fantastic.
The rice – a risotto-like creaminess
I wouldn't normally dedicate a section to this, but if there's one thing I would single out from Taiwanese cuisine that is particularly special, it is the way they treat their rice. Taiwanese oily rice and Lou Rou Fan (which could be considered the second national dish behind beef noodles) are two examples where the Taiwanese create rice dishes with their own unique texture and flavour.
The rice at Xiao Yan Meat Rice was also something special. In a similar way to Lou Rou Fan, it had been cooked in the delicious meaty broth that came from the pork. Predictably, this gave it a background seasoning and richness, as the porky juices cooked into the rice.
However, what made this rice really special was the texture. It had an almost risotto-like creamy flavour to it. Unlike risotto however, there was no starchy ooze surrounding the grains – they remained distinct. It was certainly good enough to eat on its own.
I would love to know exactly how they cook it, but for now I remain an enthusiastic fan!
Pickled Mustard Greens
Pickled mustard greens are traditionally served with braised pork belly as an antidote to the fat in the dish. As previously mentioned, an unusual bonus at Xiao Yan Meat Rice is their help-yourself policy for pickles. This turned out to be essential given the size and fat quantity of the meat you were given!
Slightly sour and faintly spicy, they contrasted the smooth richness of the fat perfectly. Their crunchiness was also a welcome texture amongst a sea of soft-braised ingredients.
This tactic of adding sour and crunchy pickled mustard greens to fatty pork is not specific to Taiwan. Khao Ka Moo, a Thai dish of fatty braised pork leg, pairs the meat with exactly the same thing (as well as plenty of raw garlic and chilli!).
A meatball with a surprise
I was looking forward to these after reading about them in the reviews, and so made sure to order a couple. People had said they were good, but I had no idea why.
Biting into them I was expecting the classic hard and spongy pork ball. This was true about the outside, however I was surprised to find two layers. Once you got through the harder outer layer, there was a core of ground meat, which was incredibly juicy. One actually burst when I bit into it, filling my mouth with a porky soup. This soup was beautifully rich, so much so that it almost tasted buttery (although there was clearly no butter).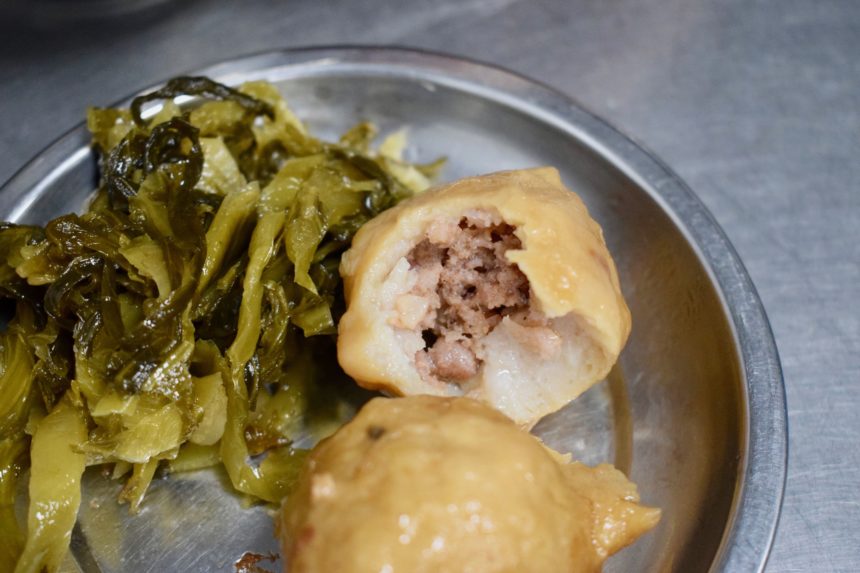 The two layers clearly visible in the meatball
The whole thing was marvellous – a bit like the meatball version of Xiao Long Bao (Taiwanese soup dumplings). Hands down the best meatball I have had in Asia!
Bamboo and cabbage (braised of course!)
There is a strong braising theme at Xiao Yan Meat Rice, and they stick to this method of cooking for their sides.
The cabbage was the epitome of Chinese/Taiwanese-style braising – not even an attempt to retain any crunch or freshness, with the strong flavour of cooked cabbage (something which seems to be celebrated in Taiwan). Like the rice, it had been cooked in pork juices, which was nice. The bamboo was very similar, but with the distinct sour taste of young bamboo shoots.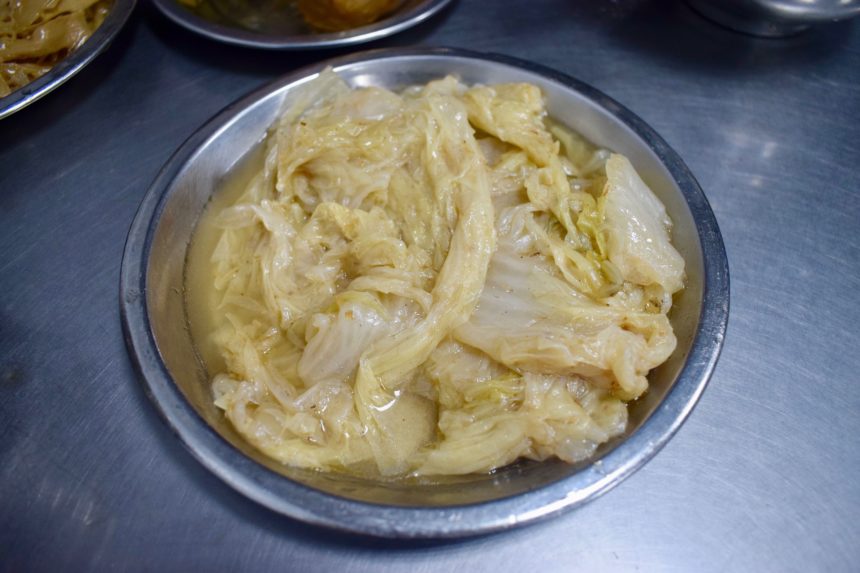 The old-school braised vegetables (cabbage on the left, bamboo on the right)
Summary – the best breakfast in Taichung?
I would be hard-pressed to think of a better breakfast than this.
Xiao Yan Meat Rice (蕭爌肉飯) is a restaurant that has a long heritage and strong reputation as the locals' go-to place for breakfast in Taichung, and sampling their iconic dish it is clear to see why. The spit-and-shine tables, large portions, penchant for braising and rustic presentation feels like stepping back to a time when this was a humble feed-station for transportation workers.
However, the old-world feel is not an excuse for bland food. The braised pork with mustard greens is a very well-balanced dish that celebrates pork belly – not only by making the meat extremely tender but also by turning the fat into something to be savoured.
Add this to the exceptional meatball, masterful rice and unlimited pickles and you have yourself a breakfast for the ages. Just make sure to get there early before other like-minded punters eat it all!
Price, location and opening times
Opening times
I'll start with this because it is most important. Xiao Yan Meat Rice is most definitely a breakfast place.
It opens early at 5am. Although it says open until 2, I would recommend getting there significantly earlier as people have reported that it can run out on popular days. We got there around 11am and it was already full of locals.
Official opening hours: everyday, 5am-2pm
(Warning – some reviewers say it is not open Sundays, another says it is shut every 2nd Wednesday. Unfortunately I can't confirm either).
Price
Some reviewers say the price is expensive for braised pork and rice. We were travelling on a tight budget however, and found it entirely reasonable.
Total bill = 190 NT$
(for 2x braised pork belly with rice and mustard greens, bamboo shoots, cabbage, 2 meatballs and miso soup)
Location
Xiao Yan Meat Rice (蕭爌肉飯) is one of a fair few places serving good food near Taichung Train Station, about a 10 minute walk in all.
To find it in Google Maps, you have to search with the Chinese characters (蕭爌肉飯).