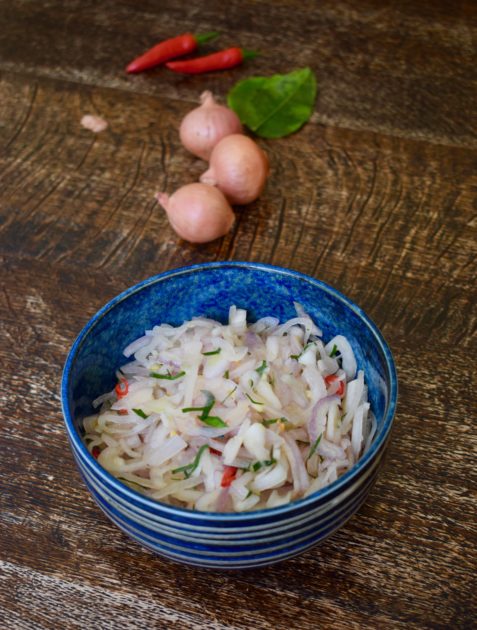 Indonesia is the home of sambal – a large and diverse family of chilli-based sauces and relishes.
One of the most unusual (and my favourite) is sambal matah – a raw sambal originating from the island of Bali. A simple hand-squeezed mixture of raw shallots, salt, oil, hot chillies and kaffir lime leaves, sambal matah is an easy yet punchy, fresh and fiery sambal that I now like to eat alongside almost everything. However, it goes especially well with grilled, fried and barbecued meat and fish.
Best of all, sambal matah requires no cooking, only few ingredients and is on the table in under 10 minutes. And I can almost guarantee that very few of your friends and family will have had it before.
Also, for those that don't like to eat meat there's no need to fear, sambal matah is a vegan sambal by nature.
---
This article will guide you through:
What is sambal matah? And how does it vary across Indonesia?
The delicious version of sambal matah I ate in Uluwatu (on which this recipe is based)
A detailed guide on how to cook sambal matah, as well as variations you can experiment with.
What you can serve with this sambal matah
Or, if you want to jump straight to the recipe and browse the notes if needed, then just click the button below:
---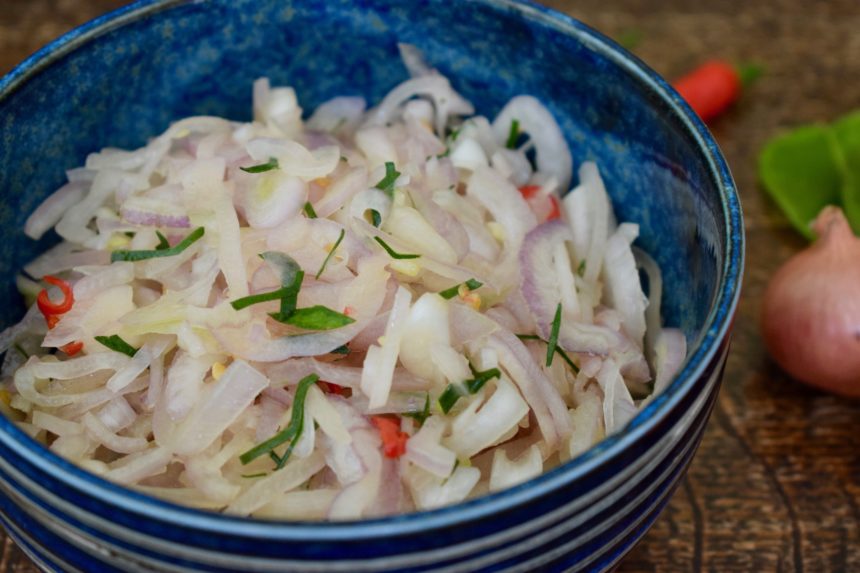 What is Sambal Matah?
Sambal Matah is an Indonesian raw sambal that originated in Bali.
Visit Bali today and you will struggle to find a warung that doesn't serve the stuff.
Like all Indonesian sambals, the exact recipe for sambal matah varies from warung to warung. However, all versions share a base of thinly sliced red onion or shallot mixed with a neutral oil and a generous dose of fiery hot raw chillies.
This base is then lifted with the addition of raw South East Asian aromatics. The choice of aromatics is where most of the variation between restaurants comes from, but there is usually a selection of one or two from: kaffir lime leaf, lemongrass and torch ginger flower.
Some places also mix a small amount of terasi (or Indonesian fish paste) into the sambal. However, in my experience it is more common to find it without.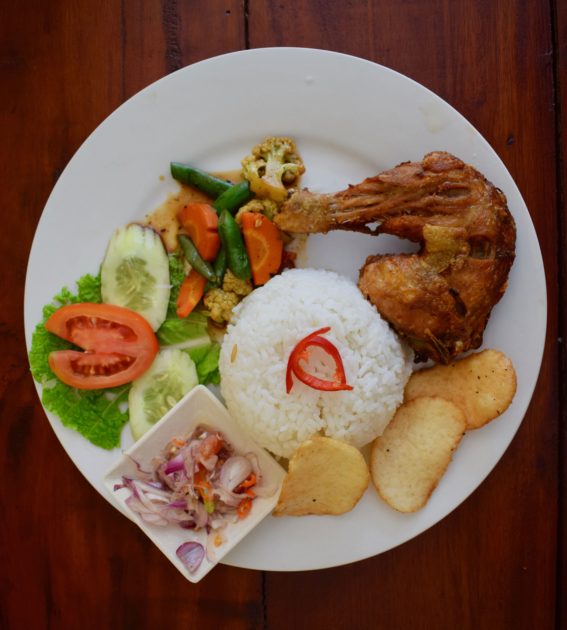 Sambal matah is commonly served alongside chicken lalapan, another Balinese dish made from marinated and deep-fried chicken. Above is a typical plate I ordered in Candidasa.
Where is this Sambal Matah Recipe recipe from?
I have eaten many variations of sambal matah in Bali. I have also made it myself on many occasions, using different combinations of ingredients and techniques.
In the end, my favourite version of sambal matah ended up being one I saw made in front of me at an unassuming scooter garage near Uluwatu in Bali. For a mere 23k rupiah, it came alongside chicken lalipan, nasih putih (white rice) and a fried egg. The remainder of the dish had little to no seasoning – all of the tastes and flavours came from this incredible and simple sambal matah.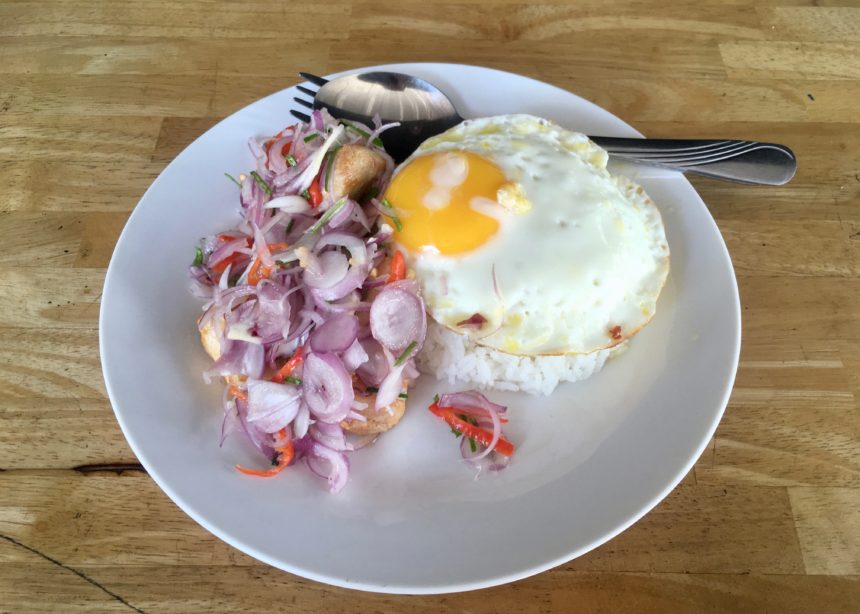 The delicious chicken lalapan with sambal I was served at Brodking Scooter Garage in Uluwatu, on which my sambal matah recipe is based. You can't see the chicken because it is literally smothered in fresh sambal!
There were a couple of reasons I think this sambal matah recipe stands above other I have tried:
Simplicity – other places I have visited (and many recipes online) add additional ingredients such as raw garlic, lime juice, sugar and terasi. I think none of these are needed to make a great sambal matah – this restaurant proved it to me by making it before my eyes.
It was entirely raw – some recipes call for the oil to be heated before pouring over the raw ingredients. For a number of reasons, I do not think this improves the sambal matah (see 'cooking notes' for all the details).
How should this sambal matah recipe taste?
Your first bite of sambal matah should fill your mouth with the pungency of raw onion and the fresh heat of chilli. This bite should be well seasoned with salt (this is key, otherwise the sambal can taste 'flat').
Alongside the ongoing heat of the chilli, this initial onion bite will give way to the lingering distinctive flavour of kaffir lime leaf (or alternatively the aromatic you have chosen). This fragrance will have been infused throughout the sambal matah thanks to a combination of the oil and squeezing technique.
The end result is fresh, aromatic and powerful. It will leave your mouth singing with onion, chilli and deliciousness.
For me, it's good enough for me to be eaten on its own with rice!
Cooking notes – how to make sambal matah
Combining the flavours – 'the magic squeeze'
Because sambal matah is a rustic and raw sambal, you have to help the flavours permeate the entire dish. The scooter garage managed this in two ways:
Adding a neutral oil – this is common to all sambal matah recipes. Not only does it give a nice mouthfeel, but the oil also becomes infused with the flavours of chilli and kaffir lime. Although I love olive oil in almost every context, I wouldn't recommend it here. The additional olive flavour slightly confuses the sambal (and in any case is not how they make it in Indonesia). Any neutral oil will do (e.g. groundnut or rapeseed oil).
'The magic squeeze' – some places leave the sambal matah to sit for a while, but at the scooter garage they simply put on a plastic glove and gave the whole thing a good squeeze. This not only softened the onions, but really combined the seasoning and flavours beautifully. I wouldn't say you need to use a plastic glove yourself (save the planet and all that), but do give your hand a really good wash both before and after squeezing.
Both of these steps are enough to transform the sambal matah from being just a mixture of raw ingredients, into a true raw sambal with its own identity.
Don't I need to add hot oil at some point?
Some recipes for sambal matah state that you need to heat the neutural oil before adding to the raw ingredients.
As I have already alluded to a couple of times, I would not recommend this step for a number of reasons.
Firstly, I have tried a heated oil version side-by-side with a raw version. I do not think that heating the oil adds to the dish. Sambal matah is a fresh sambal by nature and if anything I found that adding hot oil dampened the flavours somewhat, which seemed counter-intuitive.
Secondly, heating the oil introduces unnecessary complexity. For example, it is possible to overheat and burn the oil, which would give a bitter taste to your final sambal matah.
Ingredient notes
Shallots or onions?
At the scooter garage in Bali, they used small red onions.
I have tried making sambal matah with the red onions here in the UK. Although the sambal is still decent, the UK onions are stronger, less sweet and a tad too aggressive for my liking.
For this reason I recommend using shallots if you are cooking in the UK, which are milder. In this recipe I have also added a touch of sugar to replicate the sweetness of the Indoensian onions.
The thickness of the onion slices also seemed to vary from warung to warung. I like them to be reasonably thin, but not wafer thin so that the slices lose their integrity (somewhere around 3mm thick).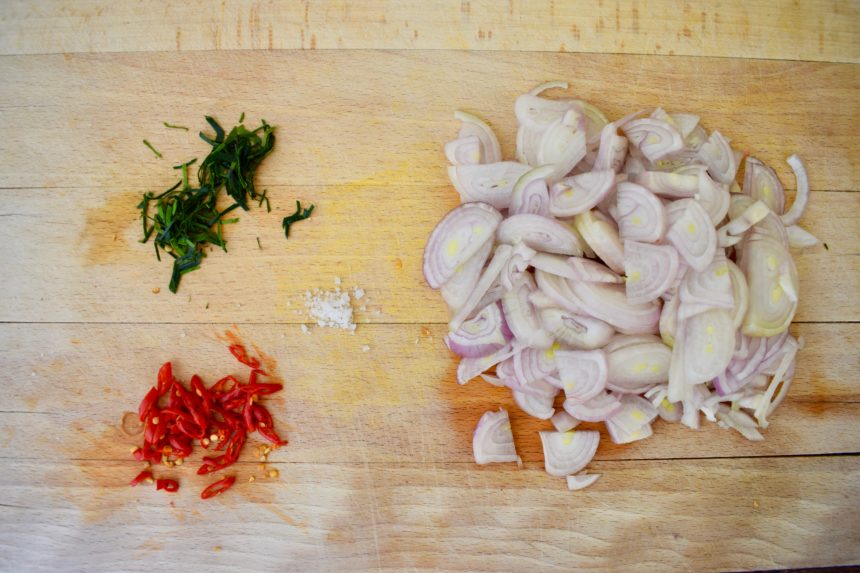 All the ingredients you need to make a fresh sambal matah
How many chillies?
The scooter garage in Bali used 3 small and fiery chillies for 2 servings. This makes for a sambal matah that is reasonably spicy by Indonesian standards, but may be too hot for many in the UK. Adjust the number to your preference.
In Indonesia, they have small red/orange/yellow chillies, which are very hot. From what I can tell, these seem to be referred to as 'cabe rawit' (translating into 'cayenne pepper').
Here in the UK, the closest commonly available type would be a Thai birdseye chilli (a standard serrano chilli will not be hot enough).
Which aromatics to use in sambal matah?
This is personal preference.
My favourite (and the one used at the scooter garage) is finely shredded kaffir lime leaf. Always buy them fresh or frozen rather than dried – lots of Asian grocery stores in the UK sell them frozen in small tubs.
To shred the lime leaves, cut out the central stem of the leaf (which can be thick and woody). Stack your resulting leaf halves on top of each other, roll tightly and then cut as finely as you can to make small strips (as below).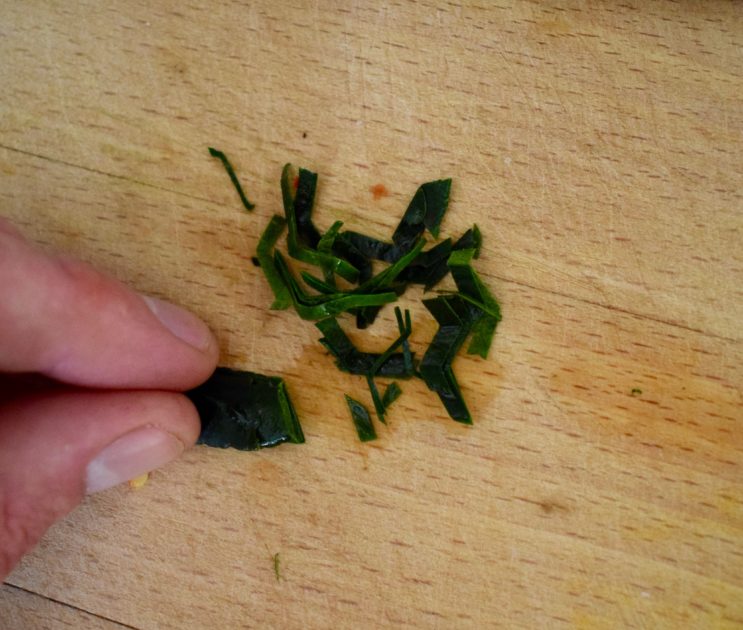 Shredding the kaffir lime leaf for the sambal matah
Many restaurants in Bali added lemongrass to their sambal matah, which is also very nice. If you want to do this, make sure you peel off the outer, tougher layers of the lemongrass stick and use the white flesh towards the base as it is softer. Simply slice these as thinly as you can and add in place of (or alongside) the kaffir lime.
The final optional aromatic is torch ginger flower. This is a delicious South-East Asian herb that has its own unique flavour. This flavour is very hard to describe – if you have ever been lucky enough to tuck into a bowl of Malaysian assam laksa then you will probably recognise it. Unfortunately, I have not yet seen torch ginger flower for sale in the UK, but your best bet is either online or at a large Asian grocery store.
Is Sambal Matah a vegan sambal?
This sambal matah recipe is vegan. This is not by design, it is a fully authentic sambal matah recipe that, as luck would have it, contains no meat or fish products.
In fact, the vast majority of sambal matah I ate in Indonesia was vegan.
However, a few places added a small amount of toasted terasi (Indonesian fish paste). I personally preferred it without, but obviously your sambal matah will no longer be a vegan sambal if you choose to include.
What to serve this Sambal Matah with?
In Bali itself, sambal matah is commonly eaten with chicken lalapan – a Balinese dish consisting of a chicken leg which has been marinated in spices and deep fried (see my photo towards the beginning of the article).
However, it is also eaten with grilled seafood – as I discovered when picking my own seafood at Jimbaran fish market.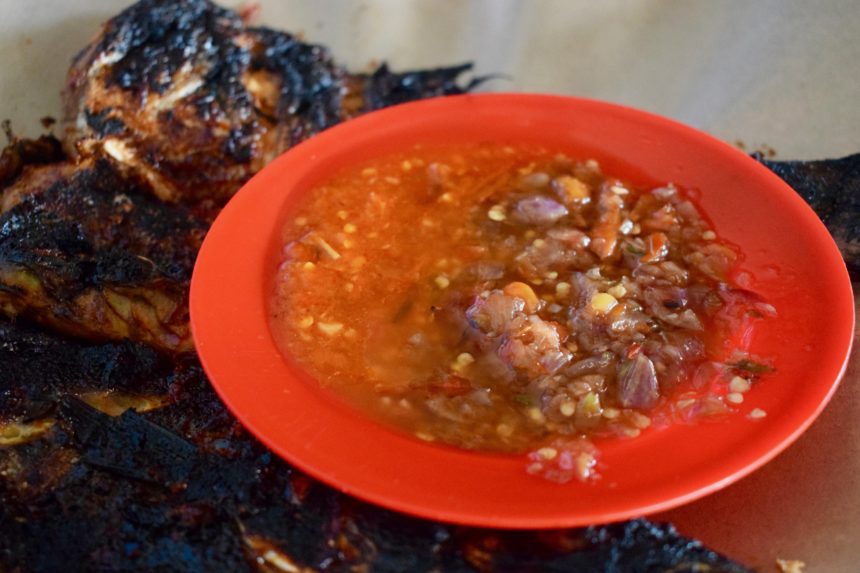 Photo of sambal matah with lemongrass I ate with grilled fish at Jimbaran Fish Market
If you are cooking sambal matah at home, I honestly think it is so good that you can eat it with anything.
However, sambal matah really comes into its own in BBQ season, which I would say most closely mimics the sort of food it is served with in Indonesia.
Make a bowl ahead of your next grill-up and eat it alongside your sausages, kebabs, steaks, fish, gilled vegetables, etc. Whatever you are grilling, you won't ruin it by eating it with a fresh sambal matah I promise!
Print Recipe
Sambal Matah – authentic Balinese raw sambal recipe
An aromatic and fresh sambal of raw shallots, chilli and kaffir lime leaf
Servings:
2
people as a main, 4-6 as a condiment
Ingredients
5

shallots

about 250g

3

birds-eye chillies*

3

kaffir lime leaves

fresh or frozen. Alternatively use lemongrass or torch ginger flower**

3

tsp

neutral cooking oil

e.g. groundnut or vegetable oil

Salt to taste

I added 5 pinches, equivalent to roughly ½ tsp of flaky salt

⅛

th tsp sugar

optional***
Instructions
Prepare all of the raw ingredients. Roughly slice the shallots into 3 thick pieces, finely slice the chilli (but do not de-seed) and finely shred the kaffir lime leaf (taking out the stem if it is woody).

Place the chopped ingredients into a mixing bowl and add the oil and salt (and sugar if using).

Grab a handful of the mixture and squeeze fairly hard. Mix your squeezed handful back into the remainder and repeat 5-10 times until all of the mixture has been squeezed. This process helps to combine all the flavours.

Taste the sambal. It should be well-seasoned with salt (otherwise it will taste flat). The kaffir lime fragrance and chilli heat should have started to permeate every bite. Adjust the salt, sugar and oil levels to your liking.

The sambal is ready to serve. You can also leave it covered in the fridge (for at least 3 days) and it gets better over time as the flavours combine even further.
Notes
*T

his makes the sambal as spicy as you would commonly find it in Bali (and therefore spicy by UK standards). Adjust to your liking.
**See 'Ingredient Notes – which aromatic to use' for more information
***I have added a very small amount of sugar because I think it is necessary to compensate for the harsh nature of UK onions. If you are using sweeter Indonesian onions then there is no need (the original I ate in Bali had no sugar added).