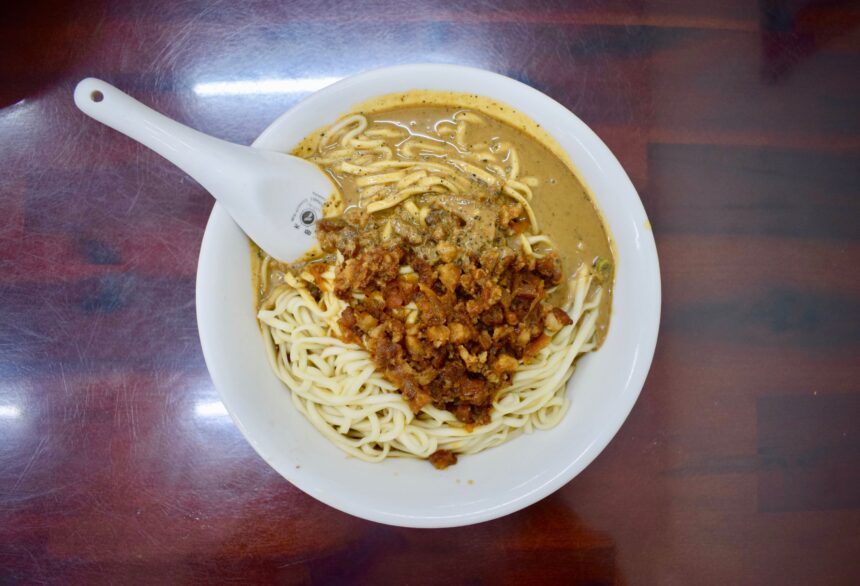 If you come to Taiwan and are in need of some comfort food, then you can't go wrong by ordering a steaming bowl of Taiwanese sesame noodles.
'Ma jiang mian', as it is known in Taiwanese, is a hearty bowl of beansprouts, spring onions and noodles, topped with a generous ladleful of thick, glossy and mouth-cloggingly delicious sauce. The key ingredient in this sauce is Chinese sesame paste – think peanut butter, but with deep toasty notes and an aromatic sesame flavour that comes from heavily roasted and ground sesame seeds.
You can get Taiwanese sesame noodles in practically every city across Taiwan. However the quality can vary significantly.
Today I'm going to share with you the best Taiwanese sesame noodles I had during my month in the country, and what for me makes a great bowl of ma jiang mian.
---
'I come here 3-5 times a week for the sesame noodles'
There are relatively few recommended restaurants in Taitung – a mid-sized city and capital of the eponymous county in South-East Taiwan. However, after trawling through the options on a train ride from Hualien, I found a review for one restaurant that immediately caught my attention.
'I come here 3-5 times a week for the sesame noodles' the reviewer exclaimed.
My first thought was 'I would get on with this person': you have to have some respect for anyone who feels a duty to publicly admit that they eat the same bowl of noodles 5 days a week.
Secondly, how good must these noodles be for a local to say that?!
The restaurant in question, Lin Kee Adalu Noodle Restaurant (林記阿達魯味麵食館), didn't just sell sesame noodles. When we arrived, many of the locals were eating sliced meat and offal chosen from the cart at the front. However, we were on a mission for noodles, and so sat down to order 2 bowls of ma jiang mian.
We could have had a fun evening sampling the many meaty treats from the cart at the entrance to Lin Kee Adalu Noodle restaurant. Perhaps for another night.
A monumental bowl of noodles
How good must this dish be to get reviews like that? It turns out spectacular. This was the best bowl of Taiwanese sesame noodles I had during my time in Taiwan.
The first thing to state is that the portion size is monstrous. I'm not sure how our friend the reviewer who comes back 5 times a week is doing now, but I reckon he must be about the size of a hot air balloon by now.
Although it's not everything, we do eat with our eyes to some extent (or at least I do). It was therefore difficult for me to stop myself acting like an excited puppy when this magnificently large bowl of gleaming sesame and pork belly arrived at the table.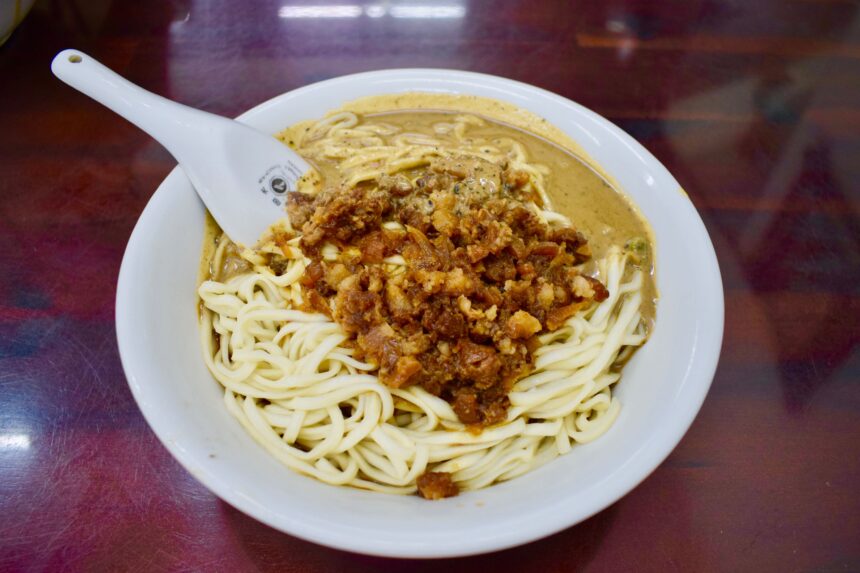 A huge bowl of rich deliciousness. If you're hungry and deciding what to eat in Taitung, then look no further.
Thick, glossy sesame sauce and Taiwanese Pork Belly Topping
Not only did it look big, but you knew as soon as it landed on the table that this bowl of sesame noodles was going to be a good one.
The sesame sauce was thick and had a beautiful sheen to it. It was also dark, and you could even see the grains of bashed sesame seeds scattered throughout. A cheeky dip of the chopsticks into the sauce confirmed that it was aromatic with sesame, and as thick as a good peanut butter.
The other thing that made my mouth water solely on looks was the pork belly topping. This is actually the first time I have seen this served on a bowl of Taiwanese sesame noodles.
It was the restaurant's version of lou rou fan – the popular braised pork mixture eaten across the country and most commonly used to top the '2nd national dish' of pork rice.
Another sneaky taste with the chopsticks confirmed this – small pieces of long-braised pork belly and rind were meltingly-soft and covered in a sweet and salty soy-based braising sauce.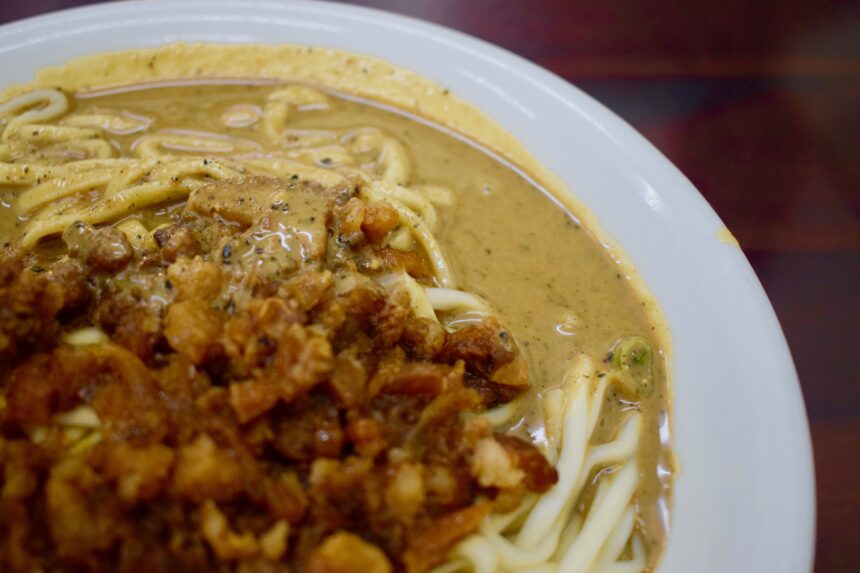 This was a proper sesame sauce: thick, glossy and you could even see little black dots of sesame seeds if you looked closely
Mixing up the mountain of noodles
Ma jiang mian is always served the same way – the server adds the noodles, beansprouts and spring onions to the bowl separately before topping with a ladle of the sauce, leaving the diner to mix for themselves.
We followed tradition and mixed the bowl using our chopsticks, giving each noodle a glossy coating of that amazing sauce.
With this bowl it was actually quite a feat to mix properly, given the sheer weight of the noodles and thickness of the sauce.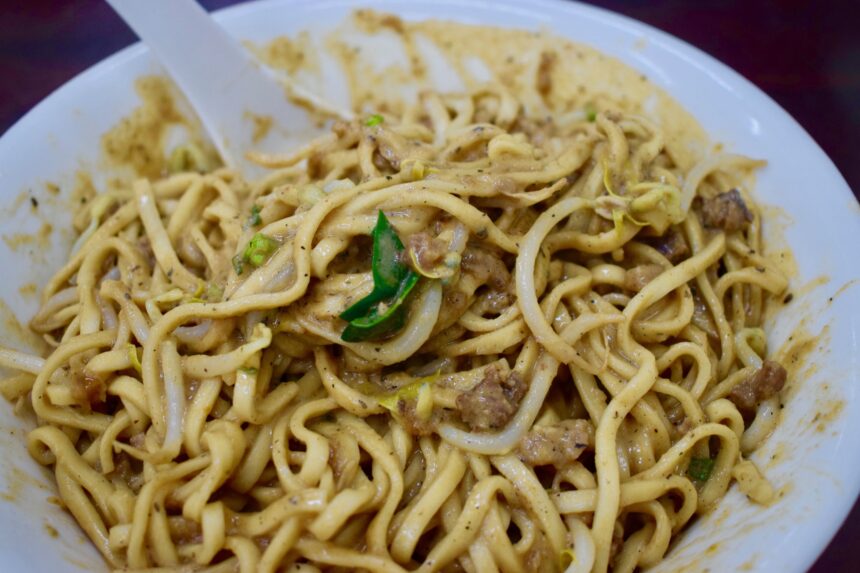 Each noodle was coated in the silky sauce
How it Tasted (for the food nerds)
In a word? Soul-satisfying (if that even is a word…).
Aroma
As with all good bowls of Taiwanese sesame noodles, you are hit by the aromatic, nutty smell of the sesame itself before the first noodle even reaches your mouth.
Thickness
Once the first bite does reach your mouth, you are almost stopped in your tracks by the sheer thickness of the sauce. But this isn't a problem – it only adds to the comfort of the dish and allows the delicious sesame flavour to linger in your mouth.
Tastes and Flavours
To complement the aroma, the primary flavour is unsurprisingly the nuttiness of the sesame. Unlike peanut butter (perhaps the most similar ingredient to Chinese sesame paste that is readily available in the West), this comes with a slight bitterness and that lingering aftertaste that is encapsulated by the flavour and smell you would recognise in sesame oil.
This sesame flavour is supported by a background of seasoning, both salt and umami, which almost certainly is provided by the addition of soy sauce. The pieces of pork belly undoubtedly help boost this, however they become lost in the mass and you can't pick out their presence individually. There is little if any sweetness or sourness.
The final faint flavour is the contrasting piquancy of raw garlic, which, although subtle, is definitely mixed throughout.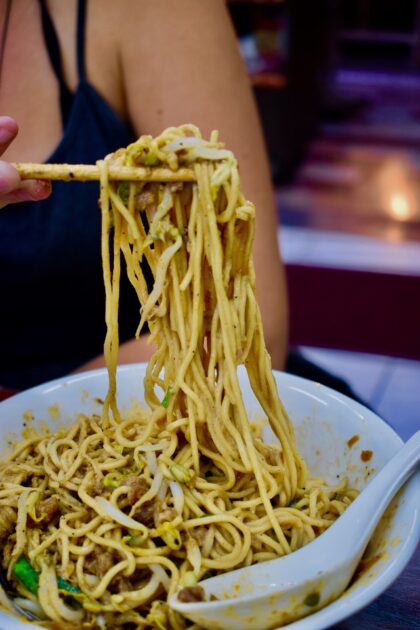 When you've been eating for 10 minutes and there's still this many noodles left…
The end result is that you gradually work your way through the delicious mass of noodles coated in this salty, umami and sesame-loaded sauce glaze. The richness is only broken by the occasional welcome contrast of the crisp beansprout or mild oniony bite of spring onion.
The 4 elements that made my favourite bowl of sesame noodles in Taiwan:
1 – The sauce was predominantly sesame (not peanut) – unlike a lot of bowls of ma jiang man, which almost taste like thick peanut butter. The toasted nuttiness of sesame was there before the noodles even reached your mouth – you could see the seeds and feel their texture in the sauce.
2 – The sauce was thick and glossy – it was mixed with just the right amount of noodle cooking water so that it coated the noodles in the same way that a good pasta sauce would coat spaghetti. Some places add too much liquid, which for me ruins the glossy coating and intensity of flavour.
3 – It was seasoned to perfection – sometimes you have to tweak the dish with soy sauce, vinegar and/or chilli before tucking in. Here I didn't even feel I needed to add chilli (very unusual for me) because the balance of the dish was perfect already.
4 – It was incredibly generous – I almost couldn't finish the bowl. For context I eat a lot. Plus I had skipped lunch (don't ask why or I'll get hangry).
Summary – deciding what to eat in Taitung? You won't need anything else after this
Taiwanese sesame noodles is not a refined dish. It doesn't have the many layers of flavour like a Malaysian rendang, or a sauce delicately balanced to hit many tastes like a Thai salad.
It is an unashamedly simple and comforting dish, but I absolutely love it, and Lin Kee Adalu Noodle Restaurant have nailed it.
Having at first aspired to be the reviewer who ate 3-5 bowls a week before coming, I am now fear their ability to eat so much. Perhaps a career in competitive eating awaits.
Saying that, if I lived here in Taitung I would come back for these noodles every week at least, never mind the consequences.
Price and Location
Price
I paid 70 NTD (=$2.34 =£1.90) for a large bowl
I say again – this bowl was huge. In reality it was almost more than I needed (which almost never happens for me because I am, in essence, a greedy pig).
Location
Restaurant name: 林記阿達魯味麵食館 (Lin Kee Adalu Noodle Restaurant)
Address in English: 林記阿達魯味麵食館 950, Taitung County, Taitung City, Zhejiang Road, 309號
Address in Taiwanese: 950台東縣台東市浙江路309號